Two streets apart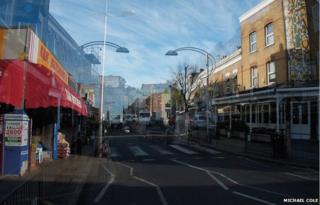 In 2011, Michael Cole (then working under the name Michael McGuinness) was one of two students at the University of Westminster whose work I followed as the course progressed and his most recent project looks at Rye Lane and Bellenden Road in Peckham, London.
Michael moved in to the area, living above a shop in Rye Lane, to allow him to soak up the atmosphere and feel at home working with his camera, though it is an area that draws many photographers, from professionals to students.
Using multiple exposure techniques he is aiming to create both harmony and tension between the two streets.
Alongside these the frame below is one that Mr Cole feels sums up the area and its regeneration since the riots in London of 2011. It shows trees planted in mobile containers on Rye Lane, the green set against the rigid grey shapes of the building and pavement, finished off with the red and white blocks.
The planting is part of Pocket Places Peckham, a two-year project working with local people to redesign under-used spaces along Rye Lane.
The work is on show at the Annual Dulwich Artists Open House Festival which takes place over two weekends, 10-11 and 17-18, May 2014. You can see more of Michael Cole's work on his website.