Outlaws on the open road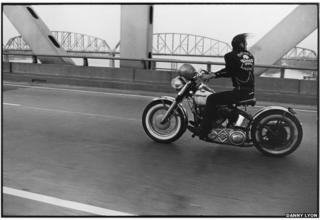 In the 1960s Danny Lyon photographed the Chicago Outlaws Motorcycle Club, not as a passive observer, but in close, as part of the gang. The resulting photographs capture a subculture from the inside and form one of the defining photographic documents of that time, influencing many photographers who went on to record the decades that followed.
Lyon was born in New York in 1942 and first started photographing in the early 1960s as a staff photographer for the Student Nonviolent Coordinating Committee at the University of Chicago. His earliest photographs were published in a book on the southern civil rights movement, and since then he has continued to produce work that aims to shape and change opinion.
In a new book of his work, The Seventh Dog, published by Phaidon, Lyon writes: "In 1962 I set out to record the world, perhaps to change it, as what might be called a documentarian. Although I lived in the moment, my mind was always on the future, on how my work would survive as the best accounting, perhaps only record, of what had been."
The Outlaws at the time were according to Lyon, known for causing general mayhem and showing an anarchistic lack of respect for law, though he acknowledges he was as bad as any of them.
Journalist and author Hunter S Thompson wrote to Lyon urging him to "get the hell out of that club, unless it's totally necessary for photo action".
By 1966 he states he had grown tired of drinking vast quantities of beer every Friday and called Hugh Edwards of the Art Institute of Chicago, who had offered to publish the work, asking when he felt the project might be completed. Mr Edwards replied: "When you have photographed every aspect of it." Lyon's response was: "Then I'm done."
Some years later, Lyon notes, things got ugly, as violence turned to murder, and the time he had recorded became known as a golden age of motorcycling, when Hells Angels and Outlaws would ride side by side.
Lyon's pictures of the Outlaws were accompanied by audio recordings he made, and transcripts of these ran alongside the photos in a book of the work published in 1968.
Here's a small selection of the work.
All photographs © Danny Lyon Courtesy Magnum Photos / Etherton Gallery, Tuscon, USA and Atlas Gallery, London.
The Seventh Dog by Danny Lyon is published by Phaidon, and 40 modern prints from The Bikeriders series can be seen at the Atlas Gallery from 19 June - 16 August 2014, the first time these prints have been shown in the UK.