American always, Scottish forever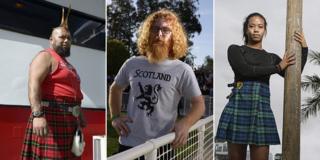 On 18 September, voters in Scotland will be asked in a referendum whether they want the nation to become independent from the rest of the United Kingdom. Yet, across the Pond, there are many Americans with Scottish ancestry, something celebrated at California's Highland Games season. Here photographer Stephen McLaren sets out his take on the event and shares some of his portraits.
Despite President Obama's hopes for Scotland to remain in the UK, the Scottish cultural spirit - which includes pipe bands, sword-dancing, tossing the caber and sheepdog trials - is alive, well and independence-minded in California. An annual calendar of around 20 Scottish festivals and Highland Games brings a mix of recent Scottish emigres and those for whom Scotland is an approximate but proud source of their family heritage.
These events have been going for more than a century and with the skirl of the pipes and shouts of hammer throwers resounding, it could be any Highland Games in Scotland. However, the sweltering heat, the imposing palm trees and the surprising recognition that every kilt-wearer speaks with a full-on American accent quickly reminds you that you are 5,000 miles away from heather, peat and misty glens.
Away from the sporting arenas and music stages, clan associations are on hand to help those researching their family tree and locate the ancestral home. For those with money to spend on heritage goods, traders sell a panoply of kilts, musical instruments, food and heavy-bladed weapons, which may, or may not, have been used at Culloden.
As a Scottish photographer who has never worn a kilt, I have been a double rarity at these events. In the first instance, being born in Scotland meant that I was one of the few attending who had the complexion and accent to convincingly be Scottish. Second, tartan irritates my skin so my attire was always less Caledonian than the participants at these action-packed and fun family-focused events.
Watching these smiley, tanned Californians revel in a weekend of festivities where they get to dress up in Highland garb and imagine themselves as sons or daughters of the glen, it seemed obvious for me to talk to and photograph as many as I could. Unusually for any photography project, not one of the people I asked to be photographed refused, and all were as polite and willing to help me find the best shot.
What was also surprising to me was how many of those people who agreed to pose thought that, contrary to their president, it was imperative that Scotland become independent.
Some were well versed in the stories of rural Scotland being cleared of people in favour of more profitable sheep in the 18th Century and a degree of bitterness resides in those whose families may been shipped to the American colonies as a result. Others expressed the view that Scotland had more going for it in the way of history and grandeur than other independent nations and that being part of the UK was holding back Scotland from maximising its potential and its resources.
I was unsure whether these views were overly sentimentalised notions of a country only a few had visited, but the views expressed were certainly deeply held and probably reflective of a country whose own independence from Britain is much treasured and celebrated.
The passion for Scottish sports and culture at events like these could be seen as quaint and pre-modern but for the thousands of Americans with links, however tenuous, to the old country, who attend, it is an escapist weekend where they get to celebrate that they are all descended from immigrants who left Europe with high hopes of bettering their lot. For a photographer used to occasionally reluctant or shy subjects, it was a dream project.
Here is a selection of the pictures from the project, which can be seen at Impression Gallery in Bradford from 1 July until 27 September 2014, as part of Beyond the Border, which brings together four Scottish photographers. Stephen McLaren is a member of Document Scotland.