Soundings From The Estuary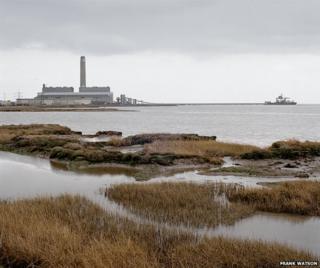 The Thames Estuary has drawn photographers to its shores for many years, each one looking to capture the wide open skies and the remnants of past industrial sites.
Photographer Frank Watson is one of these, and his long-running project, Soundings From The Estuary, is about to be published.
The photographs, devoid of the human form, show a world of few colours, one that feels chilly and inhospitable. Yet the landscapes are littered with signs of life, from abandoned defensive positions through to an old barbecue.
Despite this, there is a beauty in the pictures and you can see why Watson's walks with his camera would draw him to the area over and over again.
The region is of course one ripe for potential development, from the proposal by London Mayor Boris Johnson for an estuary airport on the Isle of Grain to more local development, some of which will affect the ecology and environment and others that will change the landscape forever.
Watson states that inspiration for the work began with visits there with his family in the 1960s and it runs on nicely from his previous work The Hush House: Cold War Sites In England.
Watson has worked as a commercial photographer as well as lecturing on degree and post-graduate courses at the University of Westminster.
Here's a selection of the work:
You can see more of the work on the Soundings from the Estuary website and a book of the work is being published by Art Data in September 2014.