The vanishing islands of Kiribati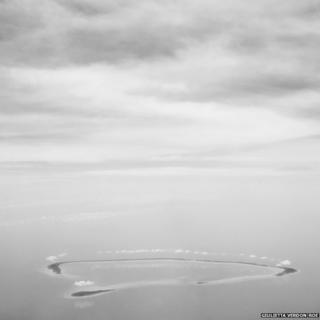 The Republic of Kiribati is probably best known as being the first inhabited place on Earth to greet the new millennium, yet these low lying atolls are under threat from rising sea levels, something that drew photographer Giulietta Verdon-Roe to spend a month documenting daily life on the slowly vanishing islands.
The 33 atolls, of which 21 are inhabited, are found in the South Pacific and were formerly known as the Gilbert Islands before gaining independence from the United Kingdom in 1979. They stretch nearly 2,500 miles (4,000km) from east to west and more than 1,200 miles (2,000km) from north to south.
In 2012 President Anote Tong admitted that the threat to the islands from the sea was one they would ultimately lose. Added to that, a lack of agricultural land means the population of about 110,000 is reliant on imports, though the purchase of land in Fiji, allowing crops to be grown for export back to the islands, may help.
Yet despite the relatively low overall population, about half live on a chain of small islands called South Tarawa, making it one of the most densely settled places on Earth, as the BBC's Julian Siddle reported recently.
Verdon-Roe's black-and-white pictures capture both the landscape and the people, all bathed in a glorious light from the wide open skies. She's not looking to comment on the threat of climate change, nor pretend this is some island paradise, the pictures do what photography does best, provide a window into a subject as well as being objects of beauty.
The pictures are now on show at Rich Mix in London.
All photographs copyright Giulietta Verdon-Roe.