Brazil Amazon tribe takes direct action against loggers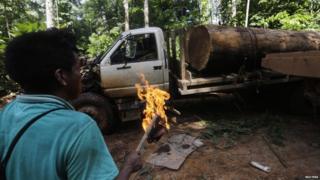 A group of indigenous people in Brazil's Amazon region have detained and expelled loggers working illegally in their ancestral lands.
Leaders of the Ka'apor tribe accused the Brazilian authorities of failing to protect them.
They tied up the loggers and set fire to their trucks and chainsaws, before forcing them out, reported the Reuters news agency.
The logs found at the indigenous territory in the north-eastern state of Maranhao were also destroyed.
The incident happened on 7 August but has only just been reported by Reuters.
The Brazilian indigenous agency, Funai, says it has requested tighter security in the Alto Turiacu Indian Territory to prevent violent clashes.