Picture power: Wounded in Syria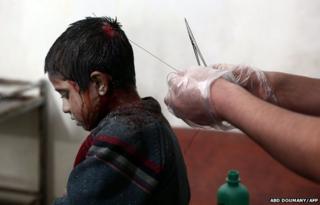 Abd Doumany grew up in Douma, a suburb of the Syrian capital, Damascus, and is now a freelance photographer whose work is syndicated by Agence France Presse (AFP).
Douma is controlled by rebel forces and is regularly on the front line, its residents often having to shelter from shelling and airstrikes by forces loyal to President Bashar al-Assad.
"Douma is completely different from how it was in the past. People, buildings, streets everything has changed," says Doumany. "When you talk about the safety, it doesn't exist here."
Doumany took the photograph at the top of the page at a hospital set up by the Unified Medical Office of Douma. "The child was shocked and didn't say anything, even when doctors asked him what is his name," says Doumany. "Fortunately his injury wasn't that bad in comparison with other wounded people."
The picture is, of course, not as graphic as many that Doumany has filed on the news wires, but it is a powerful image. The blood, covering the boy's hair and face, seems to represent the tragedy of the situation faced by so many in the country, including so many children. Yet this is also a picture of an individual, caught up in a traumatic situation even if he, at least, is seemingly being well cared for.
"Each time I return to the hospital, I come away with different feelings. Sometimes fear predominates, sometimes it's sadness," says Doumany. "It is impossible to get used to seeing such scenes."
"The injured are brought in and they are often similar, but the shock of seeing them is always disturbing. There are times when I spend hours in silence after returning home, unable to speak to anyone. It depresses me, and the horrible images remain stuck in my head for hours.
"Fear hits me every time I look at the photos of wounded people.
"Staying inside the hospital makes you feel dizzy. The moans of the injured, how would you comfort a child whose leg turned into pieces? Would you tell him everything is going to be okay?
"What hits me hardest is seeing the pain of those who have lost loved ones. Usually I avoid photographing those scenes out of respect for them. I know exactly how they feel, I've lost one of my brothers in this war."