Picture power: Under the dress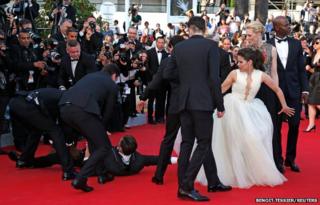 The Cannes Film Festival is one of the highlights of the entertainment year, and the comings and goings on the red carpet can make for arresting pictures.
In this case, arresting is the right word.
Reuters photographer Benoit Tessier explains how he captured the moment a man tried to slip under the dress of actress America Ferrera as she arrived for the screening of her film How to Train Your Dragon 2.
"I was covering the stars' red-carpet arrival for the film screening of How to Train Your Dragon 2, when suddenly Vitalii Sediuk, a Ukrainian journalist also known as a red-carpet prankster, tried to stick his head under actress America Ferrera's netted skirt.
"No doubt feeling fabulous in her beautiful couture gown, the moment was clearly ruined for Ferrera.
"I had only 10 seconds to realise what was happening and take the shot.
"Security rapidly dealt with the culprit amid shocked looks from Ferrera and co-star Cate Blanchett.
"After a flash of appearing red-faced and confused, the actress continued the red carpet walk as if nothing had happened."