Picture power: Royal tour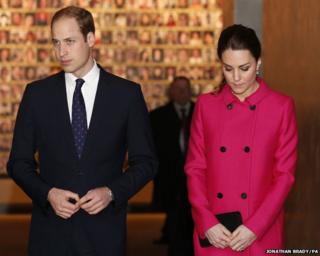 The Duke and Duchess of Cambridge have returned from a three-day tour of the east coast of the United States during which they visited the 9/11 memorial and museum, met President Obama and watched a basketball game. The Press Association sent photographer Jonathan Brady from London to cover the visit and here he reveals what it is like capturing the royals on tour.
"I have photographed the royals many times before for the Press Association but usually at official engagements at Windsor and Buckingham Palace. However, this time I would be spending three days following the Duke and Duchess of Cambridge on their visit to New York City - a tour that was guaranteed to receive a lot of media attention on both sides of the Atlantic and around the world.
"The couple packed a lot of separate visits into each day they were in New York so there was virtually no downtime between them.
"The levels of security and scrutiny on a trip such as this behove any member of the travelling press to make sure their credentials are absolutely in order. If they don't match the State Department and the Palace's records, access is denied without negotiation, regardless of how familiar the staff have become with your face by then.
"Despite appearances and the subject matter in particular, it really isn't a glamorous job. On one occasion we had to wait outside in Harlem for a number of hours as the temperature hovered around freezing.
"At the September 11 memorial however, I was fortunate to be doing the pool photography and thereby was indoors - the rest of the press pack were again forced to wait in the cold for two hours."
PA photographer Jonathan Brady covers a wide range of stories and you can read a previous post about how he captured a magical moment at Wimbledon in 2013 here.