Raw nature in all its beauty
The winning photographs of this year's 2016 National Geographic Nature Photographer of the Year competition stood out from thousands of entries, from one capturing the fallen majesty of a polar bear, to an Indian snake curled around a branch.
However, it is French photographer Greg Lecoeur's image of predators feasting during a sardine run that captured the judges' attention, winning him the grand prize. What follows is a selection of images accompanied by the photographer's own words.

Greg Lecoeur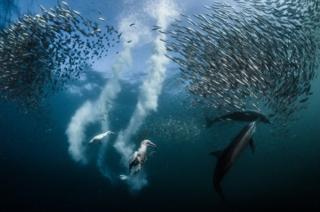 During the sardine migration along the Wild Coast of South Africa, millions of sardines are preyed upon by predators such as dolphins, marine birds, sharks, whales, penguins, sailfishes and sea lions. The hunt begins with common dolphins that have developed special hunting techniques to create and drive fish to the surface. In recent years, probably because of overfishing and climate change, the annual sardine run has become more and more unpredictable. It took me two weeks to have the opportunity to witness and capture this marine predation.

Varun Aditya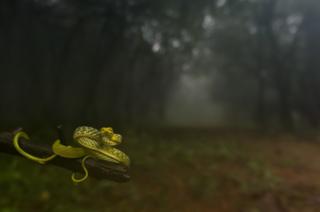 I shot this at Amboli, south Maharashtra in India, on 24 July 2016 during a morning stroll in the rainforest. Ceaseless drizzle dampened the woods for 10 hours and the serene gloom kept me guessing if it was night or day. Then I saw this beauty and I immediately switched from the macro to the wide-angle lens and composed this frame.

Vadim Balakin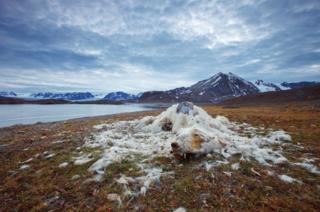 These polar bear remains were discovered at one of the islands of northern Svalbard, Norway. We do not know whether the bear died from starving or aging.

Jacob Kaptein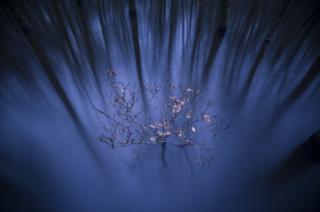 Last year I participated in the Marius van der Sandt scholarship for young photographers. For a whole year I was guided by some excellent nature photographers on a project I wanted to accomplish. I chose a natural stream restoration project by a nature organisation in the Netherlands. The first time I entered this patch of forest, I immediately saw this little beech. I came back several times to photograph it. One evening, just after sunset, all the light conditions were perfect. I stood in the cold water for more than an hour making many photos while I experimented with different shutter speeds.

Alessandro Gruzza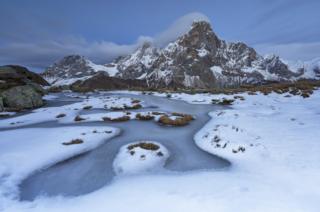 The first cold days of winter have frozen the surface of a pond and the first snowfall has revealed its delicate beauty. In low-pressure conditions, south-west winds push the clouds against the vertical peaks of the Pale di San Martino in Italy. At dusk, a long shutter speed enhances the movement of the clouds around Cimon della Pala, one of the highest peaks in the Dolomites.

Michael O'Neill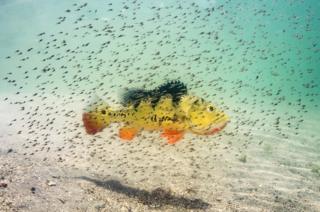 A female peacock bass guards her brood in a freshwater lake in Miami, Florida. She will protect her young fry from a variety of predatory fish until they are large enough to fend for themselves. This tropical freshwater species, also known as the peacock cichlid, was introduced into Florida from South America in the mid-1980s to control the tilapia population.

Tori Shea-Ostberg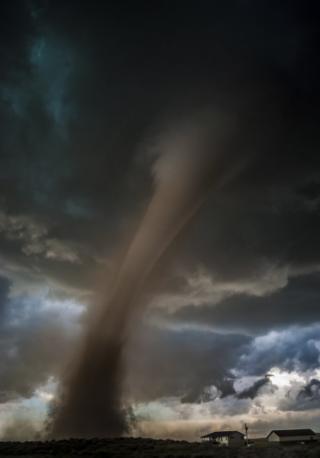 A tornado bears down on a home in Wray, Colorado, on 7 May 2016. As soon as we were safe, as the tornado roared off into the distance through a field before roping out, we scrambled up the hill to check on the residents. Thankfully, everyone was all right.

Chris McCann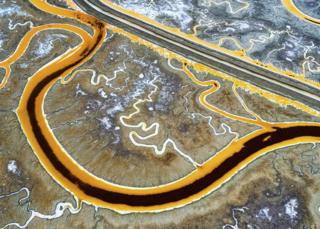 A total of 80% of the San Francisco Bay Area wetlands - 16,500 acres - has been developed for salt mining. Water is channelled into these large ponds, leaves through evaporation and the salt is then collected. The tint of each pond is an indication of its salinity. Microorganisms inside the pond change colour according to the salinity of its environment.

All work is subject to copyright