Documenting life in Latin America
From her base in Caracas, Venezuela, Meridith Kohut has been documenting Latin American life since 2007. Kohut has just been selected to receive the 2017 annual Getty Images and Chris Hondros Fund Award, allowing her to continue her commitment to documenting important local issues.
The award is in honour of photojournalist Chris Hondros, who was killed on April 20, 2011 while on assignment in Misurata, Libya.
"Chris is a true legend among photojournalists - not only for his prolific career covering conflict around the world, but for the compassion and generosity he showed the people whose lives he documented, and his fellow colleagues," says Kohut.
"Having my work recognised by his closest friends and family at The Chris Hondros Fund is deeply humbling and a tremendous honour," she continued.
From the rise and fall of Hugo Chavez's socialist revolution in Venezuela, to prison overcrowding in El Salvador, Kohut's in-depth photo projects reveal the many stories of Latin America.
Here is a selection of her work.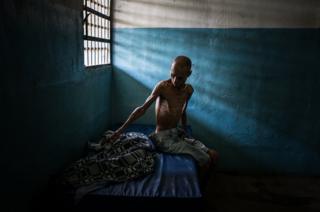 This image, taken at at El Pampero Psychiatric Hospital in Barquisimeto, Venezuela, shows Omar Mendoza, a severely undernourished patient.
Working with New York Times reporters, Kohut found that patients such as Omar, a schizophrenic, had access to very few drugs to treat their afflictions. Food was also in very short supply.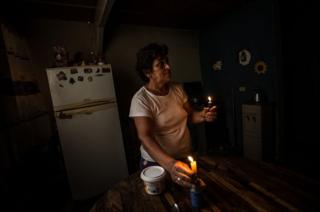 Nadia Rodriguez is a 54-year-old resident of the Cana de Azucar neighbourhood of Maracay, Venezuela.
In this photograph from March 2016, she is seen lighting a candle inside her home while electricity was shut off due to state-mandated rationing. A lack of rain has caused a drought and hydroelectric dams could not produce enough power.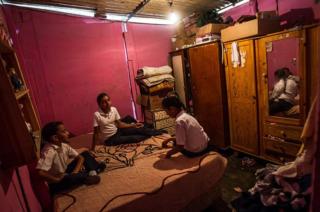 The Graterol sisters - Natali, Niurka and Edith - sit on their bed in their home, which is made of sheet metal, on Avila mountain in Culebrilla, Venezuela,
Kohut has documented the rising poverty across the country, with a high level of food shortages leading to many protests.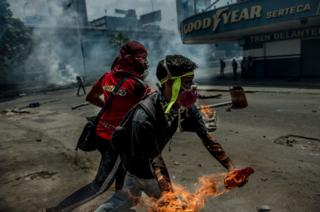 Clashes between followers of the socialist policies of the late President Hugo Chavez, his replacement Nicolas Maduro, and their opposition has led to tension across Venezuela.
This image of protesters focuses on their discontent with the government. The throw rocks and petrol bombs and in return, riot police used tear gas.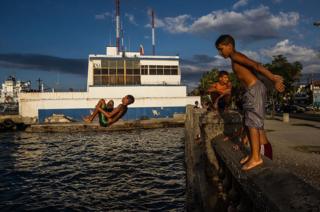 In the Venezuelan port of Puerto Cabello, boys prepare to jump into the water. This is the location where a Brazilian meat processing company brings government-subsidised meat into the country.
In a Bloomsburg article accompanying these photographs, it was reported that this meat is often taken to state shops where the threat of riots or government opposition campaigning is high.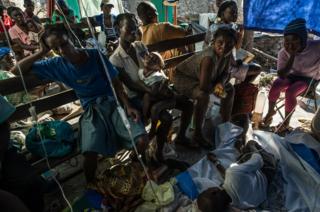 For another project, Kohut trekked for almost five hours to reach the remote town of Rendel on the southern peninsula of Haiti.
The town had been suffering from an outbreak of cholera, worsened by the destruction of Hurricane Matthew. This photograph captures the plight of patients in an overcrowded clinic in the town.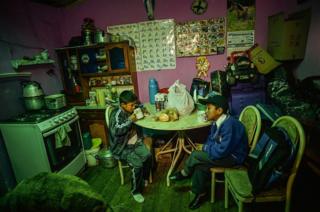 In the town of La Oroya, Peru, Kenyi Barja and his brother eat their breakfast.
Kohut documented the human collateral from the clash between the Peruvian government and Renco Group Inc, a mining conglomerate who were accused of causing local children to suffer from illness related to elevated lead levels.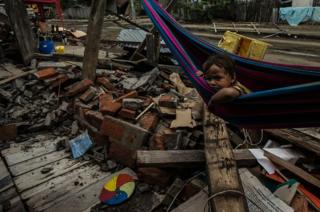 A 7.8-magnitude earthquake struck Pedernales, Ecuador on 16 April 2016.
Here, a young child looks out from a hammock as detritus surrounds her. The quake was Ecuador's largest since 1979, and at least 272 people were confirmed dead, with many more injured.
All images by Meridith Kohut.