In pictures: Life after the mudslide
One month ago, a mudslide devastated parts of Freetown, Sierra Leone. Estimates suggest about 800 people were killed and at least 7,000 are now displaced. After weeks of heavy rain, the top of Sugar Loaf Mountain collapsed and smothered the community below it. Water pushed mud and heavy boulders down the valley, sweeping away houses in two other areas, Kamayama and Kaningo.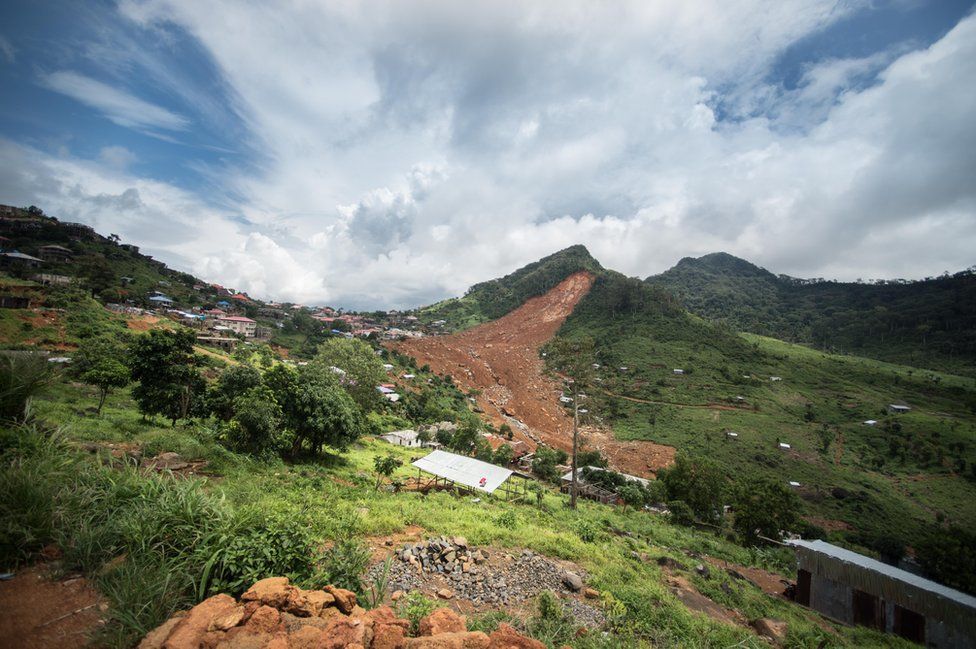 For the past month, thousands of displaced families have been sleeping in temporary refuges. While some people are staying with friends or relatives, others are on the floors of school classrooms, at a local chief's house and in a church. More than 200 families are staying in a damp, half-built house opposite the mudslide site.
The government has now erected two official camps, in Juba and Hill Station, supported by UN agencies and non-governmental organisations. Those who have been verified as victims, and have nowhere else to go, are gradually being moved there. Low-cost houses are being built in Six Mile, a far suburb of Freetown. People from the affected communities are expected to move there within the next three to six months.
Though aid has flooded into the country and benefited many, some people say that they've been left out and are still lacking in food, medicine and adequate bedding.
Since the mudslide, Kadi Kamara and her one-year-old daughter, Esme, have been sleeping in a windowless, half-built house without mattresses or bedding.
"I heard that they were going to move us out to one of the official camps," says Kadi, "but we're still here. I think they've forgotten about us. We haven't had anything to eat since yesterday morning. Many people are getting sick."
When asked if she has registered in order to receive help from the government, UN and NGOs, she says: "There are so many registrations from all the different organisations. In the morning, evening and night time, people are registering. I have registered a few times, but I don't know if it was the right one. Getting help is chaotic. For example, some people have three mattresses and others - like us - have none."
At one of the official camps, in Juba, a woman worries that she will have to leave as she does not have the yellow card issued after the registration process.
"I was with many others at a school that day, we were told to go there to receive food. When we came back to Kamayama, they said that people had been registering all day but we had missed it," she says.
Twelve-year-old Mariatu Bangura has packed her bag and is waiting to be transferred to the camp in Juba. She stands in the spot where her house once was, alongside her aunt. She was staying with her granny on the morning of the mudslide, but both her parents were killed.
"I am looking after seven children now," says her aunt, Mariah. "It's very hard because I can barely afford to feed my own family. I know that there are problems with fake victims signing up for aid, but we are the real victims and we need more help".
Mariatu was not relocated that day, and returned to her aunt's house in the evening.
Esta and Ibrahim Kargbo live in the same area of Kamayama. Their parents were also killed.
Esta was staying with a relative at the time of the mudslide, but Ibrahim was in the house with his family. He got wedged under a collapsed tin roof and was rescued by a neighbour. Now, the children are living with their uncle, who has little money and is worried about supporting them. School has just reopened, so he needs to buy them books and provide money for their lunches.
"Many of these women have lost their homes, husbands and children. Some of them have not passed the verification process because the chief and chairman in the area said they did not recognise them. This means they won't be able to get help," says pastor John.
When asked about moving to the relocation village in Six Mile, he says: "As long as they have schools, churches, mosques and livelihood options, then I think people will be happy to go".
Construction is under way at Six Mile.
Presidential spokesman Abdulai Baytayray says: "In the first phase of building, we are creating 53 houses. We will also build an orphanage, clinic and school. We have set aside a further 200 acres (0.8 sq km) in this area to build on so we can relocate not only those affected by the mudslide, but all those living in dangerous parts of Freetown".
All photographs by Olivia Acland.