The people of the whale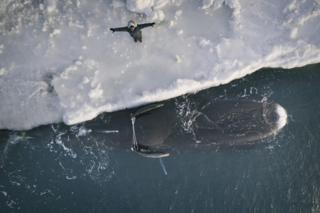 Kiliii Yuyan is an indigenous Nanai photographer who documents native cultures and wilderness conservation issues. He spent time with the Inupiat, an indigenous community from North Slope Alaska, whose lifestyle and culture is dependent on subsistence harvest of marine mammals.
Members of the community are allowed to catch limited number of bowhead whales a year from stable populations. The first boats to harpoon the whale receive shares. The lead whaling crew divide the head between them.
Above, Flora Aiken gives a blessing to the first bowhead whale of the spring season. The Inupiat have a rich spiritual life that centres around the gift of the whale to the community.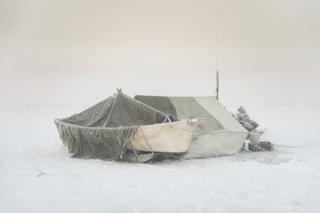 This camp, erected miles out on the sea ice, is an Inupiat home away from home during hunting season.
Six-year-old Steven Reich examines his father's umiaq, or skin boat used for whaling. His father Tad, captain of Yugu crew, expresses excitement about taking Steven out whaling on the ice for the first time. "I am proud of my son - he's here to learn to be a hunter," he says.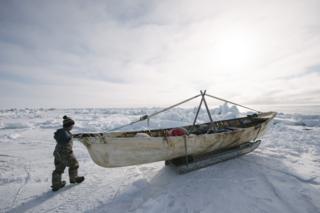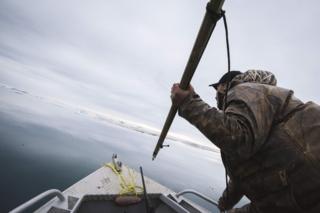 The cure for feeling cold while out on the ice is to eat quok, the Inupiat word for frozen raw meat and fish.
Seal is also a source of food for the Inupiaq. Misigaq, or seal oil, is a liquid made from the blubber of the bearded seal. It is left to ferment for a few days at refrigerator temperatures before eating.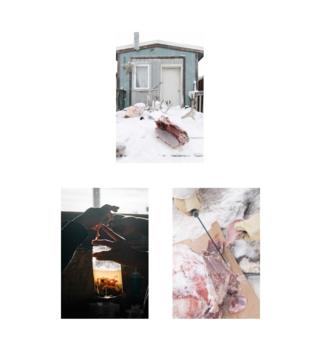 Sigvaun Kaleak and his father, Raleigh, are lifelong whalers. Although commercial whaling has taken a massive toll on the global whale population, the Inupiat have maintained a sustainable harvest.
Bernadette Adams was the first Inupiat woman to harpoon a whale. "I happen to have no brothers, so I had to find some way to help the family out," says Bernadette.
Inupiat elder Foster Simmonds has been a whaler since he was a child.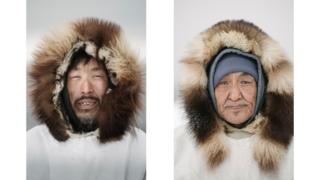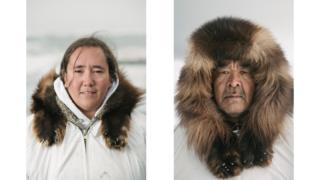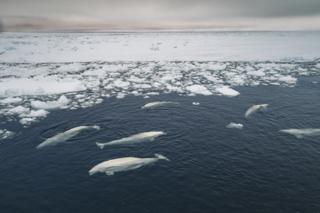 Beluga whales are seen trapped by sea ice as shifting winds create unstable conditions. Though some villages hunt belugas, the Inupiat that hunt bowhead whales prefer to watch the white whales as they pass by during their migration.
Today's Inupiat leaders live double lives, treading the line between modern concerns for the community and the subsistence lifestyle.
Maasak Leavitt, who works for the North Slope Borough, was hurt when his son pronounced on Facebook that his father was "too busy politicking" to hunt.
Maasak hopes that one day his son will understand his work in government helps to protect traditional practices.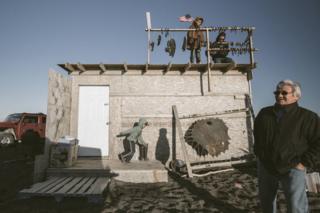 At Nalukataq, the summer whaling festival, the village comes out to celebrate a successful whaling season and to give thanks to the whale for its gift.
Here, successful crewmembers do the blanket toss. They are thrown up to 30ft (9m) in the air, and depend on everyone's help to land safely.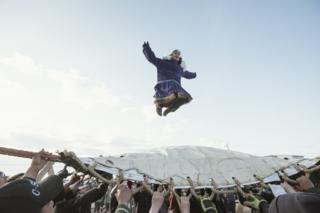 Interviews and photos by Kiliii Yuyan/INSTITUTE