Ami Vitale: A life devoted to photography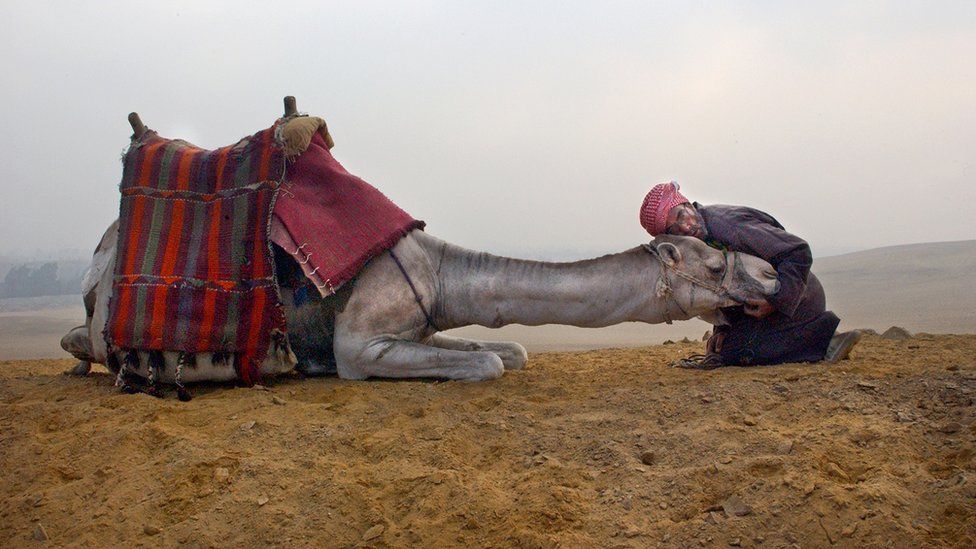 Ami Vitale is often described as a travel photographer, and given that she has worked in nearly 100 countries over the past 18 years you'd be forgiven for doing so. Yet though her pictures are exquisitely beautiful and come from many exotic locations they go far deeper than traditional travel pictures, connecting the viewer to issues that are dear to her and of importance to society as a whole.
"While I do travel and witness extraordinary things, it's not simply about jetting off to exotic places," says Vitale.
"The magic really begins when I stay in one place, often for years, to get beyond the surface and talk about the things that connect us."
This year Vitale is a nominee in the World Press Photo Awards for her pictures of the community-owned Reteti Elephant Sanctuary in northern Kenya.
But her first step into the world of photography came when she gained an internship at a small newspaper in Raleigh, North Carolina, in the early 1990s.
Later she worked as an editor for Associated Press and, as she puts it, one day built up the courage to quit and pursue her dream to be a foreign correspondent.
After a spell on a newspaper in the Czech Republic, Vitale set off to cover the conflict in Kosovo,. It was here she found the desire to turn her attention to stories that bring people together and reflect life beyond the latest headline.
"When we truly understand each other's stories, we are transformed, and no matter where you go, the joy of human emotions remains the same," she says.
"The thing that really struck me after witnessing so much conflict and violence in my career is that every single issue I covered, whether it was war or poverty or health always ended up being dependent on nature for its outcomes.
"I use nature as the foil to talk about our home, our future and where we are going. The whole point of all of this is to remind people that everything we eat and own is impacted by nature.
"As a photographer the more I'm asked to document people and their issues, I realise I'm documenting nature, and the more I get asked to document nature, I realise I'm photographing people's lives. It's one and the same.
"In a world of seven billion people, we must see ourselves as part of the landscape. Our fate is linked to the fate of animals."
"Every story has a variety of viewpoints and truths depending on where you stand. It really takes tremendous time and patience to get to the subtleties and nuances of any story."
Vitale often spends many years working on stories that are important to her, most recently making multiple trips to China for her award-winning pictures documenting the country's panda-breeding programme - as well as visits to northern Kenya to cover a story about indigenous communities protecting endangered species.
"The truth is, very little 'clicking' happens," says Vitale. "I travel to some astonishing places, but the secret is about going deep and revealing more than just an 'exotic' image.
"Sticking with a story for years helps you understand the complexities, characters and issues that are not always immediately obvious.
"Empathy and earning trust is the most important tool I can have so they let me into those special moments. I spend a lot of time explaining why I'm doing this and why it's important.
"The trick is to get access to places that no-one else can get to, and the secret to this is to know your subject better than anyone else.
"So my advice to those who dream about this is to find a story close to you - maybe even in your backyard - and make it yours. You don't need to travel abroad. What you do need to do, however, is tell a story better than anyone else can, using your own unique perspective.
"If you find your own story and show complete and utter dedication, then you will find a way to carve out a career."
Funding is of course a big challenge and Vitale often funds the projects herself, by undertaking some teaching work or advertising commissions. She sees it as an investment.
"I work to make timeless images that will have a life that carries on rather than timely images for the voracious news cycle.
"I spend months and sometimes years working on these stories on my own time.
"National Geographic is an incredible platform, but I don't know if people really understand how it's a place to get it seen by large audiences but there are no staff photographers, meaning we have to be very creative and find ways to make it work financially on these longer stories."
"I mentor a lot of people and I believe we must pass on the torch and inspire everyone to get involved."
To be as successful as this you have to devote your life to photography, sacrifices are the name of the game.
Vitale is aware you have to be emotionally self-reliant and wonders how she got through some of the things that have happened to her.
"It's the psychological dangers that scare me the most.
"I've been harassed, threatened and learned quickly as a woman that I have to be thoughtful about how and where I work. No picture is worth my own personal safety.
"I've had many terrifying experiences. My worst close call was in a village in Palestine, in Gaza. It was after a Palestinian had been shot and killed, after his funeral.
"The Sun was setting and I was the only journalist still there. My instincts were telling me it was time to go, but I just wanted to get one or two more frames. And then this man started screaming, and within seconds I was surrounded by a crowd of young, very angry men who wanted blood. They wanted vengeance."
Thankfully earlier in the day Vitale had spent time with the family of the man who had been killed and they were able to get her to safety.
It's not just people you have to be wary of though, especially when working with wild animals such as the pandas.
"We must never forget the 'wild' in wildlife," says Vitale. Though she wants to get close, to do so could be dangerous for both her and the animal.
"I always talk about the challenges we face but I don't think that is enough. It doesn't motivate people when all we hear is that it's hopeless and nothing can be done.
"Everywhere I go, I see people, often with very little, making huge impacts in their communities and the planet.
"I think it's just as important to shed some light on those stories, where against all odds, individuals are making a difference.
"This will be what saves us all."
Related Internet Links
The BBC is not responsible for the content of external sites.