Meet the 'fearless' drag queens of Beirut
By Thomas Aagaard
Beirut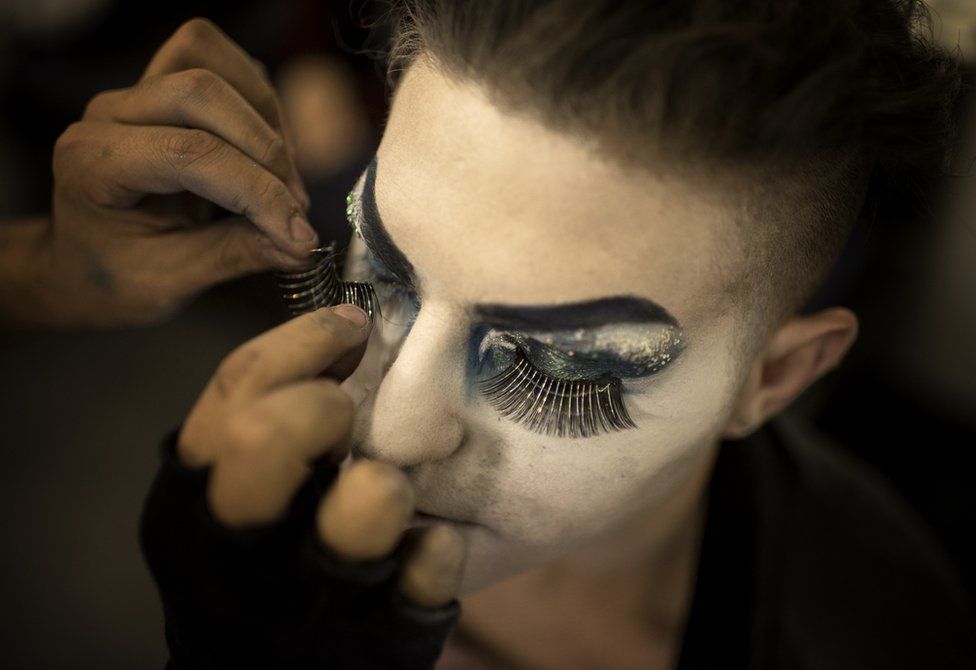 Elias's hands tremble as he lights another cigarette. He's never done this before. He's worn the dress, the heels. He's practised the lip syncs. Tonight is his first real outing as Melanie Coxxx - the drag alter ego whom he likes to describe as a "fierce, fearless, fun, and sexy" queen.
Those are all strengths he needs to rely on tonight - especially the fearless part. As he struts along the runway-esque entrance to one of Beirut's few and secluded gay bars, a crowd of people both in and out of drag awaits him inside. Their eyes rest on Elias as he comes in.
He is here to walk in Lebanon's first-ever "mini ball", a type of competition in which contestants - drag queens, women, and, typically, gay men - come with wigs, gowns, high heels, and cinched-in waists to compete in extravagant runway looks, lip syncing skills and voguing.
"I want Melanie to be known. I want everyone to talk about her," says Elias.
A buzzing drag scene is evolving in Beirut, the capital of Lebanon, where homosexuality is still technically illegal.
Melanie Coxxx isn't the only new queen on stage tonight. Three years ago, the scene hardly existed, says Evita Kedavra, an Armenian-Palestinian drag queen and one of tonight's judges.
Evita, who only wants to be quoted by his drag name to conceal his identity, was one of the first drag queens to start doing shows in Beirut's night clubs three years ago.
"No-one had the balls to perform in drag yet back then," he recalls of his first show, which quickly turned into regular gigs at Beirut's gay bars.
Since then, drag has moved to the forefront of Beirut's gay community.
There are two reasons for that development, Evita says.
One reason is that it has become easier to be gay in Lebanon during the past couple of years. According to article 534 in the Lebanese Penal Code, all sexual relations that "contradict the laws of nature" are punishable by up to one year in prison.
But unlike other Arab countries in the Middle East, Lebanon is edging close to decriminalising same-sex conduct completely, largely thanks to the growing pressure of Lebanese activists fighting for LGBTQ+ rights.
In recent years, several judges have ruled that being gay isn't in violation of Article 534.
Another reason is Western pop culture and the part it has come to play for younger generations growing up in post-war Beirut, Evita says.
"As kids, a lot of us only watched American television. And when we see Western culture embrace drag and gay characters on TV, we begin to do it, too. It's not necessarily that there's a broader acceptance here - it's that there's a broader acceptance there," he says.
Specifically, he is talking about RuPaul's Drag Race, the wildly popular American reality show that for nine seasons has seen talented drag queens duel off in fashion, acting, singing, and lip syncing challenges. In 2017, the show moved from Logo to a much bigger audience at VH1, and the show's popularity exploded. In Beirut, too.
It's the same kind of fame Elias is dreaming about when the 23-year-old says he wants Melanie to be "known".
Elias is wearing a voluptuous black tulle dress that drags behind him on the floor as he walks in. His boyfriend Marwan keeps two steps behind to make sure no-one steps on the dress. Behind him, Elias's mother Valerie sits down for a cigarette.
"I was the one who showed him his first drag show when he was 14. Not here, of course, but in Turkey," she says, nodding to her son's friend beside her. "Because I knew. I just knew."
But Valerie hasn't always been as supportive as she seems now. When Elias came out at 19 years old, she initially kicked him out of the house.
"When he told me that night, I didn't sleep at all. 'What about our neighbours?' I thought. 'What are people going to say?' At six the next morning, I screamed my husband awake. 'A terrible thing happened to us. Our son died. Our son died.'"
Elias was sent to live with his grandparents for a while before being allowed back home. Members of Valerie's family alternated between giving her advice on how to cure her son, and blaming her as a mother for having influenced him.
In the end, Valerie cut ties with several family members, she says. She chose Elias.
Now Valerie sits on the front row of the ball taking place on an improvised catwalk in the middle of what's usually the dance floor of the bar. A panel of three judges has taken a table across from her, ready to score the contestants.
As Melanie walks down the runway, he rips off one piece of clothing after the other. First, the black tight bomber jacket, adorned with gold pedals in the shape of a tall crucifix. Second, the black tulle dress, is ripped off at the waist and thrown to the now-ecstatic crowd.
Then, only wearing a skin-tight leather corset, a black lace mask that covers his entire face, Melanie turns to head back along the runway, opens his mouth and lets a thick, blood-red liquid fluid flow from his mouth to his chest.
The audience goes wild, and Melanie is declared a winner.
When Elias goes outside for a cigarette immediately after, he can't remember his own performance. He is overcome by emotion.
"I thought it was just going to be a show, and then I would go home. But it was huge," he says.
The next day, he is booked for a show in another club, and his Instagram account gains several new followers. Eventually he has to create a new account devoted to Melanie Coxxx.
Four world-famous Drag Race alums have visited Lebanon's capital in the past year. One of them is Pearl, who says he feels like he is "contributing to a revolution".
Evita Kedavra says things are definitely "happening".
"Beirut is a very small city in a very small country, and we're a very, very small community of people. So I used to know literally everyone who would come to the bars. But now all these queens are suddenly emerging and I don't know them.
As we continue coming out, the scene will grow."