Syria war: Refugee women heading households in Jordan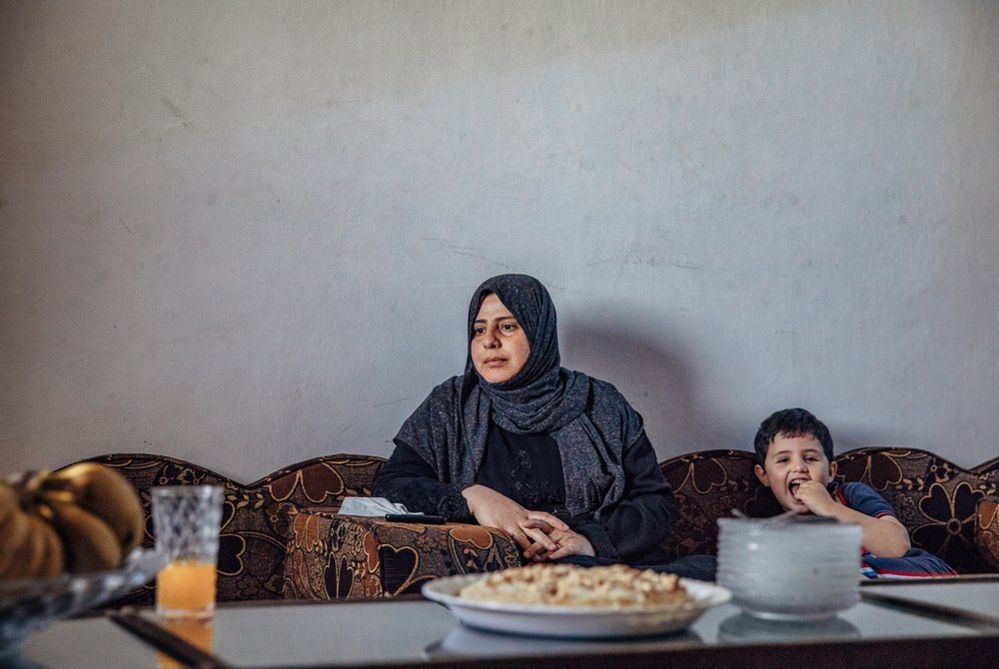 The Syrian crisis has had a huge impact on its neighbour Jordan, which hosts a large number of people from across the border.
While there is often a focus on the country's refugee camps, many Syrians live in urban areas. Around a third of refugee households are headed by women, who are increasingly looking for work to support their families and cope with rising prices, growing debts and crippling poverty.
With growing unemployment and a struggling economy, on top of barriers to women working that can hinder their efforts, they and their Jordanian counterparts face an uphill struggle to get by. Daily life often involves choosing between essentials like buying food or gas bottles, funding bus fares to school, paying the rent or going to the doctor.
For its annual World Refugee Day, on 20 June, the UN marks the "courage and perseverance" of the tens of millions who have been forced to flee their homes and asks the public to stand by the refugees.
A framed photo of her late husband hangs high on the wall above Mariam Agag, as she sits on the floor of her rented home in Irbid, northern Jordan.
A Syrian refugee who fled in 2012 and was widowed four years later, Mariam is now raising six daughters alone.
The girls, aged six to 14, all have ambitions to be medics or teachers. But Mariam is frightened of the future, wondering how to keep them safe and fund the education they want.
"With no guy to protect us, I am always watching. I'm scared when they go to school because someone might harass them. I'm scared I won't able to finance them to go to university."
After receiving an unexpected 3,000JD (£3,200) bill for their daughter Sara's diabetes care in 2016, they were in shock: "My husband was sitting there just trying to understand what was going on. Four days later he died of a stroke."
The family's fragile situation worsened after this death. She has done some temporary jobs and they receive UN food vouchers, but Mariam often sells some of them to pay for other things.
"Sometimes we can't even afford food. Last week I sold two blankets and a heater just to support ourselves. Healthcare prices are really high - when my daughters get sick I can't afford to go to the doctor."
Like many refugees, she seeks charity funding for medical treatments, like the diabetes medicines Sara needs.
Salwa Naqarash (pictured below) is also raising her two daughters solo. Soon after the family fled to Jordan in 2013, her husband abandoned them and returned to Syria to marry a second wife. She lives with her sister Salam, who is divorced, and her two children in Naemiah village, Irbid.
"I need to find a job, with no husband to help me. The pressure on us sometimes builds up, with so much stress inside me I just collapse - I am done with everything."
Their father and two of their brothers were killed in the war, and the rest of the family is stuck in Syria. There's no one to hold them tight and say 'keep going', she says.
Like Mariam, Salwa and Salam have been involved in a recent project, managed by the charity Action Against Hunger and funded by German development agency GIZ, that gave temporary contracts to refugees and local Jordanians to collect street refuse for wages.
Most used the money to pay for medical treatment or settle debts, but the sisters managed to invest some in a sewing machine, and hope to develop their small business making curtains and furniture covers for locals.
"I wish we could expand. If I had the money I would make business cards or a sign for outside," she says.
The sisters have also tried to teach themselves DIY because they can't pay anyone to help in the house.
"If we need to fix the electricity we say 'why don't we do it ourselves'? Life is tough, so you have to be tougher than life."
The waste collection project provided work permits for the refugees and also hired local Jordanians, who are feeling the strain from the crisis next door.
Action Against Hunger programme manager Sajeda Saqallah says they encounter many women supporting their families alone. As well as pushing back against some resistance to women working, they also had to overcome a "shame culture" around picking up litter in public streets.
"It reflects the fragility of their economic situation when the women leave their houses and work outside," Saqallah said.
"People can talk but I don't care. I just wanted some income," says 49-year-old Jordanian Hanan Khateeb, a widow with six children who took part in the project.
"Why can't a woman work? Yes a lot of people say that, but this is nonsense - I am very proud of myself."
"My husband's brothers never check on me. If family doesn't care, why can't I earn my own money?"
Fellow worker Amnah Turkmani's husband was killed in Syria. She gets 20JD (£21) a month for each of her five children from UNICEF, "but it's not enough".
Like all refugees, she doesn't have an automatic right to work in Jordan, so often does 'irregular' jobs. "Sometimes I borrow money or food from the neighbours, or I do seasonal work like harvesting olives. I'm always looking for work."
Despite the challenges the women thrived on the waste collection work and the chance to socialise, added Saqallah.
After the contracts ended, one group went on to form an upcycling project, which turns old paper and plastic into handbags and other household items, which they plan to sell.
Working together and learning new skills improved their confidence and helped the two communities become more cohesive.
"We saw them become more inter-connected to each other, the Syrians' confidence increased and they enjoyed living in their neighbourhood more," says Saqallah.
"Maybe they'd been afraid or worried about getting involved with Jordanians - now they have established good friendships."
UNHCR's annual Global Trends report, released for World Refugee Day, shows a new high of 68.5m people were displaced from their homes by the end of 2017 - one in every 110 people in the world.
Interviews by Paula Dear. Photography by Freya Dowson/Action Against Hunger and Paula Dear.