Ebola: Outbreak in DR Congo claims 90 lives
New cases of Ebola in urban areas of the Democratic Republic of Congo show the outbreak is not yet under control.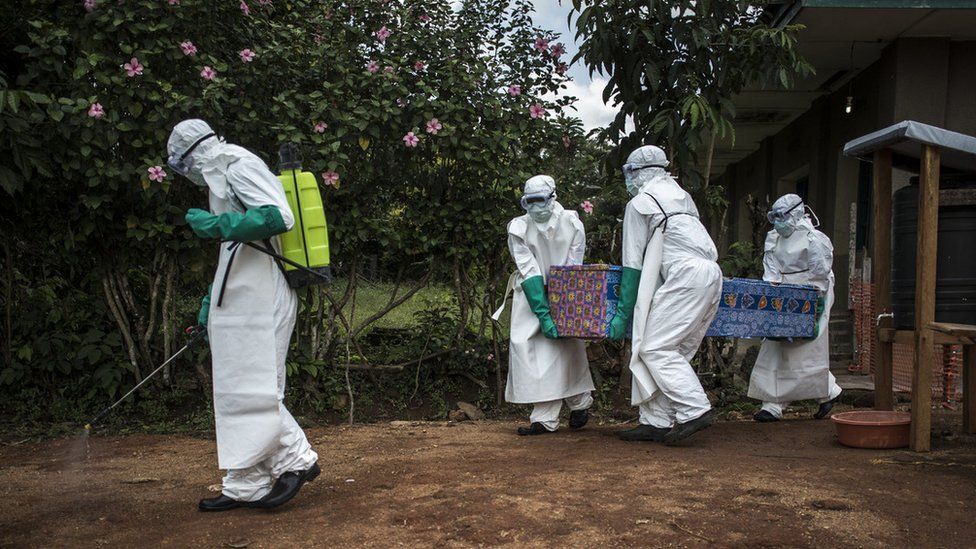 The charity Oxfam says that the next few weeks are critical to contain the virus, which has claimed 90 lives since 1 August.
This is the ninth time an Ebola outbreak has been recorded in DR Congo. The virus was first discovered there in 1976 - when the country was known as Zaire - and is named after the Ebola River.
In 2014, more than 11,000 people were killed by Ebola in Guinea, Sierra Leone and Liberia.
The epicentre of the recent outbreak is the densely populate town of Mangina.
"While the transmission rate appeared to be slowing down due to communities responding quickly to prevent the spread, these new cases in urban areas mean we're not out of the woods yet," says Jose Barahona, Oxfam's country director in DR Congo.
"It's also of real concern that three cases of the virus were found in a place where armed groups are highly active.
"These are hostile groups who don't negotiate and our ability to reach people in need is extremely challenging."
The charity is concerned that fear is making some people take huge health risks.
"Some people are avoiding taking sick family members to Ebola treatment centres, because they see them as 'prisons' or 'places of death'," says Mr Barahona.
"A significant number of people who have been in touch with someone contagious have fled their homes and, in some cases, people are resisting handing over bodies of their deceased loved ones, making the threat of the virus spreading much more acute.
"People are facing the virus for the first time, so they are understandably shocked and scared.
"If you add in the appearance of health workers in space-age hazard suits and the fact they've been living with the threat of violence for decades, you can imagine how terrifying the situation is."
The photographer John Wessels documented the personal accounts of some of those affected by the new outbreak.
Marie, Yvette, Justin, Rose and Louise all live in Mangina.
Names have been changed for the protection of the interviewees.
Rose, 28, is a market trader. She is a mother to six children.
"I have been selling rice and beans since I was 16 years old but nothing is selling now," she says. "People from outside don't come anymore, they are afraid of being contaminated.
"I have two displaced families living with me. One couple and their three children and a widowed father who lost his wife and two children in the conflict. He came to my house with his other three children. They fled armed groups who killed many people.
"I am the only person working in the home. For several days, it's very difficult to feed everyone. I cannot buy meat, fish or vegetables anymore. Since this morning, I have not been able to sell a single bag of beans."
Justin, 36, is a journalist.
"In the space of two and a half weeks, we have lost 10 family members," he says. "Eight were women, including my mother, my aunt and my niece.
"My mother took her sister-in-law to the hospital. That's how she caught the virus. My father is also in the hospital. I do not know how long he will live.
"Since help has arrived, it is clear that there are fewer cases of deaths. But we do not understand the slow pace of medical care.
"I am a journalist, so as soon as I have the strength I hope to go back to work, testify to what has happened to us and raise awareness.
"Currently, we are in shock. I hope there will be psychological care."
Marie is also a market trader in Mangina.
"My biggest fear is that the children are not eating enough," she says. "I'm afraid they will become malnourished.
"Access to Uganda is difficult. Buyers are stopped at the border. I know a local restaurateur who could not get any food last week because they didn't let her enter Uganda."
Yvette, 40, cares for 10 children, seven of which are her own and three the children of her neighbour, who died from Ebola.
"She was only 35 and died at the beginning of the outbreak," Yvette says. "We have been neighbours for more than 10 years.
"The little girl fell sick after the death of her mother. Her eyes are inflamed. Their mother had a small plot of land that we are keeping for these three children. Two of them go to school.
"We learned that the children were on the list of those who would be vaccinated, so we are waiting for the arrival of the community relay [teams]. It is true that the community is afraid of us. We feel isolated."
Louise is a community leader in a district within Mangina.
"It is a very serious disease that strikes us," she says. "Many women have died here in Mangina, at least 20 women. They are almost all from the same family.
"It must be said that in our community, it is the women who tend to the sick people. They also clean them, and wash the clothes.
"From the beginning of the outbreak, we called a community meeting and we decided to isolate any dead bodies. It was not easy because we do not have a mortuary in Mangina and people usually stay with the body for several days.
"Since the beginning of the outbreak, we can't shake hands in the village. We take hygiene measures, we try to build latrines, but it's difficult with the few means we have. Materials are expensive.
"We must start by training ourselves, the leaders, in awareness so that we can raise awareness in return."
All photos copyright: John Wessels/Oxfam