In pictures: Exposing the most difficult feelings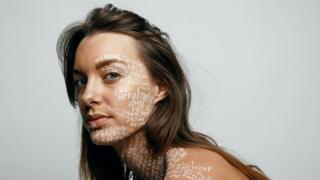 Photographer Charlie Clift and artist Kate Forrester's latest project takes a novel approach to exploring people's thoughts and feelings, literally inscribing them on to their faces.
Let's Talk is a campaign backed by Mental Health UK and designed to inspire millions of people to open up and have honest conversations.
Charlie Clift, co-creator of the campaign, has his own history with depression, which resulted in him dropping out of university for a year.
"Let's Talk is a particularly personal project to me," Clift said, on World Mental Health Day.
"By opening up and talking to people, I was able to seek help and get back on my own feet. For the first six months I just stayed inside and ignored the world.
"I was then given a camera by my parents. Photography got me out of the house and got me back talking to people. I really hope this project can be a way of using my photography to help others who have mental health difficulties."
For the project, Clift interviewed each volunteer to find out how they would describe their mental health difficulties in their own words.
Clift and Forrester then picked out words and phrases from the interview that they felt best explained each person's experience.
On the day of the photo shoot, Forrester spent a couple of hours hand-lettering these words on to the person's face. Having literally put their toughest thoughts out in the open, Clift then photographed them while they talked about their life, their passions and their difficulties.
The project features people from all walks of life alongside some well-known faces such as Alastair Campbell, Sue Perkins, Anna Richardson, Bryony Gordon and Jordan Stephens.
The work can be seen at Regent's Place in London before moving to other locations in the capital.
All photographs by Charlie Clift, for more details see the Let's Talk website.