In pictures: Army Photographic Competition 2018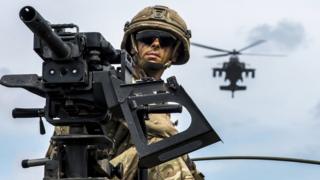 A stunning photo of a helicopter hovering above a soldier has been named best overall image in the Army Photographic Competition 2018.
Guardian Angel was captured by army photographer Cpl Tom Evans, who was also named photographer of the year for his professional portfolio of images portraying military life during the past 12 months.
"Being a photographer is the best job in the army," says Cpl Evans, who is based in Brecon, Powys. "I get to see the whole army, every trade and every cap badge and see them at work in so many exciting and varied places across the world. That gives us a unique perspective on it all."
With more than 1,500 entries, the annual competition is open to all army personnel and captures soldiers at work and play around the world.
Cpl Becky Brown won the Portrait (professional category) award for her picture, A Soldier's Smile.
"I was on a deployment to Kabul on Operation Toral with the combat camera team," says Cpl Brown. "Our job was to film and photograph different roles out there and explain to the general public what our guys were doing out there.
"While my colleagues were interviewing one of the Welsh Guards, I was setting up my portrait shot, so I borrowed one of the lads to set up my shot. While I was setting up and he was not aware I was, I was taking his photo. I managed to catch a nice smile.
"I think a lot of people can relate to his expression. Our guys do genuinely enjoy their jobs when they're away from home and out on the ground."
Cpl Brown also won a Story (professional category) award for her series documenting medical and dental health outreach clinics for Kenyan civilians.
The clinics are conducted in partnership with the Kenyan Ministry of Health and see British army medics work alongside members of Kenya's Defence Medical Services and Kenyan Red Cross volunteers.
The competition winners were announced at a ceremony held at the Imperial War Museum, London, on Wednesday.
This year's judges were BBC picture editor Philip Coomes and Press Association picture editor Martin Keene.
These are some of the other winners and runners-up from this year's competition.
All photographs subject to copyright