Backstage with David Bowie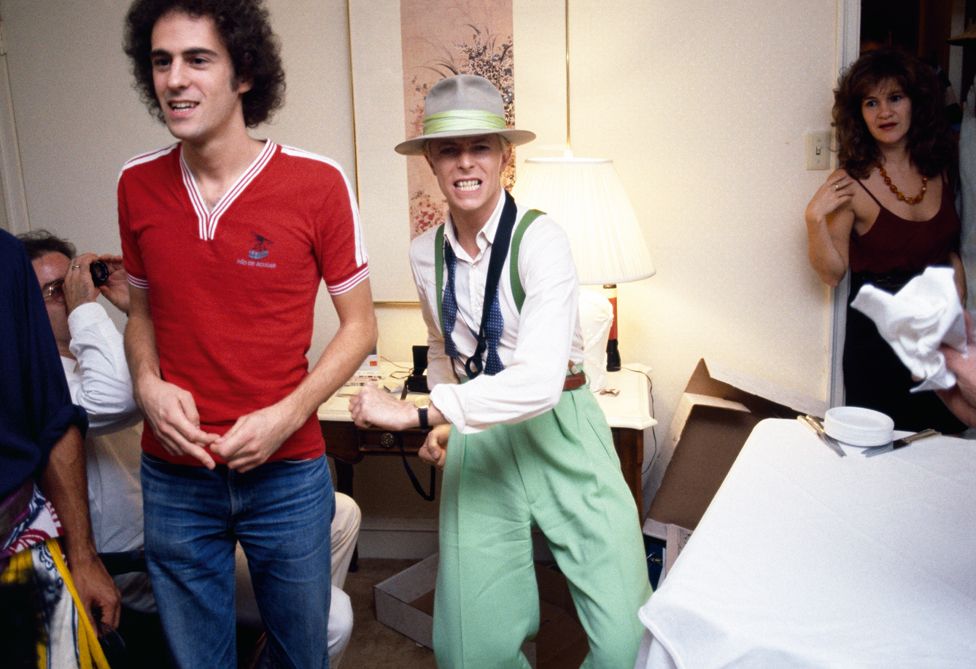 In 1983 the rock photographer Denis O'Regan toured the world with David Bowie, shooting the action on stage and behind the scenes.
Capturing moments of rehearsal and relaxation, O'Regan's work gives an unguarded view of the musician and an intimate view of life on the road.
Here, the photographer shares personal recollections on a small selection of pictures, from his archive of 10,000, taken during Bowie's nine-month Serious Moonlight tour, which featured 99 concerts in over 60 cities across the globe.
"Edmonton stadium, in Canada, was one of the largest shows. David approved pictures in a slideshow that I held for him in my hotel room. After the first week of shows, live photographs had to be pretty special to warrant a place in my presentation - in order to maintain his interest. This was one, specifically shot against a wall of people just out of focus.
"In the US and Europe, we flew on a private jet, which enabled David and his touring party, including the band, security, wardrobe and photographer, to travel with ease on unusual routes at odd hours. Without it, tour scheduling would be very difficult. However, in Australia we took commercial flights, so a picture of David in a regular seat with an airline meal is a fairly unusual one. David was very happy on this tour and it shows."
"The joy of luxury backstage! A moth-eaten old sofa, a couple of potted plants and the tour rider (food, drink et cetera) is all that would greet a lucky guest with the appropriate pass. Here, before a show, David is chatting with long-time band collaborators Carlos Alomar, with whom David and John Lennon co-wrote Fame, and guitarist Earl Slick."
"Here, Tina Turner is pictured with Ronnie Wood, of the Rolling Stones, and his wife, Jo, backstage at Madison Square Garden, New York. Other photographs from this show include a very sweet picture of Mick Jagger with David, who were so obviously very old friends.
"I had toured Europe with the Rolling Stones the previous year. But, after that one shot, Mick was very coy about being photographed on the day before his 40th birthday. Other backstage guests on the tour included Michael Jackson, Cher, Prince, and Andy Warhol.
"Backstage in Japan, Bowie heads towards the stage. David was rarely seen in this entire suit, choosing to remove the jacket early in the live show, due to the heat. Most of my photographs therefore show the blue shirt and braces that he wore underneath. It's my favourite suit from the tour, with the peach suit that he wore at Milton Keynes in one of my better known shots, as well as being the most well recognised."
"David as he had never been seen before 1983, clowning around backstage, simply being himself.
"The make-up artist's daughter had celebrated her birthday - and David, in his pre-show dressing grown, grabbed the balloons for a quick silly picture.
"It illustrates how at ease he felt with me photographing him, and also his love of laughing and his ability to laugh at himself. When I first met him, I was very surprised at how far removed he was from the ice-cool persona of the Thin White Duke from his previous tour, in 1978."
"The shot was made outside Earl Slick's house in Los Angeles. Slick had invited David to his home to meet his family. And, as we walked out, David - very briefly back in the guise of David Bowie - spontaneously jumped behind our car and adopted the pose of the driver of an invisible car. This was so typical of the mime artist that had overwhelmed my senses when he appeared as Ziggy Stardust in 1973 at The Hammersmith Odeon.
"Bowie relaxes on the river in Bangkok at the end of the tour. We got up at 03:00 so that a film crew could follow David for the day, discovering older areas of the city as part of the Ricochet documentary. After the show, hotel and plane confines of the tour, it enabled me to spend an unusual number of hours in daylight with David as he relaxed, visiting temples and families' houses along the course of the river.
"It was a relaxing and fun end to an incredible year."