Captain Sir Tom Moore's life in pictures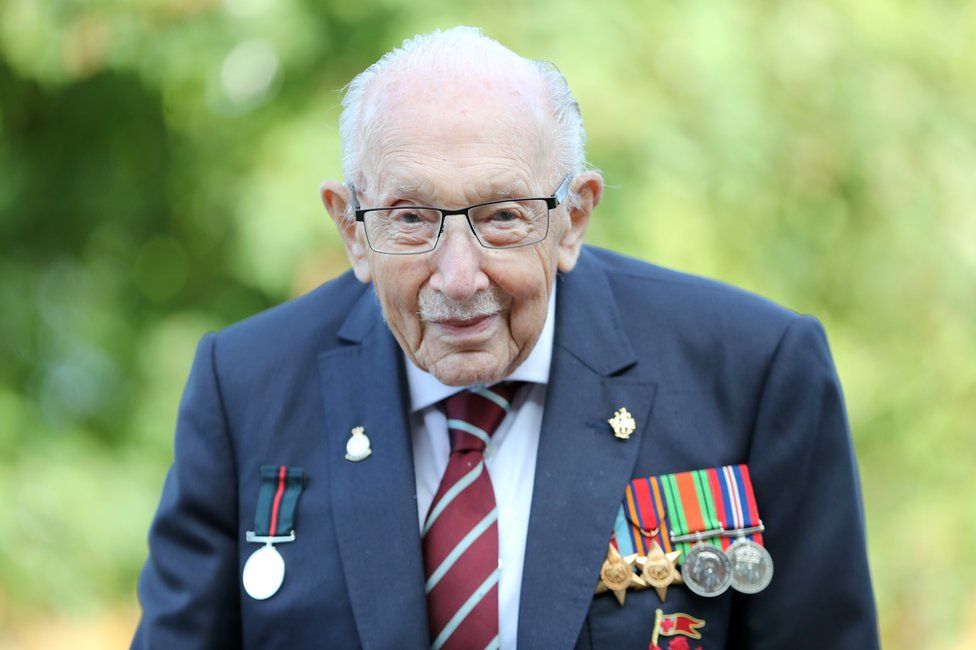 Captain Sir Tom Moore has died, aged 100, after testing positive for coronavirus.
Born 30 April 1920, Captain Sir Tom was an Army veteran who came to prominence when he walked 100 laps for NHS Charities Together in his garden in Marston Moretaine, Bedfordshire, aged 99.
The fundraising walk began on 6 April 2020, during the first UK lockdown of the coronavirus pandemic.
His intention was to raise £1,000 for the NHS charity, but he soon became a social media phenomenon and had raised £12m by the time he reached the finish line.
As donations continued to grow, Captain Sir Tom became a household name and made many media appearances, with the total fundraising sum reaching over £30m.
"When we started off with this exercise, we didn't anticipate we'd get anything near that sort of money," Captain Sir Tom said at the time.
"All of them, from top to bottom, in the National Health Service, they deserve everything that we can possibly put in their place.
Originally from Keighley in West Yorkshire, Captain Sir Tom was a former British Army officer, serving in India and the Burma campaign during World War Two and rising to the rank of captain.
After the war, he worked his way up to managing director of a concrete company, and also was an avid motorcycle racer.
Following his NHS fundraising triumph in 2020, the army veteran achieved a number one single with his rendition of You'll Never Walk Alone, alongside Michael Ball, making him the oldest person to ever achieve a UK number one.
"My grandchildren can't believe I'm a chart-topper," he said at the time.
Proceeds from the single went to NHS Charities Together.
On 30 April 2020, Captain Sir Tom celebrated his 100th birthday and received thousands of cards from well-wishers all over the world, including greetings from the Queen and prime minister.
His birthday was marked with an RAF flypast, and he was made an honorary colonel.
Brigadier Andrew Jackson, colonel of the Yorkshire Regiment, described Captain Sir Tom as "an absolute legend [from] an exceptional generation that are still an inspiration for our Yorkshire soldiers today".
On 17 July 2020, he was knighted by the Queen in her first official engagement in person since the start of the first lockdown.
The investiture was staged in a "unique ceremony" at Windsor Castle.
"This is such a high award and to get it from Her Majesty as well - what more can anyone wish for?" Captain Sir Tom said of the event.
"This has been an absolutely magnificent day for me."
The Queen personally praised the veteran, telling him: "Thank you so much, an amazing amount of money you raised."
An official portrait of Moore was unveiled at the National Army Museum in London in August 2020.
The oil painting was created by artist Alexander Chamberlin and was hung as part of commemorations to mark the 75th anniversary of VJ Day (below).
Moore released his autobiography Tomorrow Will Be A Good Day (below) in September 2020.
In December 2020, a bronze bust of Captain Sir Tom Moore was unveiled at Leeds hospital.
His fundraising activities inspired many people around the country, with murals and artwork dedicated to the centenarian.