In pictures: 1,000 Dreams to mark World Refugee Day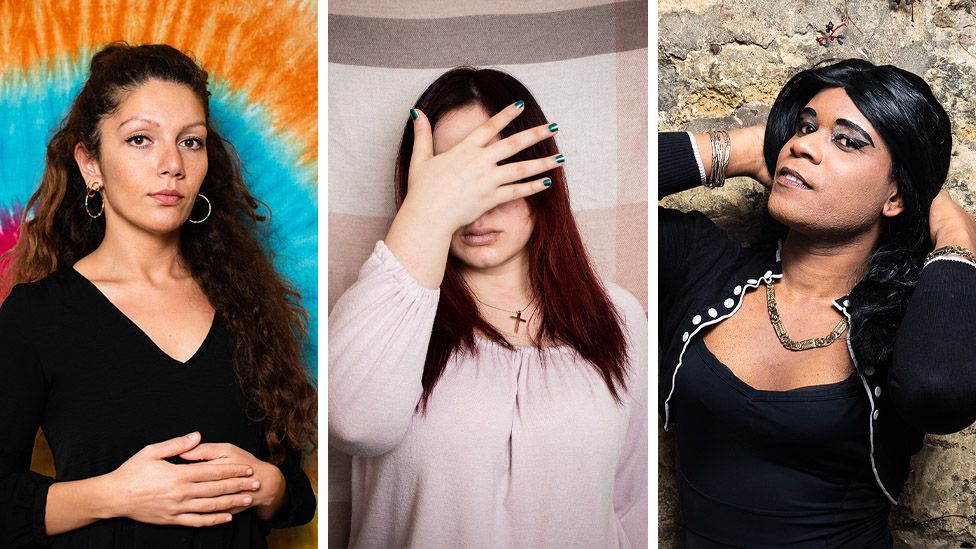 Photographic project 1000 Dreams is being created by 40 refugees to capture the stories of others living in Europe.
Here, on World Refugee Day, we share some of the photographs and stories gathered so far.
Hana was a young girl when she and her family fled the conflict in Iraqi Kurdistan.
After a difficult year-long journey, they arrived in Germany.
Initially, she was scared and confused - but she was also thankful for the safety Europe provided.
Hana now lives in Scotland and runs a cafe, donating part of her profits to refugees in Greece.
"My goals for the future are to provide as many children as possible with a safe place, so they don't have to go through the same childhood I had," she says.
Many years of therapy have helped her through the many challenges she has had to face - that and a mother who is an enduring source of strength.
"She's the main reason, along with optimism and just being so thankful that I'm still alive," Hana says.
Djenk left his home country, North Macedonia, because of homophobia, violence and a marriage his parents tried to arrange.
"I was very depressed because I didn't have anything to look forward to," he says.
"I didn't have any vision where my life would go.
"I was forced to live a life full of lies.
"And I did not want that for myself."
Coming to a new country alone aged 20 was a real struggle for Djenk - but the experience has made him grow.
"I've developed a lot as a person," he says.
"But I still have a long way to go."
Today, Djenk, a student and LGBT activist, rents a house with four others in Brussels.
He still struggles with loneliness but sport, working hard and supporting other asylum seekers help him cope.
And his current dream is to complete his degree and buy a house.
"I was given this life and I'm trying to make the best out of it, so I'm glad that I'm very resilient," he says.
Growing up in Bangladesh, Shammi wanted to be a journalist and constantly questioned women's role in society.
By her 20s, she was blogging about feminism and human rights - despite online death and rape threats
"I was always sure that what we were doing, what we are writing, and breaking the taboo, this is good for our society," she says.
But when other bloggers began to be murdered, Amnesty International helped her reach Berlin, where she now has refugee status.
Being an outsider has led to bouts of depression - but she is no longer afraid.
"I can say whatever I want," she says.
"In the end, I'm very happy that I could fight and I'm safe now and I know what does freedom mean - [it] is mine, nobody cannot take it."
Anna, an Albanian asylum seeker, escaped a physically abusive home and an arranged marriage only to fall victim to a sex-trafficking ring.
She recalls being transported across international borders and raped repeatedly, until finally managing to escape her abusers while in the UK.
"I've been in a really dark place emotionally," she says.
"After everything, I was numb for many months."
Now living in London, she tries to remain positive by attending school and volunteering with children.
"When I'm around children, it's so joyful," she says.
"I totally forget about everything else that's going on in my life.
"My dream now is to keep teaching children... especially for children of immigrants or children coming from a domestic-abuse background like me."
Elton had to leave his home, in Zimbabwe, with his brother and parents for "political reasons."
And they now live in temporary housing for asylum seekers, which he says is "not good for anyone", in Ireland.
Elton dreams of moving out and becoming a professional artist.
In addition to the poor living conditions, there is the uncertainty. His family have already been moved once.
And when Elton thinks of his life in Zimbabwe, he misses his friends.
"I feel lonely sometimes," he says.
"I feel like this is not my home - [but] sometimes I feel like this is my home. So it's kind of confusing."
But no matter how hard the situation, "I would just say never give up".
In Cuba, Céline was arrested, beaten and fined because of her gender identity.
"People yelled at me, threw stones at me," she says.
"Every day, I felt more that my life had no future.
"Before leaving Cuba, my dream was a better life... [to be] accepted into society and have my rights."
In 2018, she flew to Paris.
"It was like being born again," she says of the moment she learned her asylum application had been approved.
"I felt that I could take root here in France and that… they were going to accept me."
Despite her initial optimism, she says discrimination in the job market affected her mental health and she began suffering from agoraphobic spells.
Eventually, however, she found a job cleaning houses and is now involved in several activist organisations.
"My life will continue with my fight against discrimination," she says.
Aram fled to Turkey from her home, in Iran, after her brother attacked her, breaking her nose and jaw.
He did not approve of the man she loved.
"He was really against us being together," she says.
In Turkey, Aram's brother continued to pursue them and forced the couple to flee once again.
"When I arrived in Europe, it was very difficult," she says.
Life as a refugee gave her "feelings of anxiety and sorrow".
"I used to be a happy person but now I hardly laugh and feel quite melancholic," she says.
Now in a "small and good house" with her husband, she keeps herself busy caring for her son.
"I was not very strong," Aram says.
"But because my beloved husband was beside me, I was able to overcome [the hardships] and become stronger."
When Wafa was a child, in Syria, her father took her to protests.
"This past, that my dad shaped in a huge part, was and still is the thing that gives me this strength to continue," she says.
But when he was arrested and detained, Wafa and her family fled to Turkey.
"And since that, I guess I felt that I lost myself and I was very depressed," she says.
Nevertheless, Wafa provided for her mother and sister for three years, until she was offered refuge in Germany and once again had to make the difficult decision to leave her family behind.
Now, in Berlin, she dedicates her life to political activism.
"I've always dreamed of a free democratic country where citizens have their dignity and where law is there," Wafa says.
But the painful experiences "are still shaping my life".
"By the end of the day, when I go to my bed, I'm not 30 anymore," Wafa says, "I'm six years old - a child... who just wants her dad back."
Abdul fled Sierra Leone after being forced to participate in an initiation ceremony for a secret society, where he was drugged, tied up, beaten.
"I just feel like dying and end everything - but I was able to escape," he says.
Despite medication and therapy, Abdul says: "I wake up and then scream like I have, I just have these bad dreams about these people."
On his way to Athens, he nearly drowned but was rescued by the authorities.
"So I would say the Greek government is my strength and it's my support," he says.
"When you have hope, you have the ability to do things.
"When I was back home, actually my dream was to become an IT specialist.
"My hope is to continue my education."
Abdul also dreams of starting a family.
"I don't want to be afraid throughout to my life," he says. "[I] just want to be free."
Khashayar left Iran more than three years ago.
Memories of the journey and nine months he spent in a refugee camp in Greece weigh heavily on him - but so do the happier ones of his former life.
"I had house, I had car, I had bank account, I had money," he says, "but I left everything in my country, you know, like I don't have nothing right now, you know, nothing - like zero."
And that's not all Khashayar has left behind.
"I cannot see my family," he says. "I miss... them. I miss... my country.
"In the evening, when I'm alone at home, you know, and then I start thinking about the past, you know, I get sad.
Now working as a tattoo artist in Sweden, Khashayar dreams of having his own shop.
"I believe [in] myself," he says. "When you believe [in] yourself, you can stay strong."
All photographs courtesy Witness Change / Open Society Foundations
Some names have been changed.