Majestic birds caught by the camera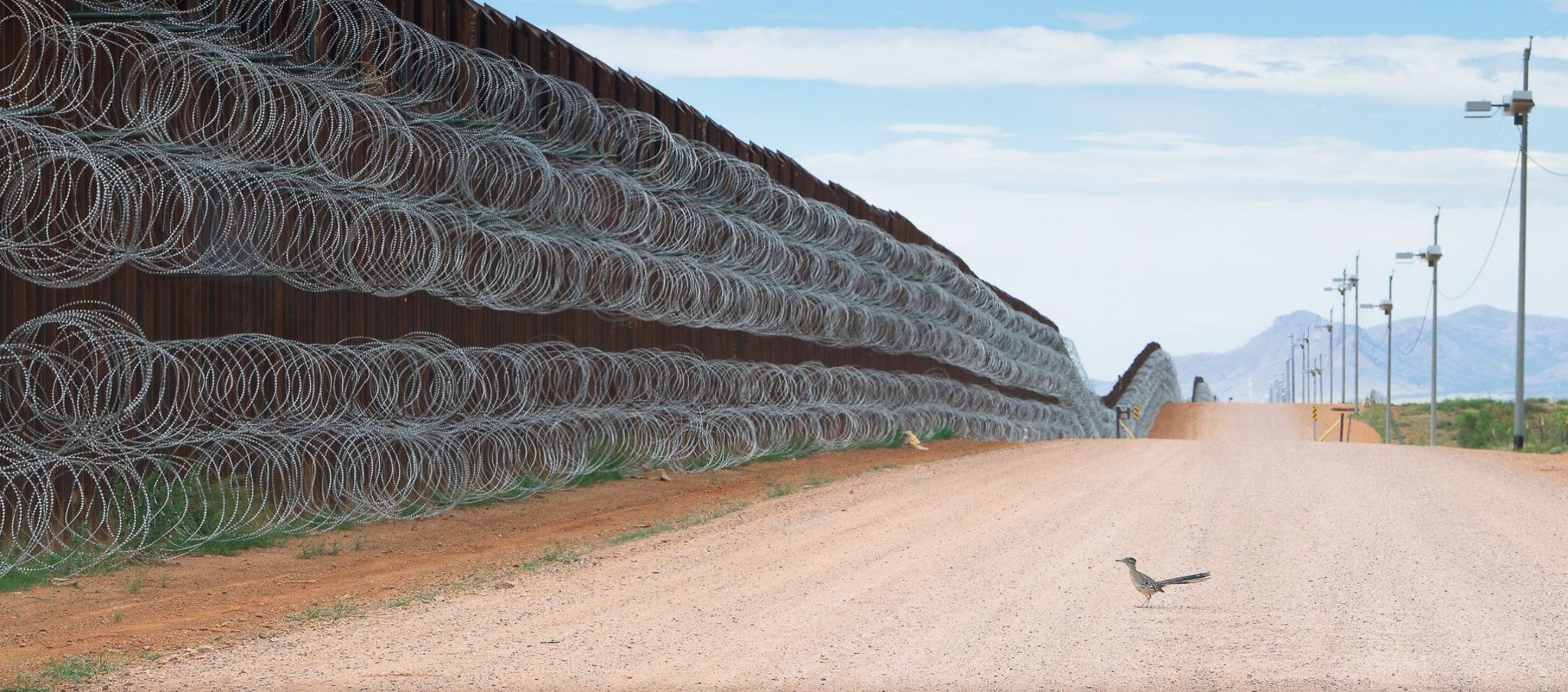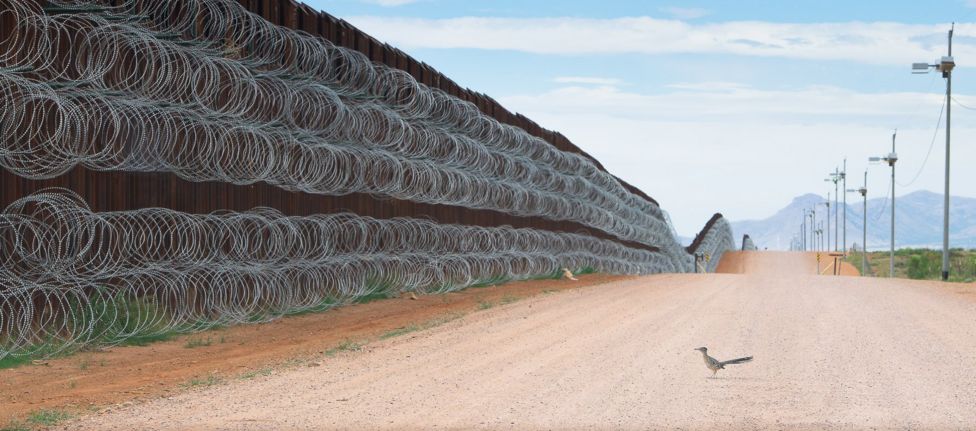 A photo of a roadrunner stopped in its tracks by the US-Mexico border wall has won the top award in this year's Bird Photographer of the Year competition.
The picture was taken by Mexican photographer Alejandro Prieto.
"The border wall crosses deserts, mountains, and even mangroves," says Prieto.
"I have watched many different animals reach the wall before turning around and heading back."
The judges were drawn to the image immediately.
"It is not your typical bird photo, and the story behind the image is so strong," says Will Nicholls, director of Bird Photographer of the Year.
"The roadrunner appears so vulnerable facing up to the huge border wall that dominates the frame."
The competition attracted more than 22,000 entries with awards across a number of categories, including Young Bird Photographer of the Year which was awarded to 17-year-old Swiss photographer Levi Fitze for his image of black grouse lekking at sunrise.
Here are some other entries that caught the eye of the judges:
"This underwater image of a brown pelican was taken off the Pacific coast of Costa Rica, near the mouth of the Tarcoles River, where there are small fishing villages," says Foncueva.
"Groups of pelicans await the return of fishermen and take advantage of the scraps they throw into the sea."
"Poised for attack and staring intently, this great grey owl has fixed its penetrating gaze on a vole in a Swedish forest.
"On the night of a full moon, I photographed the owl as it raised its deadly taloned foot, with my car headlights adding a little more illumination to the scene," says Classon.
Kathryn Cooper, United Kingdom
"Between November and March, tens of thousands of common starlings migrate to Yorkshire Wildlife Trust's Potteric Carr Nature Reserve," says Cooper.
"My aim was to depict the fluid-like movement of a murmuration and capture its essence. Rather than using a typical long exposure, I adopted a technique whereby I merged aspects of consecutive images using my own coding."
"This image shows a male ovenbird singing on top of a fallen log. The bird is staking its claim to a breeding territory shortly after arriving from a lengthy migration to the north-east United States from wintering grounds in Central America," says Galicki.
"I have observed and studied North American songbirds for years and care deeply for all of my subjects.
"This shot was taken with a non-intrusive, remote set-up to capture the expanse of the ovenbird's environment. The camera and lens were camouflaged next to the bird's favourite singing log and the shutter was remotely triggered. No bait or tape lure were used for this shot, nor was any stress placed on the bird. As a result, this is an image of an ovenbird behaving naturally."
"Reflections are one of the details I like most in nature because light undergoes incredible transformations when it interacts with water," says Armada, who won a gold award in the Attention to Detail category.
"In a way, it is nature playing with us, with our forms and with the forms that we see. In this photograph, the same water that creates the reflection strikes with force to destroy it, in a sense to overthrow the king."
"This image was taken at North Bengal Agricultural University in Cooch Behar, West Bengal," says Ray.
"To set the scene, here in India, autumn days are typically hot and humid - sporadic rains interspersed with sweltering heat - while the nights are cold. I was keen to capture images of crimson sunbirds drinking nectar from banana flowers.
"Late one evening, a female crimson sunbird suddenly arrived and started sipping nectar. Her thirst quenched, she then started bathing in the water stored in this banana flower petal. Her relaxed and indulgent manner, lit by the glow of sunset, was truly a sight to behold."
Kevin Morgans, United Kingdom
"Back-lighting is strongly represented throughout this portfolio. Combining the technique with the beautiful golden hues of sunset can transform an image, and birds in particular look fantastic using this approach. The light shining through their feathers creates an almost translucent effect," says Morgans.
This picture is one of a set that won the Portfolio Award.
Tzahi Finkelstein, Israel
"Common swifts live their lives on the wing and are a challenge to capture in flight," says Finkelstein.
"With a diet of flying insects, they need to drink from time to time, and even that behaviour is performed on the wing.
"I had had this image - of a swift skimming over water - in my mind for a long time. I finally found a suitable place to attempt it, and to get the photo I had to sit in water wearing a wetsuit, shrouded by a portable hide, every day for three weeks. Eventually, I got this photo on the final day - the day after the birds had all gone."
Renato Granieri, United Kingdom
"I was lucky enough to spend some time on an expedition ship visiting Antarctica," says Granieri.
"During a Zodiac cruise I spotted a single chinstrap penguin on top of a giant iceberg. The relative sizes and proportions made me feel small in relation to the environment and I wanted to capture that impression photographically. Consequently, I included as much as I could of the iceberg in the photo to create a sense of scale."
"One of the most common species is surely the feral pigeon, considered by most people to be a 'rat with wings' and a carrier of disease," says Crocetta.
"To take this photo, I used a fisheye lens, with the camera on the ground on the edge of an impressive bridge in Padua, my home town in northern Italy. After analysing all the shots, I noticed this image with the two birds posing as if they were guards in front of the door to a castle."
Thomas Easterbrook, United Kingdom
"I took this photo while on holiday in Suffolk," says Easterbrook, who won a silver award in the category for nine to 13-year-olds.
"We had gone out hoping to see a common starling murmuration. Shortly after the murmuration began, a peregrine falcon appeared and attacked the murmuration, forcing it into different shapes. It was a dramatic sight that lasted only a few minutes, and I was pleased to capture this image of the peregrine about to attack."