Women Photograph: Pictures from female and non-binary storytellers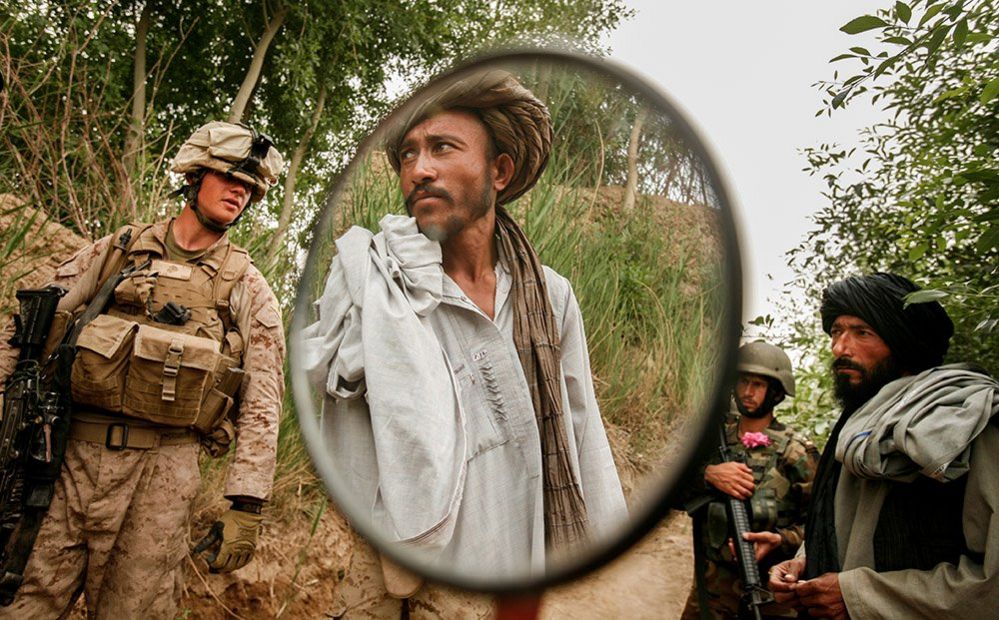 In 2017 photographer Daniella Zalcman set up Women Photograph, a non-profit organisation that aims to show the world through the eyes of women and non-binary visual storytellers.
Six years on from launch, the community now consists of 1,600 photographers from more than 100 countries. As well as highlighting their work, it offers grants, workshops and mentoring to those looking to enter the world of photography.
A collection of work by 100 members forms part of a new book, What We See! Alongside the pictures the photographers offer insight into their work and experience.
The pictures depict everything from war to family moments, but Zalcman says: "The photos themselves often come from the periphery of injustice, or focus on women as the actors in spaces that are so often seen as predominantly male.
"Our long-term objective for the organisation is simple: to become obsolete.
"If Women Photograph is successful in helping the industry achieve true intersectional parity, then the advocacy work at the heart of our organisation will no longer be necessary."
Here is a small selection of the photographs.
My father, Villamor, hugs my mother, Georgia, as she spends time with my nieces and sister, Sharila.
My mother has been a domestic worker in Hong Kong for more than two decades and only comes home once a year for two weeks. Those two weeks are the happiest I have seen our family.
When I took this photo, my family was oblivious to the camera as they were in the moment, enjoying each other.
Migration is a big part of our lives, and subconsciously, we know that these moments are fleeting. The process of documenting my own family was cathartic and it taught me that vulnerability is a gift.
The circumstances of our lives made me a survivor but being vulnerable made me a better photographer.
The pandemic has changed the way we travel. It grounded me, and most people, in the four walls of the space I love to call home. At the end of 2021, I decided to visit Rote Island - the southernmost point of Asia.
On one of the evenings I spent staring at the vast India Ocean as the sun set to the horizon, I met Aurel, who shared a calm and tender moment with her dog as she bathed in the water.
As a working photojournalist, I usually gravitate towards newsworthy images, created in a fast-paced environment around issues I care about.
This photograph inspires me to rethink how I work, to slow down and to look into slower, quiet moments that I often overlook, and to explore beyond my usual approach.
For a decade I have been photographing both the threats facing transgender women throughout Latin America and their resilience, despite deeply rooted phobias.
In the most recent chapter of this work, Abre Camino (Open Road), I have documented not only the push factors compelling trans women to flee Central America, but also their journeys north towards the United States and the challenges they face on reaching the country they perceive as a safe haven.
By following, long-term, women such as Alexa, who is pictured here in the centre with friends in San Pedro Sula, Honduras, I strive to paint a more truthful, humanistic portrait of this community that is often narrowly portrayed by the media.
By showing the larger context of these women's lives, I hope to educate people on how transphobia and discrimination have far-reaching, harmful consequences.
My Shy Girl photograph from January 2019 is one of my dearest pictures from my long-term project, Unfolding Kyrgyzstan - Where the Poplars Grow, about my re-encounter and my relationship with my native country.
I was born in today's Kyrgyzstan when it was part of the Soviet Union and immigrated to Germany in 1988 as a nine-year-old girl. Since 2008, I have regularly visited Kyrgyzstan, now an independent and democratic country in central Asia.
I was driving down the long road on the north shore of Lake Issyk Kul with two friends in the car when I saw this bus in the distance.
When I reached the bus, I noticed it was without wheels and that children used it as a playground. While one shy girl decided to be photographed, several other children played hide and seek. They are hiding in the bus, having fun and laughing.
I first became interested in photography when I was in high school, when my grandfather was diagnosed with Alzheimer's.
The idea that you could live your entire life and one day just forget it all terrified me.
I became obsessed with the idea of documenting everything and everyone in the hope that if I ever started to lose my own memory one day, my relentless documentation over the course of my life would help me remember.
I am particularly drawn to the subtle, mundane and oftentimes forgetful moments.
This is an image from a photo-diary that I kept during the first month of lockdown in New York City, from the official shelter-in-place order that spanned 20 March to 20 April 2020.
I have a history of depression and live alone, so I feared that isolation would exacerbate past mental-health issues. I gave myself an assignment to make one photo every day to restore some semblance of routine and normalcy during the early days of the pandemic.
When starting out in my career as a documentary photographer, I strove for journalistic objectivity - since the pandemic, however, I have become more open to non-traditional approaches to storytelling, like turning the camera on myself.
As a Lebanese-born American woman and mother, my cross-cultural experiences inform my art. I have dedicated my work to exploring issues of personal and collective identity through photographs of female adolescence and womanhood, both in the United States, where I live, and the Middle East, where I am from.
This image is part of my series SHE. In this work, I focus on young women in their 20s - the ages of my daughters. I portray the raw beauty of their age, their individuality, physicality, texture, and mystery, and I create a personal narrative with them.
The process is collaborative and the women are active participants in the image-making process.
Farah was part of the young generation who had been protesting in Lebanon, during the popular uprising of October 2019, demanding to get rid of the government. There were factions trying to undermine the protests, and they burned Farah's car.
We collaborated to portray the moment, immortalising the car before it went to the dump. It was an act of resistance and it was important to tell her story.
This image is part of my series Ballet in Kibera and was one of the first personal projects I worked on in my career as a documentary and portrait photographer.
I have an interest in the intersection between identity and self-expression, particularly new African identities, and strive to highlight social issues on the continent in a contemporary and non-traditional way.
It was a project that told an African story without centring on poverty, but instead focused on human beings navigating their world.
I worked with Annos Africa, a non-profit organisation that offered the classes, and initially I just watched. For me, it was an important lesson in just how important it is to spend time with your collaborators.
All photographs courtesy Women Photograph.