Photo of a paper nautilus on a floating stick wins award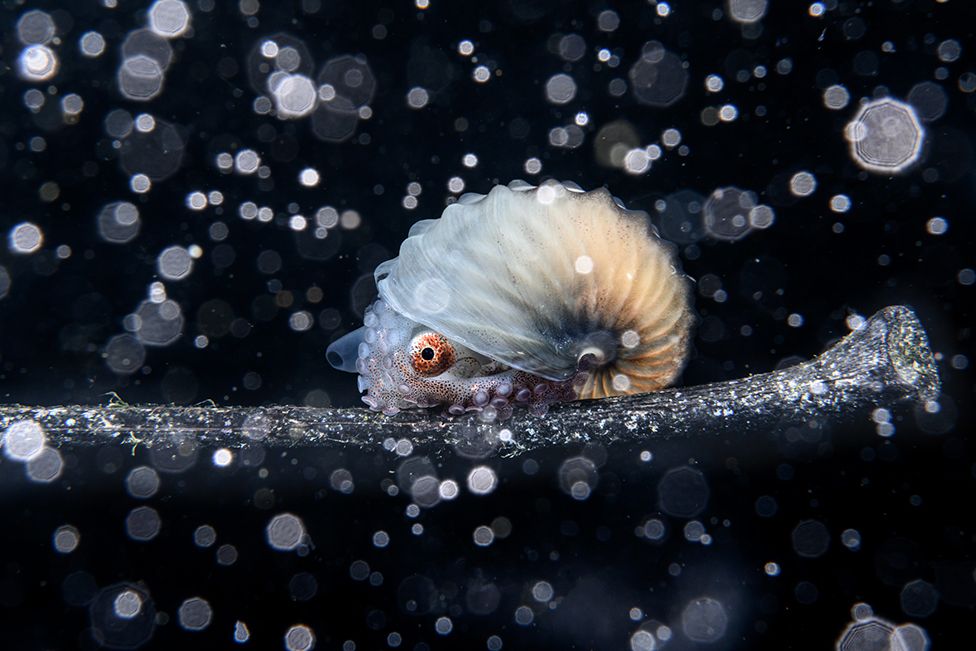 A striking photo of a paper nautilus drifting on a piece of ocean debris by 25-year-old marine biologist and amateur photographer, Jialing Cai, has won the Ocean Photographer of the Year award.
Cai captured the image on a blackwater dive in the Philippines following a volcanic eruption.
"As underwater photographers, we aim to shoot in clear water but this image reminds us that grains of sand, organic matter or tiny organisms are integral parts of the underwater environment", says Cai.
The Ocean Photographer of the Year competition aims to highlight the many plights faced by Planet Earth.
Ocean photographers of all disciplines and experience levels were invited to submit their most powerful images in nine categories.
Andrei Savin was named runner-up with a mesmerising image of a crab sitting in the middle of a sea anemone. The photo was also taken in the Philippines.
"It's insanely interesting to watch the same creatures day after day and I love to study them as they evolve," says Savin.
"That day I took dozens of shots of an anemone with different settings. Suddenly, as if by magic, a crab came out and sat right in the centre."
A humpback whale struggles to swim after becoming entangled in ropes and buoys in this third place image by Alvaro Lopez.
"The image is a sad metaphor for the slow and painful death that we are causing to our planet and the oceans," says the photographer.
Jarvis Smallman was named Young Ocean Photographer of the Year for a compelling image of a bodyboarder paddling out to sea in Western Australia, while big storm clouds block the sun and create an electric blue colour effect on the wave.
Spanish photographer Merche Llobera won the Female Fifty Fathoms Award.
Her winning portfolio, which included shots of a diving cormorant and humpback whales, aims to convey a message about the importance of animal conservation.
"My love for animals is reflected in each of my images, transporting the viewer to a world full of life and emotion," says Llobera.
See more of the winning and highly commended images
Sylvie Ayer captured this shot of a manatee enjoying the crystal-clear waters of the Homosassa River, Florida.
"I hope this photo helps raise awareness of the need to protect these mammals", says Ayer.
"In Florida, several hundred manatees die annually because there isn't enough food due to river pollution."
Jade Hoksbergen triumphed in the Fine Art category with her photo of a whale shark, and its entourage of remoras, attracted by the bright lights of fishermen.
The image was made during a free dive in waters in The Maldives.
A gentoo penguin, the fastest penguin species in the world, charges across the water in Craig Parry's shot, taken in Antarctica.
A freediver gazes up at the intricate ice patterns below the surface of a frozen lake in Canada.
"Ice patterns can vary throughout the winter season due to the ebb and flow of the wind and weather. The geometric shapes of the ice can make for a very dramatic backdrop," says photographer James Ferrara.
A polar bear cub contends with the fragility of melting ice in Svalbard, Norway.
"The polar regions are vital for the entire planet," says photographer Florian Ledoux,
"Without the icy regions, the stability of our world is collapsing."
Sirachai Arunrugstichai won the Ocean Portfolio Award for a powerful piece of work on shark fishing.
A young grey reef shark is hooked by an angler at night at Burma Bank, an offshore plateau in the Andaman Sea off the coast of Myanmar.
A worker sits on top of a pile of frozen, dismembered shark carcasses and - in another photo - a decaying carcass of a juvenile blacktip reef shark is entangled in ghost nets.
"Although shark fisheries have been legally banned in Myanmar at the national level since 2009, there is a lack of enforcement at sea, and poor trade regulation," says Arunrugstichai.
On a stormy, grey morning, a horse rider observes a dead whale in the North Sea, off The Netherlands.
"Both horse and rider appear to salute the whale, a victim of a mass stranding of 30 whales around the North Sea" says photographer Jeroen Hoekendijk.
All photos subject to copyright.