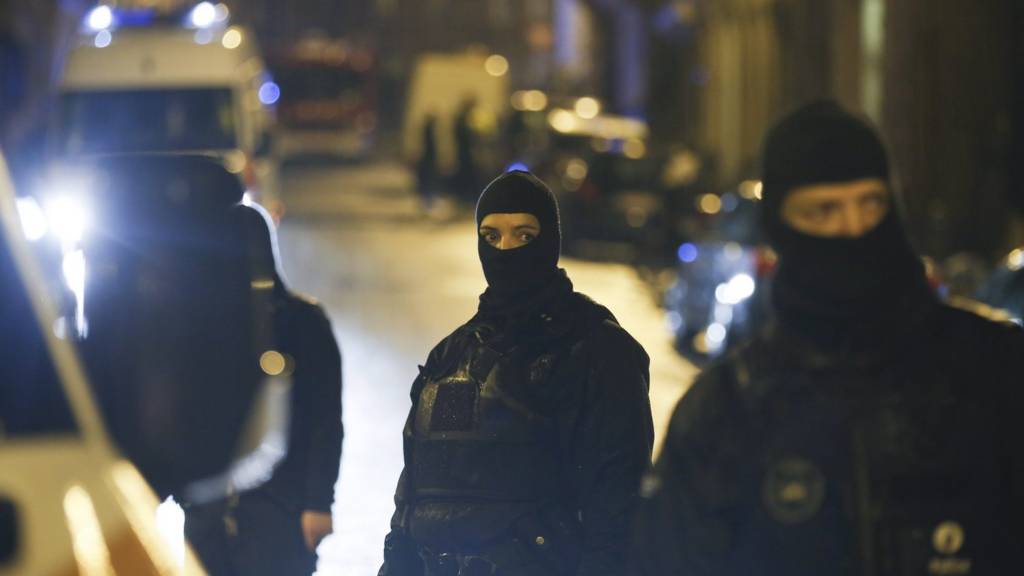 Belgium anti-terror raid - as it happened
Summary
15 January 2015
Major anti-terror operation by police in eastern Belgium
Gunfight in town of Verviers as alleged jihadists targeted
Two suspected militants dead, one arrested
Prosecutor says men had returned from fighting in Syria
Arrest warrants also issued in Brussels region
The mayor of Verviers has told the BBC's Piers Schofield that the situation is now calm and under control. There is a significant police presence around official buildings, our correspondent adds.

Youth from Verviers have 'gone to fight in Syria'

AFP news agency reports that six to 10 young people from Verviers have gone to fight in Syria over recent months.

Belgium's terror alert level has now been raised to three, its second highest level, and officials say that further arrests are expected.

Prosecutor Eric Van der Sypt says no police or members of the public were harmed, and that police had targeted a group returning from Syria who had been about to launch "large-scale" attacks.

Here's a recap of the events so far - Belgian police have killed two men who opened fire on them during a raid in the eastern Belgian town of Verviers. A third was arrested. This was one of about 10 raids taking place in the country, in both Verviers and the Brussels region.

AFP news agency is carrying a report from private Belgian TV channel RTL-TVI that police had been bugging the targets of tonight's raid in Vervier for the past week.

Belgian federal prosecutor's office spokesman Eric Van der Sypt says: "No link is established at this stage with the attacks in Paris."

Damian Grammaticas

Europe correspondent

Our Europe correspondent says there are unconfirmed reports that the targets of today's raid may have bee planning an attack against police buildings.

He adds: "There appears to be a fear there is a wider connection to this and that is why we are seeing raids and arrests apparently being reported in Brussels."

Belgian magistrate Eric Van der Sypt says the men targeted in the Verviers raid were "extremely well-armed" with automatic weapons.

Belgian French-language newspaper L'Avenir quotes a witness from the scene as saying "it looked like war" when the raid happened. "At first I thought it was a gas explosion... then I heard the shots. I realised it was more serious."

The Belgian authorities say that the 10 anti-terrorist raids which took place around the country were all linked to suspects who had returned from fighting in Syria.

David Kenner, journalist

@DavidKenner

tweets: This Belgium raid, rather than Paris attacks, seems to be the first major incident of returning Syrian jihadists posing a threat to Europe.

Previous terror incidents

Belgium is no stranger to the threat from militant Islamists. In May 2014 four people were shot dead at the Jewish Museum in Brussels. Mehdi Nemmouche, a Frenchman of Algerian origin, has since been charged with murder in connection with the attack.

According to the federal prosecutor's office, a judge granted about 10 search warrants in locations which include Brussels and Verviers, at the prosecutor's office's request.

More pictures from Verviers:

Some more pictures from the scene in Verviers following tonight's raid:

The federal prosecutor's office also says in the press conference that the terror threat level in Belgium has been raised to three.

During the press conference, the spokesman for the federal prosecutor's office says Vervier police were aided in the raid by a "special security arm" of the Belgian police force.

Get in touch

email haveyoursay@bbc.co.uk

Marie-Pierre is a paediatrician in the area, she emailed to say: "I was doing consultations and saw the scene unfold in front of my office. I had to hide with my patients."

During the press conference, a member of the Federal Prosecutor's office says the suspects were planning to "imminently" carry out attacks in Belgium, and opened fire on police when the raid began. No police or witnesses were injured during the operation, he adds.

Video emerges reportedly showing raid

Belgian newspaper Le Soir has published what it says is the "first video" of the anti-terrorist operation in Verviers. It appears to show police blocking off a road as gunshots are heard in the background - though the footage has not been verified by the BBC.

Get in touch

email haveyoursay@bbc.co.uk

Nicolas who lives in the area told the BBC: "I was driving back from the bank when we heard that something was happening. We were really worried. We didn't believe it at first. We couldn't get access to Rue Du Palais as the area had been shut down and the police are all around. We left the area as we were worried about what was happening."

Get in touch

email haveyoursay@bbc.co.uk

Marylou spoke to the BBC, she said: "We were going home when we saw police cars. We thought there was an accident then we heard something blowing. We started running but did not understand what had happened. There were a lot of gun shots. I pushed my children and they cried. They are just terrified. Our home is 400 meters, two streets away, from that place."

Press conference underway

The emergency press conference is under way

Police are due to hold an emergency news conference on the unfolding situation in Belgium.

According to AP news agency, witnesses speaking to Belgium's RTBF radio are describing a series of explosions followed by rapid fire at the centre of Verviers, near a bakery and in the area of the train station.

Anti-terror police on streets of Verviers

Pictures coming through from Verviers show anti-terror police blocking a road in the town, following the raids.

Raids 'taking place across Belgium'

AFP news agency is also reporting there are a series of other anti-terror raids now under way across Belgium, including in Brussels

Raid targets had 'returned from Syria'

Belgian media reports that the men targeted during the Verviers raid were under surveillance after returning from Syria a week ago, according to the AFP news agency

Witnesses in Vervier reported hearing heavy gunfire for several minutes and at least three explosions.

Two people have been killed during the raid in Verviers, local officials say. A third person was wounded, reports say.

Welcome to our live coverage of events in eastern Belgium, where police have launched a major anti-terror operation.