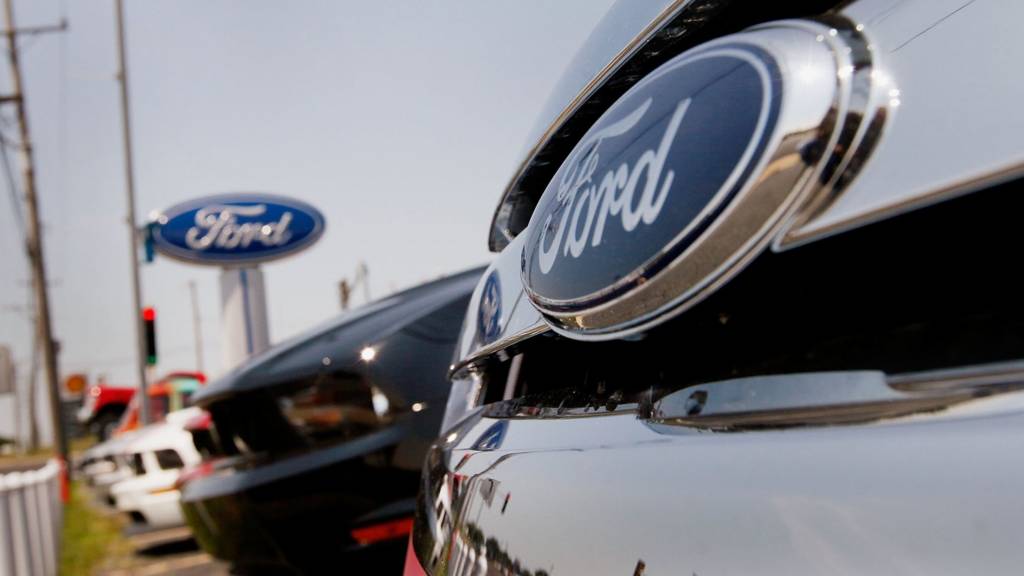 Business Live: Ford shares tumble
Summary
EDF board approves Hinkley nuclear plant project
Ford reports lower quarterly profit
FTSE 100 slips 0.3% to 6,732 points
Oracle agrees to buy NetSuite in $9.3bn deal
Centrica profits fall as customers depart
Lloyds Banking Group speeds up job cuts and branch closures
Thomas Cook and Countrywide warn on profits
BT and Sky report higher profits
That's it from the Business Live page. We'll be back tomorrow from 06:00.

Dow and S&P 500 flat; Nasdaq higher

The Dow Jones Industrial Average climbed higher towards the close, but just failed to break even.

It closed a little lower at 18,456.

Ford ended 8% lower.

The S&P climbed into positive territory, but only just ending 3 points higher at 2,170.

And the Nasdaq Composite climbed 15 points to 5,154.

Amazon sales surge 31% in second quarter

Amazon reported a second quarter profit of $1.93bn. Sales were up 31% to $30.4bn.

Its AWS unit which supplies software and computing services over the internet (also know as cloud computing) continues to be a star performer.

AWS had sales of $2.89bn in the second quarter, up from $1.82bn in the same quarter of last year.

Google's owner reports strong profits

Alphabet, the owner of Google, has reported second quarter results.

Net income was $4.88bn, up from $3.93bn in the same quarter of last year.

Sales rose 21% to $21.5bn.

Quote Message: Our terrific second quarter results, with 21% revenue growth year on year... reflect the successful investments we've made over many years in rapidly expanding areas such as mobile and video. We continue to invest responsibly in support of our many compelling opportunities" from Ruth Porat Alphabet chief financial officer

The secret to getting a pay rise

Watch the Bank of Japan on Friday

The Bank of Japan (BoJ) will be under particular scrutiny on Friday. It is due to announce the results of its latest policy meeting.

Bank of Japan Governor, Haruhiko Kuroda holds a news conference at 07:30 BST.

Economists are expecting him to announce extra stimulus for the stagnant Japanese economy. 

The question is: how much?

"It's like trying to read Kuroda's mind - to be honest, we can't say we're very confident [about our predictions] and I think other analysts are the same," said BNP Paribas economist, Hiroshi Shiraishi.

"Unless the BoJ does something really big, it can't go above the already high expectations. But if it does do something really big, there's a chance the side-effects and future costs will be really big." 

Hinkley Point: Boost for Scottish industry

BBC Scotland business and economics editor

Hinkley: It's not quite signed-off

John Moylan

BBC industry & employment correspondent

Following the EDF board decision to invest in a new nuclear plant in Somerset, the government and EDF were expected to sign a series of documents including the key 35 year contract that guarantees EDF a "strike price" for every unit of electricity the plant will generate.

The Department for Business now says the government will merely make a decision about signing that document in early autumn.

This from Business and Energy Secretary Greg Clark:

Quote Message: The UK needs a reliable and secure energy supply and the Government believes that nuclear energy is an important part of the mix. "The Government will now consider carefully all the component parts of this project and make its decision in the early autumn." from Greg Clark Business and Energy Secretary

Video: Experts discuss the Hinkley project

Tom Greatrex from the Nuclear Industry Association and Professor Paul Ekins from University College London discuss the pros and cons of the scheme.  

EDF board voted 10 - 7 in favour of Hinkley

The vote in favour of the Hinkley Project was pretty close among members of the EDF board.

Ten board members voted for the project, but seven voted against.

'20th century solution for a 21st century problem'

The Energy and Climate Intelligence Unit, which lobbies for renewable energy, is less excited about the approval of Hinkley's new reactors:

"What's really striking about Hinkley is that EDF and the French government aren't just betting the farm on this project, they're effectively betting the entire hillside, the river at the bottom and the next few hillsides as well.

"With similar reactors in France and Finland seriously over time and over budget, France needs a Hinkley success if it's to persuade anyone in the West that it's still a serious player in the global nuclear industry.

"So it's a risk worth taking for France; but is it for Britain? In a world moving towards cheaper, flexible, decentralised power systems, investing in eye-wateringly expensive always-on 'baseload' power plants increasingly looks like a 20th century solution for a 21st century problem."

Hinkley demonstrates UK 'open for business'

Unsurprisingly the Nuclear Industry Association has welcomed EDF's decision. Its chief executive Tom Greatrex said:

"This is an important moment for the UK nuclear sector. Over the last decade, the case has been demonstrated for nuclear power as part of a balanced, reliable, secure and low carbon electricity system of the future. 

"We are now entering an important new phase, creating jobs, security and skilled workers for the UK supply chain.

"This will be the first new nuclear power station to be built in a generation and the first to be built without direct state funding.

"This major infrastructure project will give a vital boost to UK industry, our manufacturing supply chain and construction industry - demonstrating that even with the prospect of leaving the EU, the country is open for business."

EDF to 'mobilise' all its engineering skills

This from an EDF statement

"The two EPR reactors at Hinkley Point will strengthen EDF's presence in Britain, a country where its subsidiary EDF Energy already operates 15 nuclear reactors and is the largest electricity supplier by volume.

"HPC [Hinkley Point C] will also enable the Group to mobilise all its significant nuclear engineering skills following the final investment decision.

"The first concrete of reactor 1 of HPC, scheduled for mid-2019, will coincide with perfect continuity with the start-up of the EPR at Flamanville, scheduled for the end of 2018."

EDF confirms Hinkley Point to go ahead

French energy giant confirms it has given the go-ahead for the Hinkley Point nuclear power plant development in the UK.

More Scottish rail strikes on the way

BBC Scotland Business Editor Douglas Fraser tweets...

France selects winning airport bidders

Continuing with EDF-related business news from France....

The economy ministry has chosen the winning bidders for the sale of 60% stakes in the airports of Nice Cote d'Azur and Lyon-Saint-Expury. 

Italy's Atlantia in cooperation with EDF's investment arm EDF Invest was chosen for Nice airport, and a consortium of Vinci, state bank Caisse des Depots et Consignations and Credit Agricole's insurance arm Predica was picked for Lyon. 

The government, looking to raise cash to help meet budget deficit targets, expects proceeds of €1.22bn (£1.03bn) for Nice and €535m for Lyon. 

EDF board 'approves' Hinkley Point nuclear plans

Sources in France are saying that the board of state-controlled energy giant EDF has given the go-ahead for its project to build two nuclear reactors at Hinkley Point, UK.

Board member Gerard Magnin, an advocate of renewable energy, had resigned in protest over EDF's strategy ahead of the meeting.

It is understood the remaining 17 board members voted 10 to 7 in favour of the plans.

Hinkley Point would be the first new nuclear plant to be built in the UK in 20 years.   

Video: Ford has 'no plans' to shut plants

  Ford's chief financial officer Bob Shanks says there are "no plans" to close plants.  

L'Oreal says French market 'difficult'

The French market for cosmetics "remains difficult" according to L'Oreal.

The company reported second quarter like-for-like sales of €6.34bn, a 4.3% increase compared with 2015.