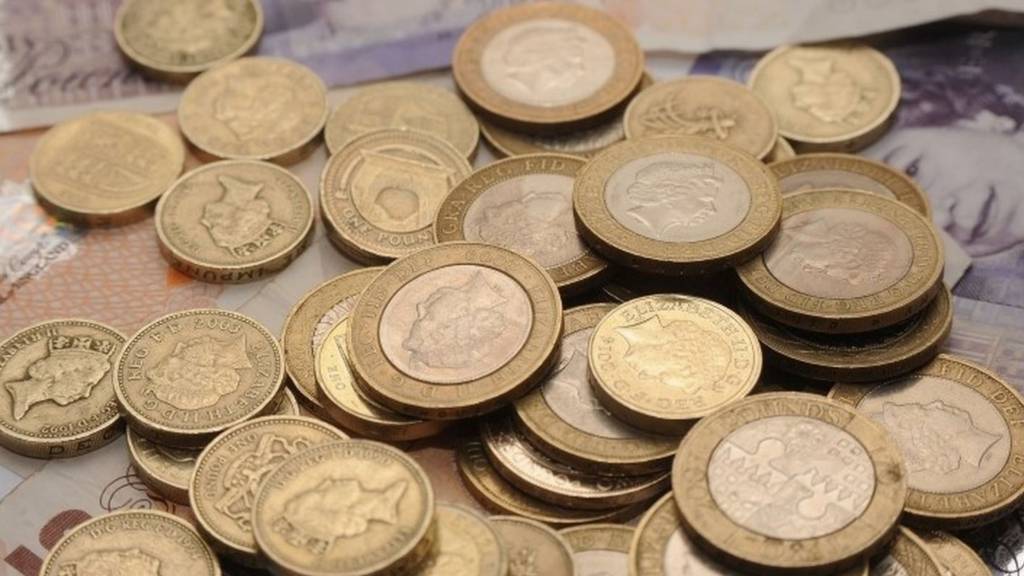 Business Live: Pound drops below $1.30
That is all from the Business live page for today. Join us again at 6am on Wednesday. 

US stock markets edge higher

Wall Street closed slightly ahead on Tuesday ahead of monetary policy meetings in the United States and Japan on Wednesday.

At close the Dow Jones was up 9.79 points, or 0.05%, at 18129.96, the wider S&P was up 0.64 points, or 0.03%, at 2139.76, and the tech-based Nasdaq up 6.33 points, or 0.12%, at 5241.35.  

Williams & Glyn deal setback

Santander and RBS Group fail to reach agreement

Banco Santander SA has pulled out of talks to buy Royal Bank of Scotland Group's Williams & Glyn unit, the BBC has learned.

Talks broke down because the two sides could not agree on a price.

Santander made an offer for Williams & Glyn last month, as RBS has sought to sell the small business lender (which has more than 300 branches) to meet EU conditions imposed as part of its taxpayer-funded bailout in 2008.

Santander had walked away from a deal to buy Williams & Glyn four years ago.

Subsea jobs set to be lost in Aberdeen

About 130 jobs in the subsea industry are set to go in Aberdeen, engineering and construction firm Technip.

Technip said a consultation on the redundancies was under way with staff.

The firm said the proposals reflected the "significantly reduced activity levels being experienced" across the oil and gas industry.

Technip said it remained committed to being part of the UK North Sea market.

Talking turkey - Matthews deal confirmed

Quote Message: We are pleased to announce that agreement has been reached in the sale of the Bernard Matthews business and 2,000 jobs have been secured. A spokesman for the Boparan Private Office said: "This acquisition will create a strong platform for future growth and ensures Bernard Matthews is well positioned to develop into a sustainable, growing business. "We intend to respect and build on the 66-year heritage of a much-loved British brand and crucially help to deliver Christmas 2016, which would have been at risk without our intervention. We have a proven track record in turning around businesses and we aim to make Bernard Matthews great again. "This deal is ultimately good news for UK consumers and our customers, who will benefit from a secure supply of British turkey from one of the most recognisable brands in the UK. from Boparan Holdings

Every day is a winding road....

New rules for self-drive car firms

Tony Blair to close most of his commercial ventures

Former UK Prime Minister Tony Blair has said he is winding up most of his commercial ventures to focus on not-for-profit work.

The ex-Labour prime minister is closing his lobbying and consultancy business, Tony Blair Associates, and associated companies Windrush and Firerush.

Sweden cuts taxes to boost repairs

Sweden is one of the richest countries in the world per head of population, and might not be the sort of place where you'd think people would "make do and mend". After all, it can be far easier to just go shopping and buy something new. 

But the Green party is part of the government, and is behind a tax cut to encourage repairs of broken consumer goods. Per Bolund is Sweden's minister for Financial Markets and Consumer Affairs, and is supportive of the move. Alex Ritson asked him how the incentive would work.

'SEC probes Exxon Mobil'

The Wall Street Journal tweets...

The trade union Unite represents 800 of the 2,000 staff at the Bernard Matthews factories in Norfolk and Suffolk.

The union's regional officer, Steve Harley, gave the sale of the firm a "cautious welcome". 

He said: "In takeover situations, there are always matters that need to be clarified. Unite is meeting the company tomorrow where searching questions will be asked on future employment, pay, and terms and conditions."

"We will also be asking about the status of the pension scheme under the new owners, although it is expected that our members won't be affected in this respect by today's takeover," he added. 

It is thought that the pension scheme may have to be rescued by the Pension Protection Fund.

A cunning plan for savers

Fed up with nugatory interest rates on your savings? 

Those clever people at Moneyfacts (who invented financial price-comparison services, even before the internet) have come up with a cunning way to earn up to 11% interest in just one year.

It involves opening accounts and taking advantage of cashback offers, either on switching to the account or on spending per month.

Image caption: Bernard Matthews himself, back in the 1970s

The Bernard Matthews turkey business is being sold in a move that could safeguard 2,000 jobs at the struggling firm.

The buyer is the 2SistersFood group, which claims to be the UK's largest chicken processor, owned by Ranjit Boparan.

Bernard Matthews has been up for sale since June when its private equity owners, Rutland Partners, finally gave up hope of stemming its losses and returning the firm to profit.

Loss of EU passporting 'significant risk' to UK business

Says Andrew Tyrie of the Treasury select committee,

More than 5,000 British financial services firms rely on "passporting rights" to trade across the EU, the chairman of the Treasury select committee, Andrew Tyrie, has said.

Passporting rights allow firms to trade across the bloc without the need for separate licences.

Mr Tyrie said it showed the "significant" risk Britain leaving the single market would pose to business.

But Eurosceptics have previously said such an outcome would not harm the UK.

The data was provided in a letter to Mr Tyrie from Andrew Bailey, head of the Financial Conduct Authority (FCA).

Barclays to cut West Midlands jobs

Soros launches migrant startup fund

The BBC's Michelle Fleury tweets...

FTSE builds on Monday's gains

But pound remains below $1.30

UK shares built on Monday's gains but the pound slid as traders waited for the outcome of central bank meetings in Japan and the US.

The benchmark FTSE 100 share index closed up 17.24 points, or 0.25%, at 6,856.53.

On the foreign exchanges, the pound fell back below $1.30 against the dollar,dropping 0.5% to $1.2966.

The US Federal Reserve will announce its decision on interest rates on Wednesday, although the chances of rate rise appear to have diminished.

Wells Fargo chief executive apologises

The chief executive of the US bank Wells Fargo has apologised to customers for illegally opening accounts to boost sales targets, in a hearing at the Senate Banking Committee on Tuesday.

Bank workers had opened more than two million deposit and credit card accounts without customers' permission.

The bank was fined $185m (£142m) and accused of "widespread illegal practice" by the regulator.

"I am deeply sorry we failed to fulfil our responsibility," said John Stumpf.

What has Brexit meant for European flights?

BBC Business tweets...

Hungary keeps interest rates on hold

Hungary has kept its base interest rate on hold today in a move which was widely expected. The decision comes the day before the more eagerly anticipated decision of both the Federal Reserve and The Bank of Japan which are both due to announce their latest interest rate decisions on Wednesday. 

Not just Sweden tackling throw-away culture

BBC Business reporter (and cat) gets into spirit of things...