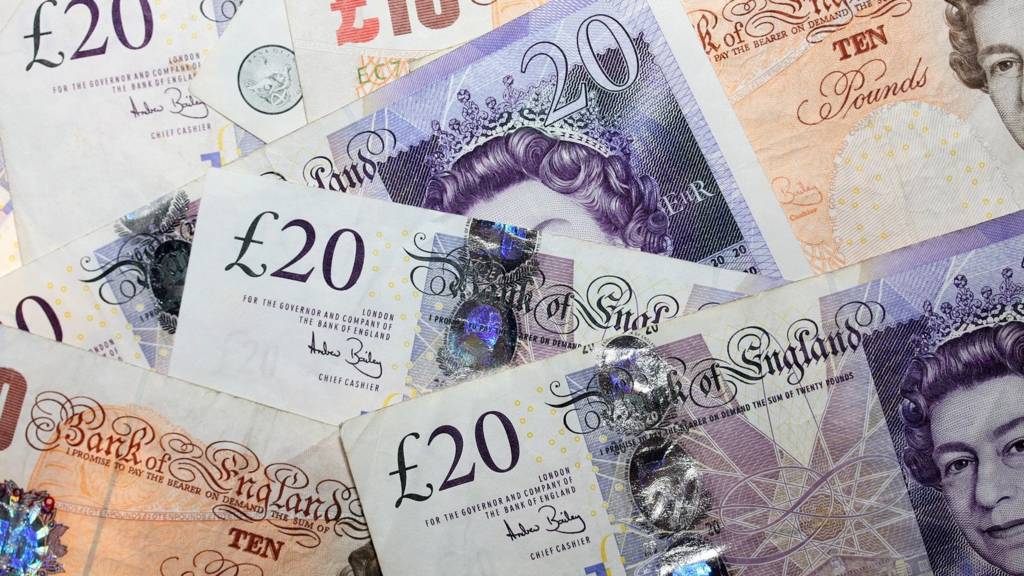 Business Live: US stocks regain ground
Summary
Get in touch: bizlivepage@bbc.co.uk
Sterling rises above $1.30
Retail sales jump 2.3% in April
Weak US demand hits Burberry profits
Royal Mail profits up despite lower letters volumes
Brazilian stocks dive on Temer scandal
Thanks for tuning in to Business Live. We'll be back tomorrow at 6am, hope you can join us then.

Would you carry something abroad for a stranger?

The next time you take an international flight, how about transporting something in your suitcase for a complete stranger?

Your answer to that question may be a resounding "no way", and the very thought conjures up terrifying images of unwitting drug mules and long prison sentences, you might need to think again.

"I always take things back from my travels for family and friends," says 45-year-old French airline worker Olivier Kaba. "Now not only am I able to bring things for others, but I get rewarded financially for doing it."

Olivier is a regular user of Worldcraze, one of three similar firms that have launched in recent years to help connect people who would like to buy something from a different country, with travellers who have spare space in their suitcase and want to make a bit of money by being informal couriers.

Facebook gets into live sports broadcasting

Facebook has struck a deal with Major League Baseball to show 20 of the league's games live this season.

Facebook said it would stream one game a week beginning on Friday, and the broadcasts would be available to everyone on Facebook in the US.

The move, which expands the social media network's reach into the world of live broadcasting, follows similar efforts by other platforms.

Twitter announced an agreement this month with the WNBA to show professional women's basketball, and last month Amazon said it would stream men's American football in a deal with the NFL.

US stocks regained ground on Thursday after posting some of their sharpest falls in months a day earlier.

The S&P 500 index ended the day up 8.7 points at 2,366, the Dow Jones gained 55 points to 20,662 and the Nasdaq rose by 44 points to 6,055.

Investors were still said to be nervous about the political controversy surrounding Donald Trump, but several pieces of upbeat economic data lifted confidence.

Commenting on the rebound, Ed Yardeni, president of Yardeni Research, told Reuters: "This whole bull market is all about panic attacks followed by relief rallies, and this was another one.

"My hunch is that the Trump impeachment panic attack was a one-day wonder and we'll move on from there."

Aston Martin 'eyeing an initial public offering'

Aston Martin is eyeing an initial public offering as early as next year, Bloomberg reports, quoting sources.

The century-old carmaker, whose cars have famously appeared in the James Bond film franchise, could list in London, the sources said.

The company is waiting to report its 2017 financial results before choosing advisers, one source told Bloomberg, although no final decisions have been made.

A spokesman for Aston Martin said: "Any matters pertaining to the future structure or ownership of the company are a matter for our shareholders."

Investindustrial, which owns a controlling stake in the firm, meanwhile denied it was "working on an IPO".

Daniel Gallas

BBC South America business correspondent

Brazilian President Michel Temer said in a brief TV statement he will not resign. He has been accused of condoning a bribe paid to allegedly silence a witness on corruption.

"I never authorised any payments for someone to be silent. I did not buy anyone's silence. I fear no accusations", he said, in an irritated tone of voice.

"I have nothing to hide. I never authorised anyone to use my name"

"We cannot throw so much hard work (on reforms) done for our country in the rubbish bin."

"I will not resign. I will not resign. I know what I have done."

US launches anti-dumping probe into Bombardier

The US Commerce Department has opened an anti-dumping investigation into Canadian aerospace giant Bombardier, after complaints about pricing by its rival Boeing.

Boeing says its smaller competitor receives government subsidies that give it an unfair foothold in the international market for small body passenger planes.

Bombardier rejects these claims, pointing to Boeing's large order book.

If US trade officials find Bombardier is at fault, they could impose new hefty tariffs on its imports.

US commerce secretary Wilbur Ross said: "The US market is the most open in the world, but we must take action if our rules are being broken.

"While assuring the case is decided strictly on a full and fair assessment of the facts, we will do everything in our power to stand up for American companies and their workers."

The pound has fallen below the $1.30 mark it breached earlier as the dollar regains strength.

Sterling is trading at $1.29310 - down 0.31% against the dollar - although it is up 0.33% against the euro at 1.16570 euros.

ASOS backlash for listing UK size 10 as 'large'

ASOS and Pull & Bear have been criticised on social media for describing a pair of size 10 shorts as "large".

Twitter user Hollie posted a screenshot of the item.

Since then, many people have left comments including: "No wonder girls think they're fat when a large is a size 10."

ASOS has apologised for the listing of the item and has called it a "technical glitch".

Ten block cordon set up around Times Square

As the BBC has been reporting, a woman is dead and 22 other people injured after a car sped on to a pavement in New York City's Times Square.

Richard Collings, a business journalist for the World Service, is in New York and says police have set up a 10-block cordon around the area.

So far there is no sign the incident was terror-related.

US stocks are up after investors looked beyond the political controversy surrounding Donald Trump to several pieces of upbeat economic data.

On Wednesday, the major indexes posted their worst performance for months after news reports claimed the president tried to intervene in an FBI investigation - a potentially impeachable offence.

But today, the Philadelphia Federal Reserve said its business activity index unexpectedly rose in May after declining for the past two months. Weekly unemployment data also pointed to strength in the job market.

Currently the S&P 500 is up 0.66%, the Dow Jones is up 0.33%, and the Nasdaq has gained 0.87%.

Trump pulls trigger on NAFTA negotiations

The US plans to start talks with Mexico and Canada over Nafta "as soon as practicable", the Trump administration said on Thursday.

The letter sent to congressional leaders provided formal notification of the administration's intent to redo the 1990s trade deal.

US President Donald Trump blasted Nafta during his campaign as a job "killer".

In the letter, US Trade Representative Robert Lighthizer wrote the deal needs "modernisation".

Four carmakers agree to $553m Takata settlement

Four major car firms have agreed to pay $553m to compensate owners affected by the Takata airbag inflator recall.

Toyota Motor Corp will pay $278.5m, BMW, $131m, Mazda, $76m and Subaru, $68m. Lawsuits against Honda, Ford and Nissan have not been settled yet.

A fault in Takata's airbags meant some exploded when triggered, resulting in the deaths of at least 16 people worldwide.

The defect prompted recalls worldwide of about 100 million inflators by 19 major car firms.

The four car makers, who did not admit fault or liability, will provide compensation for losses resulting from the recall.

In January, Takata plead guilty to criminal wrongdoing and paid $1bn to resolve a federal investigation into its inflators.

Alibaba revenues jump 60% as Chinese growth continues

Image caption: Jack Ma founded Alibaba in 1999

Revenue at e-commerce giant Alibaba jumped 60% in the first three months of the year, powered by a growing customer base in China.

More than 450 million Chinese shoppers used its sites during the quarter, with the average annual spending up by about a third, Alibaba said.

The growth pushed revenues for the period to $5.6bn (£4.3bn).

But investors weren't satisfied, sending shares down 3% on Thursday.

What is going on in Brazil?

Brazilian stocks have slumped almost 10% after the Brazilian media claimed President Michel Temer was involved in corruption.

The BBC's Daniel Gallas shares the latest details with World Business Report.

Breaking up big banks would be 'a huge mistake' - Mnuchin

Breaking up major banks would be a "huge mistake", US Treasury Secretary Steven Mnuchin has said, allaying fears that Donald Trump is planning a major overhaul of Wall Street.

"We do not support a separation of banks and investment banks," Mr Mnuchin said at a Senate Banking Committee hearing. That is because it would have "a very significant" impact on US markets and the economy, he said.

Some administration officials have suggested they are in favour of Congress updating the Glass-Steagall act, which split commercial and investment banking between 1933 and 1999.

Advocates say the repeal of key parts of the law was an important cause of the 2008 financial crisis.

Never knowingly under-recruited...

Retailers and technology firms dominate a list of the companies people most want to work for, according to survey by LinkedIn.

The John Lewis Partnership, including Waitrose, was the most sought-after employer for the second consecutive year.

Online fashion retailer Asos was second, followed by Topshop owner the Arcadia Group, Harrods, Virgin Media owner Liberty Global, Sainsbury's, Virgin, Google, Facebook and (blush) the BBC.

Linkedin said its research among millions of its members showed people still loved to work where they shopped.

Kate Corcoran, of the John Lewis Partnership, said: "Attracting top talent is incredibly important as our business is owned by our partners and LinkedIn plays a key role in this."

Cannes locks horns with Netflix

The Cannes Film Festival has said it will only allow films screened in French cinemas to enter from next year, in a bid to support the French cinema sector.

This means that US streaming giant Netflix - which produced two of this year's entries - may have to bow out in 2018, something that has divided industry figures attending the festival.

Here, World Business Report takes a closer look at Cannes' decision:

The FTSE 100 closed lower on Thursday as volatile trading in the US and a jump in the value of sterling hit investor confidence.

The blue chip index ended 67.05 points, or 0.89%, lower at 7,436.42.

The top fallers were Royal Dutch Shell A and B, down 3.5% and 3.98% respectively, while Randgold Resources slumped 2.61%.

The top riser was Burberry, which climbed 4.69% after it issued its full-year earnings report.