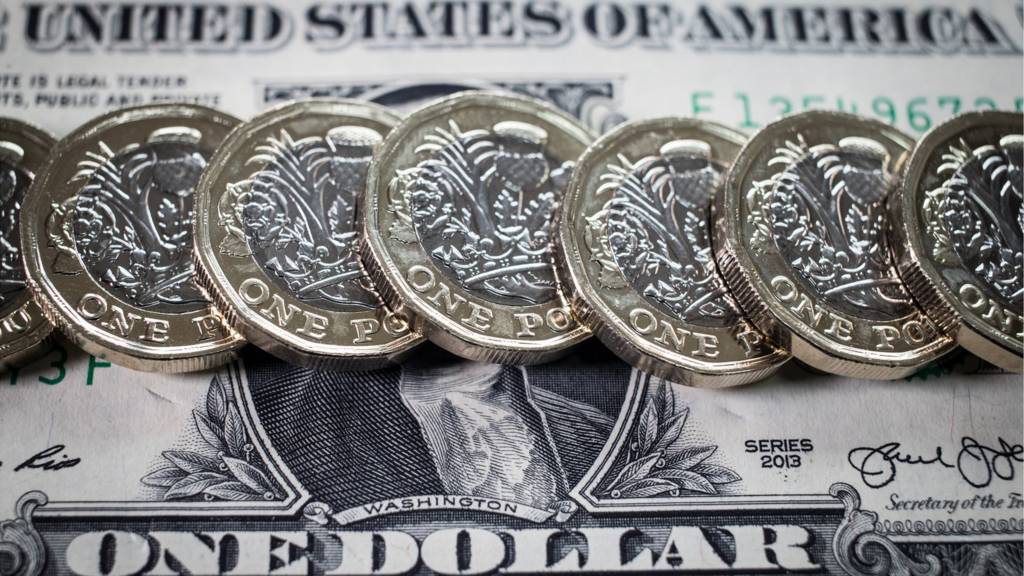 That's all from the Business Live page for another week. Do join us again on Monday at 06:00. Cheerio.

How many shopping days left?

Is it earlier every year or does it just feel that way?

Asda has just become the first grocer to release its Christmas advert, due to air on television on Sunday.

It's a pleasingly upbeat Victorian-themed affair. But shouldn't they really be keeping that little girl away from the "gin room"?

Brace yourselves now; there's presumably a month of cuddly toys, cherubic children and adorable pets ahead before we can move onto the mince pies proper.

Moving away from Apples for a moment - and a lot of attention has been paid to Apple's upward trajectory (a lot of talk of the $1tn valuation now being a real prospect) - but it was another tech stock, Qualcomm, that hit the ball out of the park today.

Qualcomm's shares were up 12.7% after reports that rival Broadcom is exploring a deal to buy the smartphone chip maker.

Bloomberg reckons that bid would be worth around $100bn.

It would certainly make Broadcom into a "tech juggernaut" according to GBH Insights analyst Daniel Ives.

Plus - and this is presumably all part of the plan - Broadcom's chief executive met with President Trump yesterday and announced plans to redomicile to the United States from Singapore where it's currently incorporated.

Rotten apples - more Brexit fun

A shortage of migrant labour has led to fruit rotting unnecessarily on UK farms this year, the FT reports.

The UK has become less attractive to migrant workers due to the fall in the pound following the Brexit vote, the article says.

Second consecutive high for Wall Street

Image caption: What the Dow Jones index did today

The Dow Jones closed at another high on Friday.

That was despite a little disappointment earlier in the day that the jobs report - while respectable - hadn't shown a stronger rebound after the hurricane affected figures for September.

The Dow Jones rose 0.1% to end at 23,539.

The S&P gained 0.3% to 2,587.

The Nasdaq Composite edged up points or 0.7% to 6,764.

That was the sixth straight week ending higher for the Nasdaq.

The resurgence of vinyl has been well documented, cassettes less well so. But according to a Wall Street Journal article cassettes are becoming so popular the world is running out of tape.

Musicians are "clamouring for cassettes" as a way to distribute music, the WSJ adds.

The three major Wall Street indexes closed higher as Apple hit a record high after strong demand for its latest iPhone X and an upbeat sales forecast.

Queues formed outside Apple stores around the world as fans flocked to buy the iPhone X, helping allay concerns that supply issues might stop the company from satisfying early demand.

The shares jumped as much as 3.7% and helped Apple briefly surpass $900bn in market capitalisation.

The Dow Jones Industrial Average was up 22.96 points, or 0.10%, at 23,539.22, the S&P 500 was up 7.99 points, or 0.31%, at 2,587.84. The Nasdaq Composite was up 49.49 points, or 0.74%, at 6,764.44.

Trump raises Tillerson question mark

Donald Trump has said he is not sure if US Secretary of State Rex Tillerson will last the course of Mr Trump's presidency.

In an interview with Fox News Mr Trump said "we''ll see" if Mr Tillerson lasts.

He also said that vacancies in the State Department were not affecting foreign policy.

"The one that matters is me," Mr Trump said. "I'm the only one that matters because, when it comes to it, that's what the policy is going to be.

Judge issues Puigdemont arrest warrant

A judge in Spain has issued a European arrest warrant for the ousted Catalan leader, Carles Puigdemont, who's in Belgium.

The warrant also covers four ex-ministers.

All failed to appear in court on Thursday to face an investigation into alleged rebellion and sedition linked to the region's unilateral declaration of independence.

Mr Puigdemont has insisted he is not in Belgium to evade what he calls real justice. But he told a Belgian broadcaster that Spain's judiciary was politicised.

Eight of his former ministers are being detained near Madrid.

Thousands of protesters have gathered in Barcelona and other Catalan cities for the second night running, calling for their release.

Red Cross apologies for missing Ebola millions

Auditors at the Red Cross Federation have revealed that several million dollars of aid money was lost to fraud and corruption during the Ebola epidemic in West Africa.

The outbreak - mainly confined to Liberia, Sierra Leone, and Guinea - required a massive humanitarian operation, with around $100m (£76m) in cash donations dispersed to Red Cross societies in those three countries by the Red Cross Federation in Geneva.

In Liberia, $2.7m (over £2m) disappeared in fraudulently overpriced supplies, or in salaries for non-existent aid workers, the Red Cross says.

In Sierra Leone, Red Cross staff apparently colluded with a local bank to skim off over $2m. In Guinea, where investigations are ongoing, around $1m disappeared in fake customs bills.

The Red Cross says it is deeply sorry for the losses, adding that it has introduced stricter financial rules, and has promised to hold any Red Cross staff involved to account.

Fraud involving donor money is every aid agency's nightmare. The Red Cross is probably the world's best known humanitarian organisation, and this revelation will be damaging.

Starbucks cuts profit outlook

Starbucks has trimmed its profit forecast and reported disappointing quarterly sales.

it's being squeezed by competitors from boutique coffee sellers like Intelligentsia to lower-price rivals such as McDonald's.

Ratings agency Fitch cut Starbucks' credit rating, reported SeekingAlpha, as did S&P, reported the FT.

Wells Fargo says it faces lawsuits over mortgage and car loans

Wells Fargo facing litigation over previously disclosed sales problems related to its car lending and mortgage businesses, the bank said in a regulatory filing.

The lawsuits include two class action cases alleging violations of federal and state consumer fraud laws, as well as claims brought by former employees who said they were fired for raising concerns over problematic sales practices.

Wells Fargo spilled the beans about the litigation in its third-quarter financial filing with the US Securities and Exchange Commission.

"The disclosures included in our filing today reflect the company's continued commitment to transparency. Our top priority is to rebuild trust, and we remain focused on making things right for our customers, team members, community partners and shareholders," a company spokesman said.

Literally mining for Bitcoins?

Antivirus researcher tweets...

Equifax clears execs who sold shares after hack

Equifax has said that four of its executives who sold shares before the credit-reporting firm disclosed a massive data breach that wiped out billions from its market value were not aware of the incident when they made the trades.

A special committee set up by Equifax's board to investigate the trades concluded that no insider trading took place and that pre-clearance for the trades was appropriately obtained.

"The board takes very seriously any allegation of insider trading. It is critically important for the public, our shareholders, our customers and our employees to know that we will not tolerate any violation of company policy or the law regarding the trading of securities," non-executive chairman Mark Feidler said in astatement.

Blimey. One Bitcoin transaction uses as much energy as an average American household does in nearly a week, says Motherboard.

Power hungry computers are used to "mine" the digital currency by solving increasingly difficult cryptographic puzzles.

With Bitcoin topping $7,000 this year, it would be profitable for Bitcoin miners to use 24 terawatt-hours of electricity per year - that as much as Nigeria uses annually, the article says.

FTSE 100 hits a new closing high

The FTSE 100 had a new record closing high, a few points ahead of its 12 October record.

Laith Khalaf of Hargreaves Lansdown says: "The Footsie has climbed this week on the back of a falling pound, as currency markets groaned at the Bank of England's weak expectations for future interest rate rises.

"A resurgent oil price and some better results from Shell and BP didn't do any harm either."

Can you teach kids how to earn millions?

BMW recalling one million vehicles in North America

BMW is recalling about one million vehicles in North America for two separate issues involving fire risks and said it may expand the recalls to other countries.

One recall covers 670,000 2006 to 2011 US 3-series vehicles to address a wiring issue. The heating and air conditioning system may overheat and could increase the risk of a fire.

The second recall covers 740,000 US 2007 to 2011 vehicles with a valve that could rust and lead to a fire in rare cases.

The recall includes some 128i vehicles, 3-series, 5-series and X3, X5 and Z4 vehicles.

BMW spokesman Michael Rebstock said nearly all the recalls were in the US and about 15,000 in Canada.

ING cancels Kevin Spacey appearance

ING, the Dutch bank, has cancelled an appearance by the actor Kevin Spacey at a business event in Rotterdam.

Spacey had been scheduled to appear as the main speaker at ING BusinessBoost Live on 29 November.

However, Reuters reports that the bank said in a statement: "In view of the commotion caused by allegations of sexual misconduct surrounding Kevin Spacey, ING has decided it is no longer desirable to have him speak at the event."