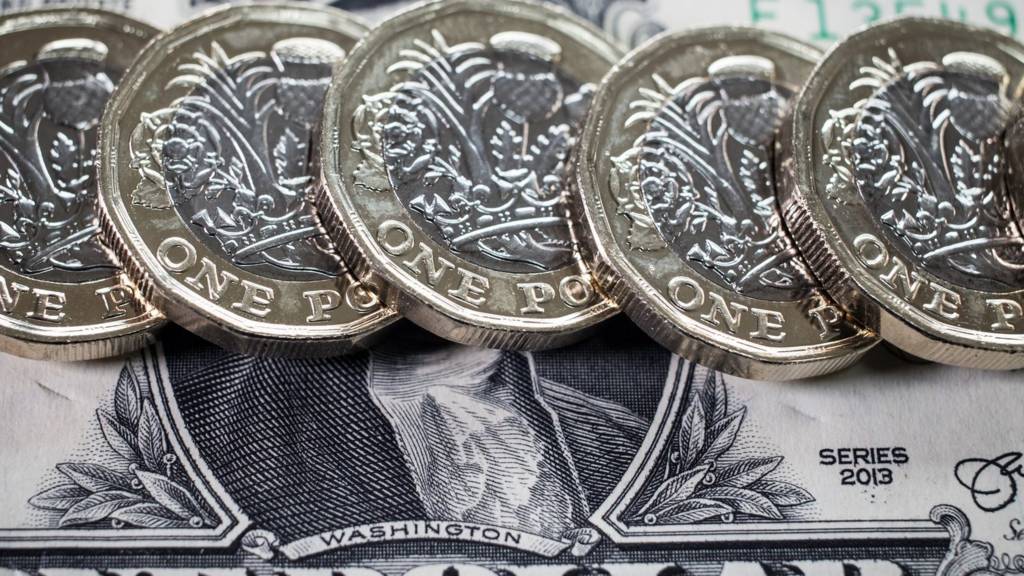 Thanks for tuning in. We'll be back again tomorrow from 6am.

Wall Street closes higher on Fed chief's comments

Wall Street stocks closed higher after the Federal Reserve chief offered an optimistic appraisal of the US economy.

The tech-rich Nasdaq Composite Index gained 0.6% to 7,855.12, a fresh record. The Dow Jones Industrial Average gained 0.2% to close at 25,121.83, while the S&P 500 advanced 0.4% to 2,810.07.

Earlier Federal Reserve Chairman Jerome Powell told the Senate Banking Committee the US was doing well, and that an era of stable growth may continue, provided the Fed gets its policy decisions right.

He also discounted risks from protectionist trade policies.

Oil and gas productivity increases

Oil and gas production efficiency in the UK has increased for a fifth year in a row, according to an industry report.

The Oil and Gas Authority said an additional 12 million barrels of oil equivalent were produced.

Production efficiency on the UK Continental Shelf rose to 74% in 2017 - a 1% improvement from the year before.

The authority said it helped contribute an additional 32,000 barrels of oil equivalent every day.

Airbus forecasts $4.6trn aviation services market

Airbus expects the worldwide market for aircraft services to be worth $4.6trn over the next twenty years.

About half of this expected revenue will come from "aircraft-focused lifecycle services" including "maintenance, spares pool access, tooling, technical training and system upgrades", Airbus says.

Microsoft trades at record high

Microsoft shares have been trading near record highs ahead of the firm's latest quarterly results on Wednesday, with the stock up more than 20% this year.

The computer giant, once best known for its dominance of the PC market, has been moving into cloud computing, a move that has pleased investors. Its hardware shipments are also on the up.

The firm's shares currently have 31 buy ratings from analysts - up from 26 at the start of this year and the most since late 2010, Bloomberg reported.

They predict the firm's stock will rise 7.5% over the next 12 months.

Arsenal caught up in BYD fraud probe

Premier League Arsenal is helping a Chinese investigation after it was potentially caught up in a fraud around its sponsorship deal with carmaker BYD.

"We are investigating the situation and discussing it with senior level BYD representatives... involved in the launch of the partnership," it said.

A woman has been arrested by Shanghai police on suspicion of contract fraud and faking company seals, BYD said.

BYD is one of China's biggest carmakers and is a producer of electric vehicles.

Image caption: Wizkid - one of Nigeria's biggest musical exports - also appeared in Dolce & Gabbana's Milan men's fashion week show last month.

Speaking of things musical, Universal Music Group plans to launch a new division in Nigeria as part of efforts by the world's largest music label to expand in Africa.

Nigerian music, like the Nollywood film industry, is popular across much of the continent with Nigerian artists popularising the Afrobeat sound, staging sellout tours and collaborating with international artists.

Universal sees considerable room for growth in the legal music industry in Nigeria considering it totalled just $39m in 2016, mostly from sales of mobile phone ringtones.

Sipho Dlamini of Universal Music said the Nigeria division will focus on developing artists and musicians from Ghana and Gambia as well as Nigeria.

The label also plans to open a recording studio in Lagos - its second in Africa alongside one in Johannesburg,

Sheeran tops concert takings

Music Business Worldwide reports that the world's top 50 highest-grossing tours for the first half of this year raked in a record $2.21bn - 12% higher than the same period in 2017.

Ticket price also hit a new high of $96.31 according to figures from Pollstar- 14% higher than last year.

Almost 23 million tickets were sold across the top 50 tours, with Ed Sheeran (pictured) coming out top.

He took $213.9m gross from selling more than 2.6 million tickets at an average of $80.90 for 52 performances.

Back on this side of the pond, BBC political editor Laura Kuenssberg and Newsnight political editor Nicholas Watt offer some further observations about tonight's votes in the Commons.

Dave Lee

North America technology reporter

The world's biggest tech companies have been in Washington to face questions from US Congress.

The latest session saw Facebook, Twitter and YouTube face questions from the House Judiciary Committee about how they filter content - and whether there is a political bias in those decisions.

At times it seemed like two separate hearings were happening at once. Republican members of Congress wanted to speak about what they claims is a silencing of conservative voices on social media.

Democrats, meanwhile, were more keen to press the firms, yet again, on how their platforms were allegedly abused by Russian interests.

The most uncomfortable moment for the companies came when they were asked about fake news.

Specifically, a site called InfoWars that has an audience on Facebook of more two million and regularly calls shooting survivors "crisis actors".

But Facebook's head of policy, Monika Bickert, said Infowars had not yet reached a threshold that warranted it being banned from the site - but she was unable to explain why.

ITV political editor Robert Peston comments on the government's Commons victory tonight:

Government loses medicines vote

Paul Rowley

BBC Political Correspondent

More on the Government's narrow victory in the Commons on a key part of its Brexit legislation.

Twelve pro-European Conservative MPs backed calls for the UK to stay in a "customs union" in the event of "no deal" with the European Union.

But the Government won by six votes, with four Labour MPs backing Theresa May. The 12 rebels were Heidi Allan, Guto Bebb, Ken Clarke, Jonathan Djanogly, Dominic Grieve, Stephen Hammond, Philip Lee, Nicky Morgan, Bob Neill, Antoinette Sandbach, Anna Soubry, and Sarah Wollaston.

The four Labour MPs who backed the Government were Frank Field, Kate Hoey, John Mann and Graham Stringer.

However, the Government was defeated by four votes on another issue, with MPs agreeing to keep medicines flowing freely between the UK and the European Union.

It was only the Government's second defeat on Brexit in the Commons during the passage of various bills. Overall, the Trade Bill cleared its final stage, with a Government majority of 31.

Financial Times news editor Peter Spiegel notes sterling's reaction to the Commons Brexit vote.

Breaking

Government wins key Brexit vote

Pound down, US stocks rise

The pound is now down 0.93% against the dollar at $1.3112.

Sterling is also off, down 0.42% on the euro at €1.1256.

In the US, Netflix's shares are still trading lower, down 5.33%, after it reported lower than expected subscriber growth.

The wider Nasdaq, however, is up 56.97 or 0.73% at 7,862.69.

The Dow Jones Industrial Average is ahead 53.17 points at 25,117.

The S&P 500 is up 11.99 points at 2,810.42.

More Ryanair cancellations

A further 24 Ryanair flights on Friday have been cancelled due to ongoing disruption caused by pilots' strikes.

The cancellations between Ireland and the UK come on the second day of industrial action by pilots' union Forsa, with another day planned next Tuesday.

Thirty Ryanair flights were cancelled last Thursday, affecting some 5,000 passengers, after the airline's pilots based in Ireland staged their first strike over pay and conditions.

As it did last Thursday, Ryanair said it was cancelling high-frequency flights from Ireland to the UK as it was easier to move customers to other scheduled flights.

"We apologise again to these Irish customers for these regrettable and unnecessary disruptions which we have done our utmost to avoid," said the airline.

Across the UK, discount retailer Poundworld is holding closing-down sales.

For people Steven Mulgrove (pictured) - who used to work for the store in Blyth, Northumberland - and customers who relied on its low prices, it's more than just a high street brand that could be lost.

Is there a plumber in the House?

Speaking of matters Westminster and all that, we quite liked this tweet from Conor McGinn, the Labour MP for St Helens North.

Morgan: 'Put party politics aside'

ITV political editor Robert Peston tweets:

Former minister to rebel on Brexit votes

Susan Hulme

Parliamentary correspondent

Pro-EU Conservative MP Phillip Lee says he will rebel against the government in votes tonight after ministers gave in to hardline Brexiteers yesterday.

Dr Lee, who resigned from the government over Brexit, said yesterday was his "worst experience" in politics.

His fellow Conservative, Stephen Hammond, indicated a few minutes earlier that he would not accept a government concession - and suggested he would continue to push his move to preserve free and frictionless trade with the EU.