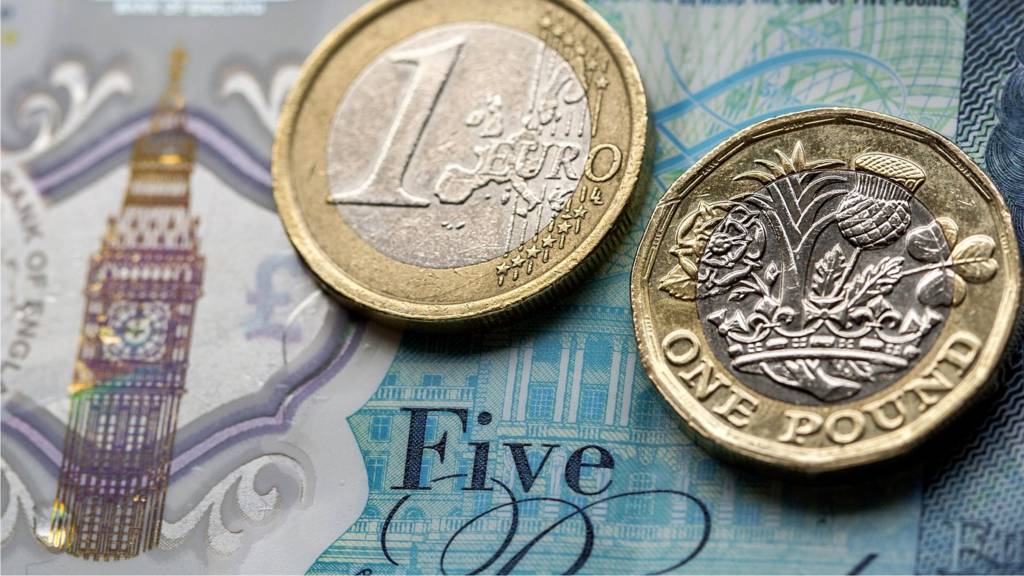 Thanks for tuning in - we'll be back at 06:00 sharp tomorrow!

Canada: Nafta can still be salvaged

Canada has said there is still room to salvage the North American Free Trade Agreement as talks with the US continue.

"We continue to work hard," Canadian Foreign Minister Chrystia Freeland said after meeting with US Trade Representative Robert Lighthizer.

"There is good faith and good will on both sides."

US officials have not commented on Wednesday's meeting, which comes after Donald Trump said he was willing to drop Canada from the $1.2tn pact after reaching an agreement with Mexico last week.

However, Canadian Prime Minister Justin Trudeau on Tuesday suggested there would be little compromise on his red-line issues, such as recently imposed steel and aluminium tariffs.

US markets hit by tech hearings

US stocks have been hit by weak performances from tech stocks after today's Senate Intelligence Committee hearing, in which Twitter's Jack Dorsey and Facebook's Sheryl Sandberg gave evidence on foreign meddling in US elections.

Twitter fell 6.1% and Facebook lost 2.3%, dragging down the tech-focused Nasdaq index, which shed 96.07 points or 1.2% to 7,995.17.

The broader-based S&P 500 fell 8.06 points or 0.3% to 2,888.60.

However, the Dow Jones closed up 22.51 points or 0.1% at 25,974.99.

Nike shares pick up amid boycott

Shares in Nike have picked up after slumping on Tuesday amid calls for a boycott of the firm.

It comes after the sportswear giant chose former NFL star Colin Kaepernick as a face for an advertising campaign. He was the first football player to kneel during the national anthem at games to highlight racial injustice.

Donald Trump criticised him and yesterday encouraged a boycott of Nike, as critics burned trainers and clothing in protest.

Shares are up 0.4% today, however, at $79.89.

UK and France reach truce on 'scallop war'

Copyright: EVN/ France Television

The so called "scallop war" has come to an end after the UK agreed not to fish in French waters in return for a "reasonable compensation package".

Last week fighting broke our after French fishermen accused British seaman of overfishing off the coast of Normandy.

Rocks and smoke bombs were allegedly hurled, prompting calls for the French Navy to intervene.

After talks on Wednesday, France and Britain said in a joint statement: "The UK and French fishing industries and governments held constructive talks today about scallop fishing in the eastern Channel including Baie de Seine.

"An agreement on the principles of a deal has been reached."

Uber 'on track' for 2019 IPO

Uber boss Dara Khosrowshahi has said the firm is on track to list its shares next year.

It comes amid widening losses at the ride-hailing giant as it invests heavily in new areas like scooter hire and food delivery.

Mr Khosrowshahi also said the firm had no plans to offload its driverless car unit, and was "quite optimistic" it would be able to resume testing later this year after a fatal crash in Arizona last March.

"Ultimately, it is a big asset that we are building and we can monetise that in whatever way we want to. It's not something we're thinking about it at this point," he told Reuters.

Last month, Toyota Motor said it would invest $500m in Uber to jointly develop self-driving cars.

Senate 'failed to land serious punches' on tech giants

Dave Lee

North America technology reporter

The empty chair left for Google is what those in the public relations business refer to as "terrible optics". In other words, it really didn't look good.

Google was accused of not taking the issue seriously enough to bother to send a senior executive - though I suspect Google's gamble was more about avoiding the inevitable questions about its plans in China.

Of the companies that did turn up, this hearing felt like what we'd seen before. Senators' questions - while marginally more informed than in previous hearings - failed to land any serious punches. The companies now know the cheat codes that get them through these hearings: admit mistakes, pledge to do better, offer to work on regulation.

But I felt the self-described "shy" Jack Dorsey offered something a little more profound, when he drifted into talking about the incentives social media provides: incentives that make us obsess about our follower count and level of engagement, arguably more than we care about the quality of what we share in the "public square".

Mr Dorsey seems willing to look inward and rethink how his business works at its most basic level. I'm looking forward to seeing how that approach plays out.

Facebook, on the other hand, is reaching out for help. It can't solve this problem alone, Ms Sandberg said. It needs government, law enforcement and security specialists to work on this issue. She's right, but Facebook will need to be more open about how it works in order for those kind of collaborations to be truly successful.

Emirates flight 203 update

US Department of Justice has 'growing concerns' about social media firms

The US Department of Justice is to meet with state attorney-generals to discuss "growing concerns" about social media companies' impact on competition and free speech.

It comes after today's Senate Intelligence Committee hearing, in which Twitter's Jack Dorsey and Facebook's Sheryl Sandberg gave evidence on foreign meddling in US elections.

In a statement, the DoJ said: "We listened to today's Senate Select Committee on Intelligence hearing on Foreign Influence Operations' Use of Social Media Platforms closely.

"The Attorney General has convened a meeting with a number of state attorneys general this month to discuss a growing concern that these companies may be hurting competition and intentionally stifling the free exchange of ideas on their platforms."

The DoJ declined to comment on whether it intended to open an investigation.

It comes a week after US President Donald Trump warned that Google, Facebook and Twitter "are really treading on very, very troubled territory, and they have to be careful".

Where can I afford to rent or buy?

RBS branch closures to hit 700

As we reported earlier, RBS has said it will close another 54 bank branches - taking the total set for closure to 700.

"This is another blow to RBS customers who have already endured a spate of branch closures," says Gareth Shaw, Which? Money Expert, said.

"Our analysis has revealed that more than 60 branches a month are shutting their doors, potentially leaving customers struggling to access vital financial services. It's crucial that banks consult with their customers to ensure their needs are met before simply shutting their doors and their customers out."

'Struggling to make ends meet'

After jumping earlier sterling has fallen back.

It's trading at $1.2906 against the dollar, although that is still up 0.4% since the start of the day.

It's broadly flat against the euro at €1.1104.

Google shown up for no-show

Google was invited to appear before today's Senate Intelligence Committee hearing on election meddling but declined, prompting criticism from senators. As such its attempt to avoid scrutiny backfired, some commentators have suggested.

Brexit reports 'should be taken with caution'

The pound has spiked following a report that Germany and the UK are closer to agreeing on a Brexit deal. But Neil Wilson, chief market analyst at Markets.com, says there a "couple of health warnings on this".

"First, Germany does not - despite its clear dominance of the bloc economically - actually speak for the EU position. Michel Barnier may well have something to say about this report. As might Theresa May.

"Second, we've heard these kinds of rumours lift the pound before and it should be treated with caution. There is a strong chance that this rally could run out of steam and retrace in fairly short order."

More on Emirates flight 203

Copyright: Camelia Entekhabifard

As we have been reporting, Emirates Flight 203 has been "quarantined" at JFK airport after seven passengers fell ill.

Port Authority Executive Director Rick Cotton said: "At 9.12 am today, Emirates Flight 203 from Dubai landed at JFK Airport with a report of multiple sick passengers.

"The plane was taken to a location away from the terminal so that medical personnel from the US Centers for Disease Control and Prevention could board the aircraft to evaluate the situation and provide immediate assistance before passengers deplane and are processed by US Customs and Border Patrol.

"The PAPD and Port Authority airport operations staff are coordinating closely and providing support to the CDC and CBP as necessary. The CDC will provide further updates as they become available."

The London market slumped on Wednesday amid worries about global trade relationships and a decline in emerging market economies.

The FTSE 100 lost 1% to 7,382.88 points, and there were even steeper falls on France's Cac 40 and Germany's Dax.

Advertising giant WPP was the biggest faller, slumping 4.2%, followed by fashion house Burberry, which lost 4%.

Twitter shares down more the 5%

Jack Dorsey's contrite testimony on Capitol Hill is clearly displeasing investors, with shares in the platform now down more than 5%.

"When we created the services 12 years ago we had this concept of followers," he told the Senate Intelligence Comittee.

He said the firm highlighted a user's number of followers in "big bold font" which incentivised people to want grow that number.

"What we're now asking is is that the right incentive - is the number of followers you have really a proxy for how much you contribute to Twitter and this digital public [space]. And we don't believe it is."

Emirates passengers had been to Mecca

More on the mystery illness outbreak on an Emirates flight from Saudi Arabia (via Dubai) to New York.

Quoting government sources, CBS has reported that seven passengers have been sent to hospital (not quarantined) suffering with flu-like symptoms.

Many had visited Mecca where there had been reports of a flu outbreak.

CBS said Emirates was clearing the plane now and was likely send the remaining 100 passengers through regular customs unless they exhibited overt symptoms.

However, officials will examine all passengers before doing so.