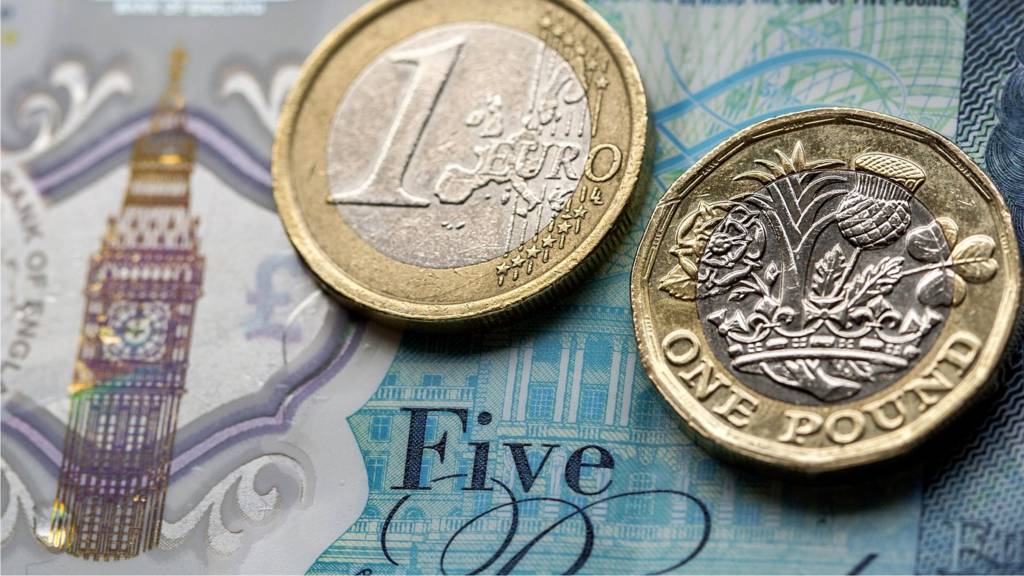 Thanks for tuning in - we'll be back at 6.30am sharp tomorrow. Hope to see you then.

Sweden's 'knife edge' election

The S&P 500 and Nasdaq gained on Monday amid hopes for a fresh round of US tax cuts - although trade fears continued to weigh on markets.

Republicans in the US House of Representatives plan to unveil new tax cuts this week, intended to add to Donald Trump's 2017 tax overhaul which provided a boost to US companies.

The S&P 500 and Nasdaq closed up: The S&P was up 0.2% at 2,877.13; the Nasdaq was up 0.3% at 7,924.16.

However the narrower Dow Jones shed 0.2% to close at 25,857.07.

Trade fears limited the gains however, with shares in Apple falling after the firm warned that new tariffs on Chinese imports would hit its products.

Ryanair bars journalists from AGM

Ryanair has barred journalists from attending its annual general meeting next week, explaining that it doesn't want matters discussed to be "distorted".

"We wish to allow shareholders to discuss all matters freely with the board without these discussions being distorted for PR purposes," the carrier said in a statement.

Journalists often report from AGMs of publicly listed companies and Ryanair boss Michael O'Leary usually speaks to the media at press briefings after each year's meeting. But Ryanair said there would be no press briefing this year.

It comes as the low-cost carrier continues to struggle with pilot and cabin crew strikes across Europe.

Winklevoss twins launch 'stable' cryptocurrency

As the value of cryptopcurrencies has fluctuated wildly, regulators have begun to crack down on the worst excesses of the market.

But today, the New York Department of Financial Services (DFS) approved a pair of cryptocurrencies pegged to the dollar that are intended to be more stable and transparent for investors.

The Gemini Trust Company, run by the famous Winklevoss twins (who successfully sued Facebook), and Paxos Trust Company both received validation for their digital tokens.

The new coins will compete with Tether, Dai and other "stable coins" designed to track the value of the traditional currency they're linked to.

The pound has held onto its gains after Michel Barnier said that a Brexit deal was "possible" within eight weeks.

It's currently trading at $1.3028 against the dollar, up 0.84% on the day. It's up half a per cent against the euro at €1.1235.

Major Dieselgate court case begins in Germany

The first major German court case against Volkswagen over the "dieselgate" scandal opened today, with investors seeking billions of euros in compensation from the carmaker.

A Brunswick court began examining whether the firm should have told investors sooner about the so-called "defeat devices" it built into 11 million cars to fool emissions tests.

At issue is a 40% fall in Volkswagen stock in the days after the firm admitted to cheating, which wiped billions off its market value.

Investors say VW executives - who are legally obliged to share promptly any information that could affect the share price - should have warned investors days before publicising the revelations.

The case covers 3,650 claims totalling around €9bn of compensation.

California 'to quit fossil fuels by 2045'

California has signed into a law a mandate requiring the state's power sector to wean itself off fossil fuels by 2045.

The law, passed by the state's legislature last month, requires the state's utilities to source 60% of their power from renewable energy by the end of 2030 - an increase from a previous goal of 50%.

It also states that by 2045, all of the state's electricity must come from renewable or other zero-carbon sources.

The law has received strong support from environmental and public health groups, but big utilities companies oppose it.

Aston Martin appoints first female chair

Aston Martin has appointed Penny Hughes, a former Coca-Cola executive, as its first female chair.

The luxury carmaker said the appointment of Ms Hughes and a string of other boardroom heavyweights was "a significant milestone in our history and of the successful turnaround of the company".

It comes as the car firm gears up for a £5bn float.

The S&P 500 and the Nasdaq have climbed amid speculation about a fresh round of US tax cuts - although trade fears continue to weigh on markets.

Republicans in the US House of Representatives plan to unveil tax cuts this week, intended to augment Donald Trump's 2017 tax overhaul which gave a boost to US companies.

The S&P 500 and Nasdaq are up 0.2% at 2,877.76 and 7,915.08, but the Dow has slipped 0.1% to 25,882.42.

However, shares in Apple fell 1.5%, limiting any gains. On Friday the tech firm warned that new tariffs on Chinese imports would hit its products, raising prices for US consumers.

Debenhams pares some losses

BBC business correspondent tweets...

Nike's advertising campaign featuring Colin Kaepernick has divided opinion. But it not the only shoe brand to go political.

The London market has closed flat after the pound rallied for the second time in a fortnight.

It ended 1.6 points, or 0.02%, higher at 7,279.30 points.

A stronger pound impacts big firms on the index, as their foreign earnings will be worth less when converted back into sterling.

Barnier 'can shift sterling'

As we have been reporting, the pound has spiked after Michel Barnier said that a Brexit deal was "possible" within eight weeks if negotiators are "realistic".

Conor Campbell of SpreadEx says: "If one person can shift sterling at the moment it is Michel Barnier.

"The currency is desperate for any signs of good news from the EU's chief negotiator, often making the most of some pretty tepid statements.

"Monday's gains seem slightly more justified however, with Barnier saying that it was a 'realistic' possibility a deal could be reached by November. And though, of course, the content of any deal is the thing that really matters, at the moment the pound will take what it can get."

Volvo IPO postponed amid trade fears

The owner of Volvo has postponed plans to float shares in the Swedish carmaker, blaming trade tensions and a downturn in automotive stocks.

China's Geely said the plans for a Stockholm listing had been delayed indefinitely. "We've come to the conclusion that the timing is not optimal for an IPO right now," Volvo boss Hakan Samuelsson told Reuters.

Volvo and its Chinese parent had been discussing an IPO to value the carmaker at between $16bn and $30bn, sources have previously said.

There has been a steep decline in automotive shares this year, amid Washington's escalating trade spat with Beijing and lingering tensions with the EU.

Network Rail to sell off property portfolio

Network Rail is to sell its commercial property portfolio to property outsourcing company Telereal Trillium and US investment firm Blackstone for £1.5bn.

It will offload about 5,200 properties, most of which are converted railway arches, to help fund railway upgrades.

Telereal and Blackstone Property Partners will hold equal stakes and intend to be long-term owners of the estate, Network Rail said.

The main US share indexes are up modestly on Wednesday.

The Dow Jones and Nasdaq have gained 0.1% to trade at 25,958.42 and 7,914.99 respectively. The S&P 500 is up 0.3% at 2,881.40.

Apple shares lost ground for a fourth straight session as trade concerns continue to weigh on the stock.

The company said last week that US tariffs on China would hit a "wide range" of its products, raising prices for consumers.

'I had to sleep on the floor of a friend's office for three weeks'

What is the impact of losing your business and home on your mental health? 'V', who ran a couple of restaurants in central London, faced hard times during the financial crash 10 years ago.

She tells the BBC's Simon Tulett that she was forced to close her restaurants when the landlord of the buildings they occupied decided to sell up, leaving her without a penny in compensation.

A solution to deadly problem?

Moonves could receive $120m depending on probe

US broadcaster CBS says it will pay former chief executive Leslie Moonves up to $120m if an internal investigation into allegations of sexual harassment fails to provide grounds for his dismissal.

Mr Moonves resigned from CBS on Sunday after fresh allegations from six women were published in the New Yorker.

The broadcaster said that, regardless, it and Mr Moonves would donate $20m of Mr Moonves' severance package to organisations supporting the #MeToo movement.

And the former executive could end up with nothing if the result of the investigation goes against him.