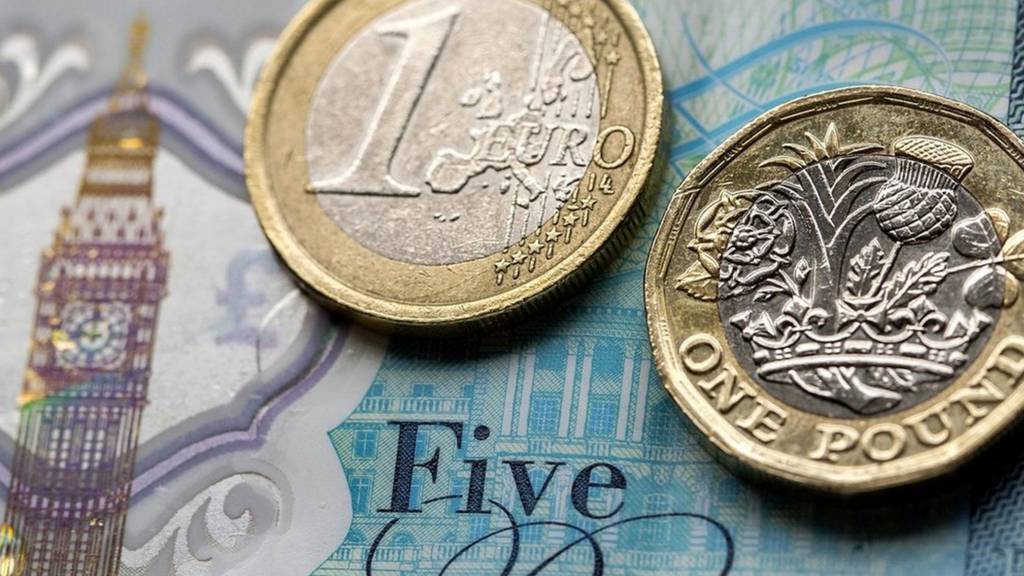 Summary
Get in touch: bizlivepage@bbc.co.uk
Gold hits three-month high
FTSE 100 ends higher
Convatec shares hammered after outlook warning
Superdry warns of £10m hit to profits
Sears files for bankruptcy protection
Pound rebounds after Brexit talks snag
Thanks for tuning into Business Live. We'll be back tomorrow at 06:00, hope to see you then.

All you need to know about fracking

As we reported earlier, fracking resumed in England today after a seven-year pause. Here's a primer from World Business Report about the practice and the controversies surrounding it.

All three main Wall Street stock market indexes lost ground on Monday. The Dow Jones closed 89.44 points or 0.35% lower at 25,250.55, while the broader-based S&P 500 shed 16.34 points or 0.59%, ending the day at 2,750.79. The tech-focused Nasdaq fell 66.15 points or 0.89% to 7,430.74.

Could Porsche float on the stock market?

Both Ferrari and Aston Martin have done it, but could Porsche be next? The chief financial officer of the German sports car giant certainly believes the firm would do well as a separately listed entity.

Lutz Meschke said a public offering could unlock value and help the VW-owned company raise money if needed.

What's more, he said the maker of the 911 model could easily be valued "between €60bn and €70bn", based on the earnings multiples Ferrari used in its listing. That's about the same value as the entire Volkswagen group.

Porsche isn't pursuing plans for a listing, the company later confirmed in a statement. But last month, VW chief financial officer Frank Witter said it was among options VW might consider in future.

No deal Brexit 'more likely than ever'

European Council President Donald Tusk said on Monday that a no-deal Brexit was "more likely than ever before" amid renewed signs of an impasse on the Irish border.

With less than six months to go before Britain's departure, talks stalled at the weekend over how to ensure there is no return to a hard border between the British province of Northern Ireland and EU-member Ireland.

Mr Tusk said all parties must do their best to reach a deal, adding that he had invited British Prime Minister Theresa May to address her 27 EU peers on Brexit on Wednesday evening, the first day of a two-day summit of EU leaders he will chair.

"The fact that we are preparing for a no-deal scenario must not, under any circumstances, lead us away from making every effort to reach the best agreement possible... Let us not give up," he said in an invitation letter to the summit.

US deficit widens under Trump

The US deficit widened to $779bn in 2018 as Donald Trump ramped up spending and cut taxes, US Treasury Department data has shown.

The deficit for the 12 months to the end of September was up from $665bn last year and the largest since 2012.

Much of the widening came from more spending on interest payments on the national debt.

Borrowing has increased over the last year, partially to make up for slower growth in tax revenues due to corporate tax cuts.

Also pushing up debt servicing costs, the US Federal Reserve has been gradually raising interest rates since 2015 in a bid to keep inflation under control.

In addition, Mr Trump increased spending on the military.

David Petraeus and KKR 'pull out of Saudi conference'

Yet more big business names have pulled out of a major investment conference in Saudi Arabia planned later this month in protest at the Kingdom's alleged involvement in the murder of a journalist.

Joseph Bae, co-president of private equity giant KKR, and David Petraeus, chairman of the KKR Global Institute and former director of the CIA, have both withdrawn from the Future Investment Initiative conference, sources told Reuters.

Turkey has accused Saudi Arabia of murdering Saudi journalist Jamal Khashoggi at its consulate in Istanbul - claims Riyadh denies.

Others to have pulled out of the conference include Richard Branson, JP Morgan boss Jamie Dimon, Ford chairman Bill Ford and Uber chief Dara Khosrowshahi.

As the Brexit talks enter the final stages, new research shows that British voters are split on whether they think it will be good for the country.

Gold rose to its highest level in two and a half months on Monday as investors sought safer assets amid uncertainty on global stock markets.

Spot gold gained 0.8% to $1,227.06 per ounce while gold futures were up 0.7% at $1,229.90.

"People are running towards safety and flocking to gold on concerns about Italy's debt, United States' relationship with China and Saudi Arabia," said Michael Matousek, head trader at US Global Investors.

"As gold is breaking out to new levels, it is pulling in more people besides making some to cover their short positions."

What business does UK do with Saudi?

Yellen: Trump's attacks on Fed 'damaging'

Former Federal Reserve chair Janet Yellen has criticised Donald Trump's recent attacks on the US central bank, calling them "damaging... to financial stability".

Last week the president called Fed boss Jerome Powell "loco" for recent moves to raise rates, breaking the tradition of presidents not commenting on central bank policy.

"I really think it is not a desirable thing for a president to comment so explicitly on Fed policy," Ms Yellen said.

"Obviously, presidents can speak out if they choose to and give their opinions about policy, there's no law against that. But I don't think it's wise and I do think the Fed has a strong reputation for acting in an independent and non-political way and I would not like to see that reputation damaged."

Mr Trump's advisers have defended his right to comment on monetary policy-making - although last week Treasury Secretary Steven Mnuchin also said the president respects the Fed's independence.

Grant Thornton boss to quit

Grant Thornton boss Sacha Romanovitch is to quit the audit firm before the end of the year amid criticism of her leadership.

It comes a week after Grant Thornton found itself at a centre of a controversy involving an accounting scandal at cake and cafe chain Patisserie Valerie.

Ms Romanovitch took the helm in 2015, becoming the first woman to lead a major accounting firm.

However in September, an anonymous letter was sent to several news outlets questioning Ms Romanovitch's leadership and the firm's profitability.

It claimed to represent the views of top partners and directors at the firm and was branded "deeply frustrating" by Ms Romanovitch.

In a statement on Monday, she said: "As we enter the next phase of our plans, following discussions with Grant Thornton's board, we have agreed that the time is right for a new CEO to take the firm forward."

AstraZeneca clarifies Brexit reports

Earlier we reported that AstraZeneca's chairman had announced the drugmaker would freeze investment in the UK because of Brexit uncertainty - however it turns out the firm had already announced such a pause last year.

"If a transition deal does not make clear what will happen in the future, we will maintain our decision not to invest," Leif Johansson told France's Le Monde newspaper.

"A Brexit agreement will need to ensure that Britain does not become an isolated island in the middle of the Atlantic Ocean," he added.

A spokesperson later clarified that Mr Johansson was referring to a freeze on investments in manufacturing announced in 2017.

"There has been no change to our investment plans in the UK," the spokesman said.

No MPs coming to May's rescue

BBC political editor Laura Kuenssberg tweets:

The London market has ended higher, helped by the rising price of gold which boosted miners.

Shortly after bell, the index was up half a per cent at 7,032.33 points, with miners Randgold Resources and Fresnillo both up 5%.

Michael Hewson, an analyst at CMC Markts, said: "Gold prices hit their highest levels since July today as investors start to hedge against further falls in equity markets. While markets in Europe appear to have stabilised in the past day or so the nature of the stabilisation speaks to some concerns that it can continue."

Paddy Power Betfair also did well, gaining 5% while tobacco company Imperial Brands climbed 2.8%.

Germany orders recall of 100,000 Opel cars

Germany's transport ministry has issued a recall of nearly 100,000 Opel cars on suspicion that some of the firm's diesel-engine cars were equipped with software designed to cheat emissions tests.

It came hours after Opel, which is owned by France's PSA, had its headquarters raided by authorities.

In statement the transport ministry said the illegal "defeat device" software was discovered earlier this year and that it would recall Cascada, Insignia and Zafira models across Europe.

Opel said it was "fully co-operating with the authorities" and that its "vehicles comply with the applicable regulations".

Aerion Supersonic, the firm developing a $120m supersonic business jet, says it will be able to take off and land without changes to regulations in the US.

General Electric's aviation unit has completed initial designs for an engine for Aerion's AS2 jet, which could be flying in five years.

"We're on track to fly in 2023, and before that year is out cross the Atlantic at supersonic speed, which will be the first supersonic crossing since the Concorde's retirement 20 years earlier," said Aerion chief executive Tom Vice ahead of a business aviation convention in Orlando, Florida this week.

A push by Aerion and other US start-ups Boom Supersonic and Spike Aerospace to re-introduce supersonic passenger travel that ended when Concorde stopped flying in 2003 has triggered a debate over noise even at the subsonic level.

Until now, supersonic designs have struggled to meet current subsonic noise standards due to engine constraints. GE said the engine would enable supersonic flight over water and subsonic flight over land without regulatory changes.

How dyslexia helped Theo Paphitis

Businessman and former Dragons' Den star Theo Paphitis has credited dyslexia for his success.

He tells BBC 5 live's Wake Up to Money that the disorder, which affects reading, writing and spelling, forced him to find solutions.

Fracking resumes in the UK

Cuadrilla has resumed fracking for natural gas in Lancashire, seven years after the practice was halted in Britain for causing earth tremors.

The firm said it would spend about three months fracking two wells at its Preston New Road site in Lancashire, to determine whether full-scale gas extraction would be viable.

Environmental groups strongly oppose hydraulic fracturing, or fracking, which involves extracting gas from rocks by breaking them up with water and chemicals at high pressure.

But the government, keen to cut Britain's reliance on gas imports, has tightened regulations and given Cuadrilla permission to carry on.

The British Geological Survey estimates shale gas resources in northern England alone could amount to 1,300tn cubic feet of gas - 10% of which could meet demand in Britain for almost 40 years.