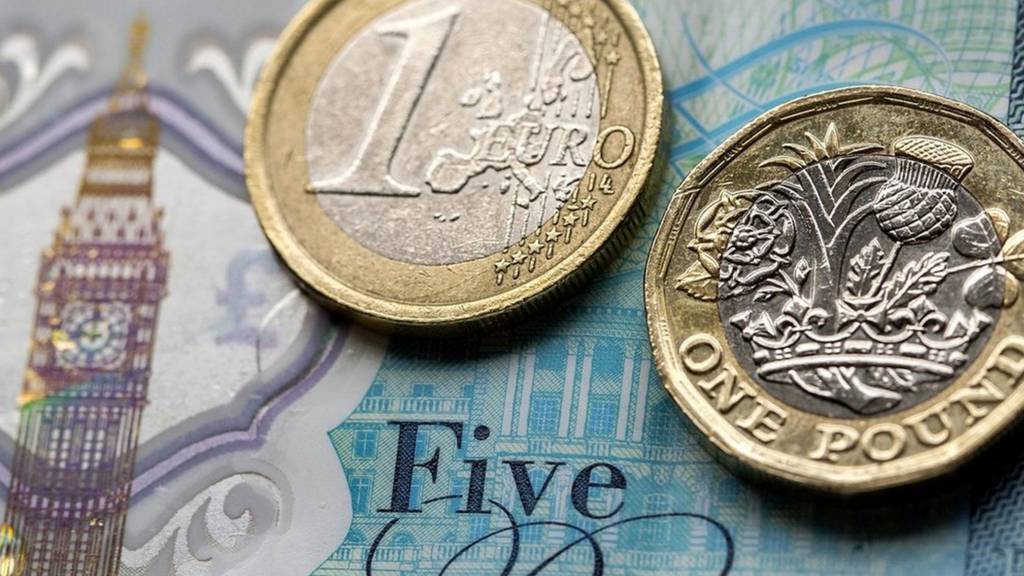 Summary
Get in touch: bizlivepage@bbc.co.uk
TSB reports £105m loss on IT meltdown
Manufacturers stockpile for Brexit at record rate
TalkTalk shares drop on profit warning
US adds 304,000 new jobs in January
That's it for today and this week. Thanks for reading. We'll be back on Monday at 6am.

After the non-farm payrolls data provided a stronger-than-expected picture of the US economy, the Dow Jones advanced 0.3% to 25,063.89 to close out its sixth straight week of gains.

Nasdaq, knocked by Amazon's slide, fell 0.3% to 7,263.87.

Image caption: Chicago's frozen shoreline

At least 21 people have died in one of the worst cold snaps to hit the US Midwest in decades.

Ninety million people - a third of the US - have seen temperatures of -17C (0F) or below. Some 250 million Americans overall have experienced the "polar vortex" conditions.

Read more here.

And in the UK, travel by road, rail and air has been disrupted by snow and ice, with weather warnings issued for Friday and overnight.

The Met Office yellow warnings for snow and ice cover several areas of the UK, while a separate warning for ice is in place for southern England.

There's more on that here.

Brazil dam: Startling pictures of Brumadinho collapse

Copyright: TV BANDEIRANTES

Dramatic pictures have emerged of the collapse of an iron ore mine owned by the Vale company in southern Brazil.

The images, obtained by the TV Bandeirantes station, show the moment a muddy sludge engulfed the company canteen and neighbouring buildings in Brumadinho, Minas Gerais.

An investigation is taking place into the collapse, which has left more than 300 people dead or missing.

This is the second incident involving Vale in three years.

Read here.

GM to 'lay off 4,000' staff

General Motors is preparing to start laying off around 4,250 employees, according to the Detriot News.

According to the report, the process will begin on Monday.

It cites a statement from GM: "We are not confirming timing. Our employees are our priority, and we will communicate with them first."

In November, the carmaker had announced plans to halt production at five factories in North America and cut more than 14,000 jobs.

Dave Lee

North America technology reporter

Facebook spokeswoman tells the BBC: "We value the work that Snopes has done, and respect their decision as an independent business.

"Fighting misinformation takes a multi-pronged approach from across the industry. We are committed to fighting this through many tactics, and the work that third-party fact-checkers do is a valued and important piece of this effort.

"We have strong relationships with 34 fact-checking partners around the world who fact-check content in 16 languages, and we plan to expand the program this year by adding new partners and languages."

Snope's announcement continues: "To be clear, we have not ruled out working with Facebook or any other platforms in the future. We hope to keep an open dialogue going with Facebook to discuss approaches to combating misinformation that are beneficial to platforms, fact-checking organisations, and the user community alike, and we particularly hope Mr [Mark] Zuckerberg [Facebook's founder] meets with fact-checkers as part of his recently announced series of public discussions".

The BBC has approached Facebook for comment.

Snopes stops work with Facebook

Snopes, a fact-checking organisation, has announced it has ended its partnership with Facebook.

It said: "Facebook endeavoured at the end of 2016 to work with various fact-checking organisations (including Snopes.com) in order to help curb the spread of misinformation on their platform. After contributing to that effort for two years, we want to inform our readership that Snopes.com has elected not to renew our partnership with Facebook".

"At this time we are evaluating the ramifications and costs of providing third-party fact-checking services, and we want to determine with certainty that our efforts to aid any particular platform are a net positive for our online community, publication, and staff".

On Thursday Reuters reported that Emirates is considering switching orders for the Airbus A380 - the world's largest plane - to the smaller A350.

Now, the news agency is quoting Willie Walsh, the chief executive of IAG (owner of British Airways), calling on Airbus to cut the price of the planes.

"I've been very clear with Airbus that if they want to sell the aircraft, they're going to have to be very aggressive on the price," Mr Walsh said.

British Airways currently uses 12 A380s.

Scottish building firm folds with loss of 374 jobs

Dundee-based building services contractor McGill has gone into administration with the loss of 374 jobs.

Staff were told the news at meetings in Dundee, Edinburgh and Glasgow.

The company, which serves clients in the residential, industrial and commercial sectors, has its headquarters in Dundee's Harrison Road.

The company's remaining 55 employees have been retained to assist joint administrators KPMG.

Full story here.

Donald Trump had heralded Foxconn's "incredible investment" - around $10bn - when it was announced in July 2017.

But earlier this week Reuters reported that the Taiwanese company no longer expected to make liquid crystal display panels there.

Reuters had also reported engineers and researchers would be hired rather than manufacturing jobs.

Foxconn has said it will build a factory in Wisconsin after discussions with Donald Trump.

The Taiwanese manufacturing giant says the factory will be the "hub of high technology innovation".

The price of Brent crude has jumped around $2 a barrel after data from energy services firm Baker Hughes showed that firms cut the number of oil rigs they are operating.

According to its data, the number of rigs in use fell by 15 this week, taking the total to 847 - the lowest since May 2018.

That data added impetus to Brent crude futures which were already rising after the non-farm payrolls showed a stronger-than-expected picture of the US economy.

Brent crude futures are trading around 3% higher at $62.81.

West Texas Intermediate is up 3% at $55.39.

Donald Trump says he might declare a national emergency to get the funding he needs to build a wall along the border with Mexico.

The Democrats are not releasing the money, the President said.

"We're not getting anywhere with them," Trump said.

Shares in Papa John's are down more than 7% after the pizza company reportedly abandoned efforts to find a buyer.

Reuters is reporting that the company is now looking for a buyer for a stake in the business.

The founder, John Schnatter, resigned as chairman in July after apologising for using the N-word in a conference call. He owns around 30% of the company.

Minimum payment on Premium Bonds is cut

Kevin Peachey

Personal finance reporter

Copyright: National Savings and Investments

Image caption: Premium Bonds were introduced in 1956 and Ernie chooses the numbers

The minimum investment for Premium Bonds has fallen from £100 to £25 - the first drop for 63 years.

The move, announced in the Budget, is aimed at encouraging more regular saving and comes into force today.

One in three people in the UK hold Premium Bonds, which give savers the chance every month to win tax-free prizes ranging from £25 to £1m.

Every £1 bond number has a separate chance each month of winning a prize and the odds are currently 24,500 to one.

The maximum investment per customer is £50,000.

There was some respite for Metro Bank on the stock market after heavy falls sparked by errors in the way it was accounting for some of lending.

The shares gained 10.4% - lifting off record lows reached on Thursday.

They ended around 1,200p - still well off the levels around 2,200p they had been trading at before the accounting issue emerged.

Talk Talk ended 4.7% lower after it told the stock market its full-year core income will fall short of analysts' expectations, and its own previous guidance, by between £10m and £15m.

Ford confirms nearly 400 job losses at Bridgend

Car giant Ford has announced a voluntary redundancy programme at its Bridgend engine plant.

It is confirmation of 370 job losses, which first emerged last month.

The company said a voluntary separation programme would affect hourly and salaried employees.

The move, which Ford said was part of its ongoing actions to create a "sustainably profitable business" in Europe, will affect between 350 and 400 jobs.

The FTSE 100 index has closed 0.7%, 51.37 points, higher at 7,020.22.

The FTSE 250 index has also ended the day higher, at 18,811.37, up 99.62.

The pound is at $1.3093, down 0.13%.