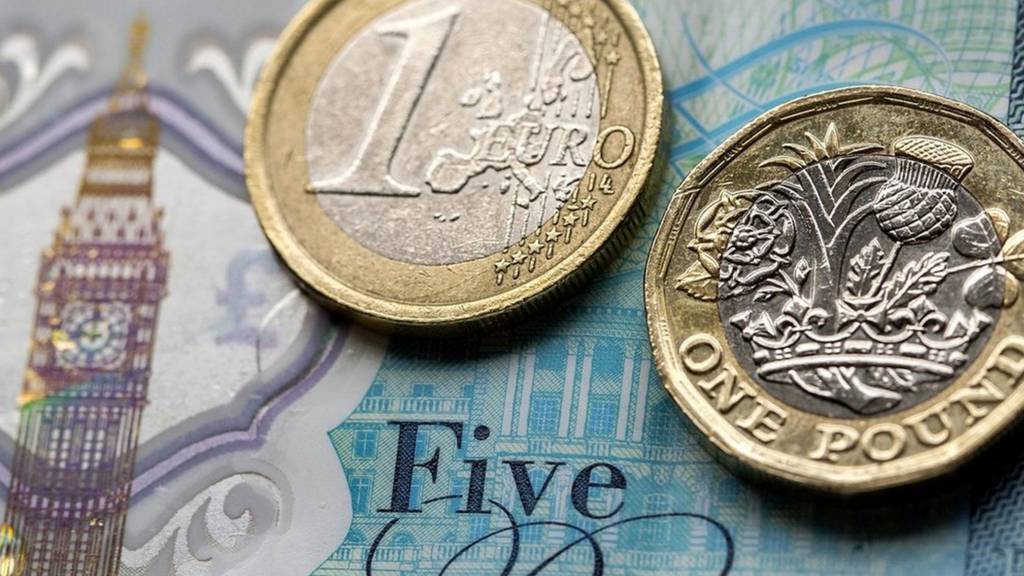 Summary
Get in touch: bizlivepage@bbc.co.uk
That's all for tonight from the Business Live page. Please join us again tomorrow from 06:00.

California governor says tech firms should pay 'data dividend'

California is eyeing a proposal that would force tech firms to pay people for using their personal information.

In a speech on Tuesday, Governor Gavin Newsom said he has asked his team to develop legislation to create a "data dividend".

He argued that "California's consumers should ... be able to share in the wealth that is created from their data."

The speech did not offer many details. But coming amid increasingly fierce debates about consumer privacy, it's the latest sign that that tech firms like Facebook and Google may be facing a future of increased regulation - even in the US.

Wall Street boosted by trade hopes

US stocks have closed higher after investors were heartened by a tentative congressional spending deal to avoid another government shutdown and by positive developments in the US-China trade negotiations.

The Dow Jones Industrial Average rose 372.65 points, or 1.49% to 25,425.76, the S&P 500 gained 34.93 points, or 1.29%, to 2,744.73 and the Nasdaq Composite added 106.71 points, or 1.46% to 7,414.62.

Can the Green New Deal really work?

Image caption: Congresswoman Alexandria Ocasio-Cortez and Senator Ed Markey launching the Green New Deal

A radical plan to tackle climate change pushed by Alexandria Ocasio-Cortez has drawn scorn from Trump.

Eleven EU states meet 2020 renewable energy targets

Eleven EU member states have already achieved 2020 goals of producing 20% or more of power needs through renewable sources, according to Eurostat.

Theses include Sweden, Finland, Denmark, Estonia, Croatia and Lithuania. However, France, Germany and the UK still have a way to go.

Renewables, such as wind, solar and hydro power accounted for 17.5% of energy needs in 2017.

The 2020 target is a stepping stone to a goal of 32% in 2030.

UK's chief Brexit negotiator: It's May's deal or extension

Image caption: Olly Robbins (R) is Theresa May's adviser on Europe

Britain's chief Brexit negotiator Olly Robbins has said face the choice of Prime Minister Theresa May's deal or a long extension of the 29 March 29 for leaving the bloc, according to ITV news

The broadcaster said its correspondent overheard Mr Robbins talking at a hotel bar in Brussels on Monday.

Mr Robbins reportedly said: "The issue is whether Brussels is clear on the terms of extension".

"In the end they will probably just give us an extension."

Ryanair 'under fire over potential O'Leary bonus'

Unions at budget airline Ryanair have criticised a potential €99m bonus for chief executive Michael O'Leary, the FT reports.

Joost van Doesburg of the Dutch pilots' union VNV said: "This type of bonus will only stimulate Mr O'Leary to continue his unsustainable way of dealing with his employees and increase social abuse like bogus self-employment and no sick pay.

"It would be much better if the social welfare of the Ryanair staff would be taken into account when the senior management are getting their bonuses."

Brexit: No-deal plan for Channel Tunnel operations

Trains will be permitted to use the Channel Tunnel for three months if the UK leaves the EU without a deal, under a proposed European Commission law.

The planned legislation, published on Tuesday, will give the UK and France time to renegotiate the terms under which the railway service operates.

The law must be agreed by the European Parliament and EU member states.

Britain leaving the EU with no deal is the default position on 29 March unless a withdrawal agreement can be approved.

Trump says could extend China trade talks deadline

US President Donald Trump has said he would consider extending the deadline for a trade deal with China beyond 1 March.

"If we're close to a deal ... I could see myself letting that slide for a little while," President Trump said at the White House.

The comments came as the third round of trade negotiations were set to resume in Beijing.

Brexit: Will there be a resolution to months of indecision?

Look away now if you are of a nervous disposition.

This week's Brexit votes may not come to much.

The prime minister is essentially asking for more time to get something to show for her promise of changes to the controversial backstop.

That might mean that she's back before the end of this month with something concrete to vote on.

Or it may well not.

Cuadrilla refused planning permission on fracking site

Energy firm Cuadrilla has been refused planning permission for a fracking site in Lancashire by the government.

Roseacre Wood is one of two sites in Fylde which were originally refused permission by Lancashire County Council, but which went to public inquiry and a decision from the government after Cuadrilla appealed.

Communities Secretary James Brokenshire has dismissed the appeal and refused planning permission for the drilling and fracking of four wells at the site.

Efforts to address concerns about the high number of HGVs using country lanes around the site - which are also used by cyclists, pedestrians and horse riders as well as other vehicles - "fall short" of what is needed, the decision said.

Wall Street rises after tentative US government shutdown deal

US stocks are higher, fuelled by a tentative deal reached by US lawmakers to avoid another partial government shutdown and optimism that the US and China could reach an agreement during their ongoing trade talks.

However, it was unclear if President Donald Trump would embrace the deal as congressional aides said it did not contain the $5.7bn he wants for his border wall.

"What investors are taking from this is that the government stays open, whether or not Trump signs on the deal is secondary," said Peter Cardillo, chief market economist at Spartan Capital Securities. "There is a lot of optimism around the trade talks and hopes for some kind of a deal in the making."

The Dow Jones Industrial Average was up 285 points at 25339. The S&P 500 was up 31 points at 2741 and the Nasdaq Composite was up 96 points at 7404.

Brexit: Theresa May promises meaningful vote after more talks with EU

Theresa May has promised MPs a final, decisive vote on her Brexit deal with the EU - but not until she has secured changes to the Irish backstop clause.

The PM said she needed "some time" to get the changes she believes MPs want.

She promised to update MPs again on 26 February and, if she had not got a new deal by then, to give them a say on the next steps in non-binding votes.

Jeremy Corbyn accused her of "running down the clock" in an effort to "blackmail" MPs into backing her deal.

City body warns that time running out on Brexit deal

The City of London Corporation has urged the government to put in place a legally binding transition period, warning that time is running out to reach a Brexit deal.

"The last grains of sand are slipping through the hour glass as another day is lost in Brexit limbo," said the City body's policy chair Catherine McGuinness.

"Businesses and households continue to face uncertainty about whether the UK will crash out of the European Union without a deal at the end of March."

'Britain's broken cash system needs overhaul'

Britain's system for cash is "broken" and needs a fundamental rethink to avoid vulnerable people being cut off, MPs have said.

The Treasury Select Committee is concerned that cash machines in rural areas are being closed as falling demand for banknotes makes then uneconomical.

"The national system for people to have access to their cash via machines is basically broken," said Nicky Morgan, chair of parliament's Treasury Select Committee.

"With the way that people access their cash seemingly on the precipice of collapsing, the government can't just bury its head in the sand," she said.

"This mustn't fall through the gaps of responsibility – the government and regulators should get a grip of this problem before the whole arrangement collapses.

Currently banks effectively subsidise uneconomic cash machines through the "interchange" fee set by Link.

The Payment Systems Regulator and Link locked horns last year over closures of "protected" or uneconomic cash machines, and Link's plan to cut the interchange fee in phases.

Liberty owners 'look into sale'

The largest shareholders in Liberty are exploring a potential £300m sale of the London department store, Sky News reports.

BlueGem Capital Partners has asked UBS to gauge appetite for the sale, the broadcaster says.

Venezuela crisis: Maduro condemns 'extremist' Trump

Venezuela's embattled President Nicolás Maduro has called Donald Trump's government a "gang of extremists" and blamed the US for his country's crisis.

In an interview with the BBC, Mr Maduro said he would not allow humanitarian aid into Venezuela as it was a way for the US to justify an intervention.

"They are warmongering in order to take over Venezuela," he said.

The US and most Western governments have recognised opposition leader Juan Guaidó as interim president.

Venezuela hopes to create non-dollar trading bloc

Venezuela wants to create a trading bloc of China, India and Russia to help the South American country settle oil payments in currencies other than the dollar, its oil minister (pictured) has said.

The strife-torn country is looking for alternative payment methods to keep its Indian market open after the US imposed sanctions curbing the Opec member's crude exports.

"We all can build one economy and that economy does not necessarily have to be within the dollar economy," Manuel Quevedo said.

Meanwhile, Brent crude is up more than 2.7% after Opec production cuts.

Copyright: Macrobond/Quilter Investors

Image caption: Source: Macrobond/Quilter Investors

Another US government shutdown is likely to be averted thanks to a deal between Democrats and Republicans.

Government workers are a big slice of custom for private businesses and the economy, says Sacha Chorley, portfolio manager at Quilter Investors.

"They make up a substantial part of the economy and are responsible for a big chunk of consumer demand (see chart). If they are eating out less, reducing casual spending and delaying necessary purchases then that creates deadweight loss in the economy where expected demand isn't there."