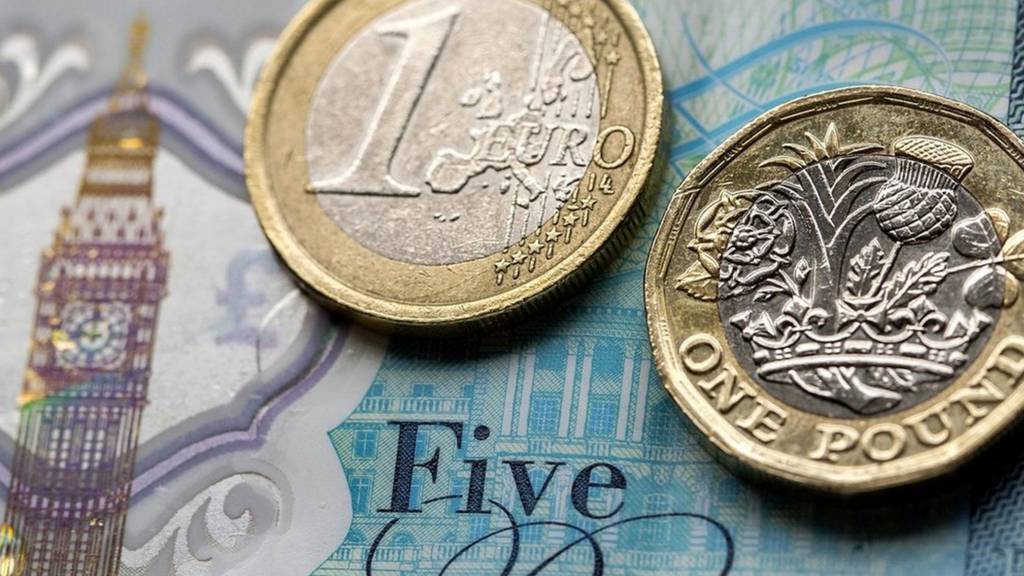 Summary
Get in touch: bizlivepage@bbc.co.uk
UK inflation falls to two-year low
Exports of Scotch whisky to the US passed £1bn a year for the first time last year.
That's all from the Business Live page for today. Please join us again tomorrow from 06:00.

Failed London Garden Bridge project cost £53m

Copyright: Heatherwick Studio

A failed plan to build a bridge covered with trees and flowers over the River Thames in central London cost a total of £53m, it has been revealed.

A Transport for London (TfL) inquiry showed the Garden Bridge Trust spent £161,000 on a website and £417,000 on a gala for the abandoned project.

The design of the bridge cost more than £9m and the charity paid its executives £1.7m.

Around £43m came from the public's pocket, TfL added.

Doubts began to surround the project, overseen by Boris Johnson, after it lost the support of London Mayor Sadiq Khan in April 2017.

US stocks end higher as trade talks progress

Wall Street shares have closed higher amid investor optimism over hopes that the US and China can reach a trade deal.

At the same time, latest inflation figures suggested the Fed would hold interest rates steady in the near term.

The Dow Jones Industrial Average rose 117.51 points or 0.46% to 25,543.27, while the broader-based S&P 500 gained 8.3 points or 0.3%, rising to 2,753.03,

The tech-heavy Nasdaq Composite added 5.76 points or 0.08%, rising to 7,420.38.

Brexit: Theresa May plays down 'deal or delay' report

Theresa May has played down reports that she could force MPs to choose between backing her deal or accepting a delay to EU withdrawal.

ITV News said chief UK negotiator Olly Robbins was overheard in a Brussels bar saying the EU was likely to allow an extension to the Brexit process.

The PM suggested MPs should not rely on "what someone said to someone else as overheard by someone else, in a bar".

"It is very clear the government's position is the same," she said.

Google outlines $13bn US investment

Google plans to spend more than $13bn (£10.1bn) this year, as it builds data centres and offices across the US.

The search giant promoted its plans in ablog poston Wednesday, saying the investments would spur the creation of more than 10,000 construction jobs.

The firm will also add tens of thousands to its workforce, doubling its presence in states such as Georgia.

Google's emphasis on its US investments comes amid wider concerns about slowing business spending in the US.

T-Mobile and Sprint executives face sceptical House panel

Executives from T-Mobile US and Sprint have faced questions from US politicians about how the companies' planned merger would affect prices and jobs, especially in rural America.

The deal to combine the firms, which was struck in April, was approved by both companies' shareholders in October and has received national security clearance, but still needs approval from the Department of Justice and the Federal Communications Commission.

"It's hard to think of one [deal] where consolidation did not result in people losing their jobs, prices going up and innovation being stifled," congressman Mike Doyle said.

T-Mobile US chief executive John Legere (pictured) defended the $26bn deal, saying that it will create jobs and help with the construction of the next generation of wireless networks.

He said the merged company would have more capacity which would lead to a push to lower prices.

Mobile roaming charges: What will happen in Europe after Brexit?

In June 2017 the European Union scrapped additional charges for roaming on smartphones when you travel to another EU country.

Roaming is when you use your mobile phone abroad. Since 2017, UK consumers have, within reason, been able to use the minutes, texts and data included on their mobile phone tariffs when travelling in the EU. The same is true for consumers from other EU countries visiting the UK.

There are fair use limits, which mean you can use your mobile phone while travelling in another EU country, but you could not get a mobile phone contract from Greece and then use it all year round in the UK.

Before the rules changed, using a mobile phone in Europe was expensive, with stories of people returning from trips to find bills for hundreds or even thousands of pounds waiting for them.

Will these charges return after Brexit?

Idea of nationalised US 5G network 'crazy'

Amazon and GM 'in talks to invest in electric pickup truck maker Rivian'

Amazon and General Motors are in talks to invest in Rivian in a deal that would value the US electric pickup truck manufacturer at between $1bn (£780m) and $2bn, Reuters reports.

The deal would give Amazon and GM minority stakes in Rivian, the news agency said.

"We admire Rivian's contribution to a future of zero emissions and an all-electric future," General Motors said.

The Rivian deal would come as its much larger electric car manufacturing rival, Tesla Inc, struggles to stabilize production and deliver consistent profits as it rolls out its flagship Model 3 sedan.

Oil rises after Saudi output cuts announcement

Oil futures prices are more than 2% higher after Saudi Arabia said it would cut crude exports and deliver an even deeper cut to its production.

Brent crude is up 2.16% at $63.77 per barrel, while West Texas Intermediate is up 2.35% at $54.35.

Macron to unveil plan to boost Europe's electric battery industry

France will invest £700m over the next five years into projects to boost the European electric car battery industry and reduce its carmakers' reliance on dominant Asian rivals, say French presidency officials.

In a speech to the Paris-based International Organisation of Motor Vehicle Manufacturers later on today, President Emmanuel Macron will unveil his strategy to help the French car industry fend off competition on electric vehicles (EV) and autonomous cars from Asian and US tech giants.

Former BT bosses named in Italy fraud investigation

Italian prosecutors have alleged three former BT executives were aware of book-keeping fraud at BT Italy, Reuters reports.

In the document, prosecutors name Luis Alvarez and Richard Cameron, respectively former chief executive and former chief financial officer of BT Global Services - one of the biggest divisions of BT Group - and Corrado Sciolla, formerly BT's head of continental Europe, among an expanded list of 23 suspects.

Mr Alvarez and Mr Cameron were based in London, while Mr Sciolla was in Milan, when they worked for the telecommunications giant.

The document alleges that a network of people in BT Italy exaggerated revenues, faked contract renewals and invoices and invented bogus supplier transactions to meet bonus targets and disguise the unit's true financial performance.

BT said: "It would be inappropriate to comment on an ongoing criminal investigation."

Airbus 'poised to axe A380'

Airbus is nearing a decision to axe production of the world's largest airliner after a downward revision in demand, Reuters reports.

It is likely to give an update with its full-year earnings on 14 February, the news agency said.

The move to shut down production of the A380 superjumbo earlier than expected coincides with a review of purchases of very large aircraft by the plane's biggest customer, Emirates, which has a fleet of 109 superjumbos and 53 left on order.

Jeans maker Levi Strauss files for Wall Street listing

Copyright: Devaki Knowles

Jeans maker Levi Strauss has filed documents to list itself on the New York Stock Exchange, as the 145-year old company seeks to return to public markets after more than three decades.

The company said it intends to raise $100m in net proceeds and list under the "LEVI" symbol.

The company first went public in 1971, but descendants of founder Levi Strauss took the company private in 1984.

'US building a 5G network to keep China out'

Wall Street moves higher on trade optimism

US stocks are extending a rally after rising expectations that the US and China could strike a deal during their trade talks, with sentiment buoyed by benign inflation data that did little to change the outlook on rates.

"So far, so good," US Treasury Secretary Steven Mnuchin said about the talks in Beijing, a day after President Donald Trump said he would be willing to let a 1 March deadline slide if the two countries were close to a deal.

"The market is taking into consideration the fact that they are talking and there's also the deal to avoid another possible government shutdown which is being viewed as a positive," said Robert Pavlik, chief investment strategist and senior portfolio manager, at SlateStone Wealth.

"Inflation is right in line with expectations... There is no need to bring the Fed into the picture now," Mr Pavlik added.

Mnuchin says US-China trade talks 'so far, so good'

US Treasury Secretary Steven Mnuchin says trade talks with China have gone well, as the world's two largest economies try to iron out an agreement to resolve their dispute.

"So far, so good," he said when asked by reporters on how the meetings in Beijing went.

Whitbread to buy back an extra £2bn of shares after Costa sale

Whitbread will buy back £2bn of shares using proceeds from its £3.9bn sale of Costa Coffee chain to Coca Cola, the owner of Premier Inn has said.

Share buybacks typically benefit investors through tax breaks on the sale and by increasing the price of shares remaining in the market.

Whitbread began a £500m programme of share buybacks last month.

Investors have been looking for signs of an aggressive growth plan, with Whitbread flush with cash from the Costa sale.

Steve Morgan: Redrow founder wins case against Daily Mail

Image caption: Steve Morgan is the chairman and founder of Redrow Homes

A multi-millionaire property developer has successfully sued the Daily Mail over "false and defamatory" claims in an article about him.

The newspaper has apologised and will make a donation to charity after the High Court found in favour of Redrow Homes chairman and founder Steve Morgan.

An article had accused Mr Morgan, from north Wales, of "greedy" practices at the expense of low-income families.

But this "flew in the face" of his philanthropic actions, his lawyer said.

Renault scraps chunk of Ghosn pay deal

The world of executive pay is bewildering, but let's try to make some sense of this.

Carlos Ghosn had a non-compete agreement with Renault which meant that on his departure from the company he would not be alllowed to work for rivals.

As he is languishing in a Japanese jail, that seems to be rather moot.

Renault clearly thinks so. It has waived that non-compete clause.

They have good reason to do so. In return for not-competing Mr Ghosn would have received compensation equal to two years of salary and bonuses.