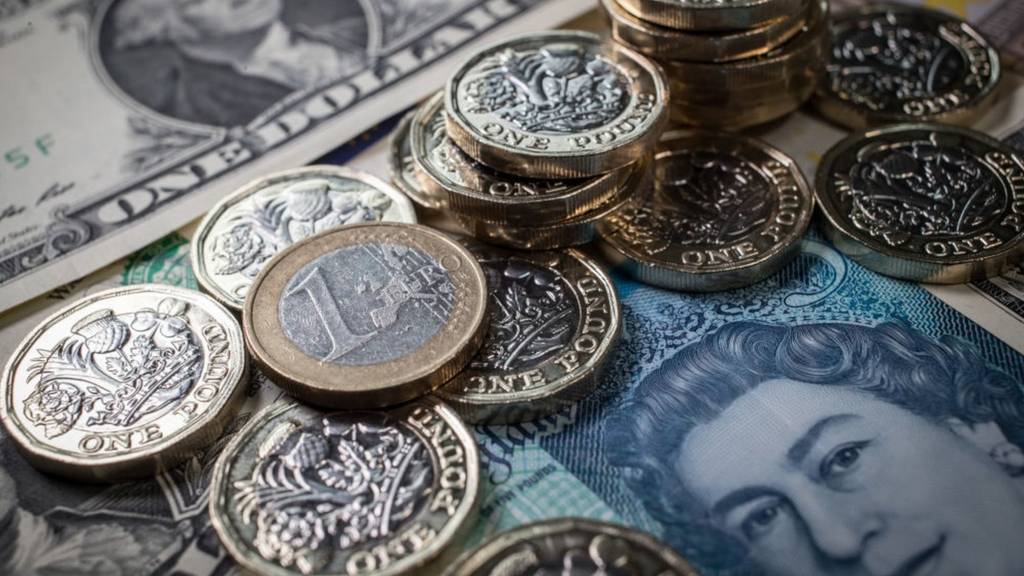 Summary
Get in touch: bizlivepage@bbc.co.uk
Lyft prices IPO
Pound lifts off last night's lows
Numis warns of lower profits
Tui knocked by 737 groundings
US says China trade talks 'constructive'
Brexit: Leave without a deal says King
Debenhams secures £200m lifeline
UK Q4 GDP confirmed at 0.2%
Does jargon work in the office?

BP boss Bob Dudley took home £11.2m in pay last year after the energy giant more than doubled profits to $12.7bn on the back of rising oil prices.

The group's annual report shows Mr Dudley in 2018 was paid a £1.4m salary, an annual bonus of £646,000 and £8.4m in performance shares.

However, his total take home pay could have been £2m higher had BP's remuneration committee not used its "discretion" to apply a more demanding new policy to his share award.

In addition, Mr Dudley requested that he receive a reduced payout under BP's long term incentive plan.

His pay last year compares with £11.6m received in 2017, which was revised up due to changes in BP's share price.

Mr Dudley faced a shareholder revolt in 2016 when in a non-binding vote 59% rejected a 20% pay rise that took his earnings to £14m.

The oil giant was then forced to propose a new "simpler and more transparent" pay deal that would mean "lower levels of reward" as it looked to fend off further investor revolts.

Wall Street: S&P continues to climb

Wall Street opened higher on Friday, with the S&P 500 on course to post its best quarterly performance in more than nine years.

Friday is the last trading day of the first quarter and the benchmark index has risen 12.7% so far, its biggest quarterly gain since September 2009.

Renewed optimism over the latest round of US-China trade talks has boosted stocks.

US Treasury Secretary Steven Mnuchin said he held "constructive" talks in Beijing, and the Chinese state news agency reported that the two sides discussed "relevant agreement documents" and made new progress.

Trade-sensitive industrials rose 0.74%, while chipmakers, which have a large revenue exposure to China, also gained.

At the start of trading the Dow Jones was up 86.34 points, or 0.34%, at 25,803.8, while the S&P 500 was up 10.34 points, or 0.37%, at 2,825.7.

The Nasdaq rose 35.69 points, or 0.47%, to 7,704.8.

Ford is to stop making the Ford C-MAX at the Saarlouis facility in the Saarland, Germany. It announced 5,000 job cuts in Germany earlier this month.

The company plans to end the night shift and move to two-shift operating pattern which it says will "reduce structural cost and increase efficiency", and will support "Ford's transformation strategy aimed at near-term profitability and a more competitive business for the future".

It said it would continue to invest in new Ford Focus in Saarlouis.

"The actions announced today represent an important step towards delivering the products our customers want and a more competitive business for our stakeholders." said Steven Armstrong, chairman of Ford-Werke.

"We will continue to invest in Focus and those products that are proving to deliver a healthier business for us going forward."

'Constructive discussions'

The White House has also described the trade talks between the United States and China as being "constructive discussions".

Earlier, US Treasury Secretary Steven Mnuchin had tweeted that the talks were constructive.

The talks took place in Beijing this week.

"The two parties continued to make progress during candid and constructive discussions on the negotiations and important next steps," the White House said.

Kevin Peachey

Personal finance reporter

House prices in London may have fallen, but the city remains the most expensive in the UK for house-hunters.

The average property in the capital costs £455,594, according to the Nationwide Building Society's index published today.

But what else could you get for that kind of money elsewhere in the country?

One unusual home on the market for £425,000 is a three-bedroom bungalow in West Sussex.

The exterior looks normal, but inside it is based around two Midland Railway Carriages, believed to date from about 1885.

It also has a garage - but that is for a car.

The first women lawyers

BBC Business producer and presenter tweets

Raab switches to back withdrawal agreement

House of Commons

Parliament

Former Brexit Secretary Dominic Raab has confirmed he will back the government's withdrawal agreement, despite only hours earlier telling reporters he would vote against it.

He tells the Commons: "We potentially face an even worse alternative that could reverse Brexit and betray our democracy."

He says he "well appreciates" the concerns of those who are against the Irish backstop and assurances the government has got provide "scant political comfort".

But, he adds: "In all of this, however frustrating, I believe we need to proceed with some realism."

Tory MP John Baron appealed to his colleague, pleading with him to think carefully before supporting the government.

But Mr Raab says he cannot countenance an even longer extension or holding European elections in May, so would be voting in favour.

US-China trade talks rumble on

That tweet from US Treasury Secretary Steven Mnuchin mentioned earlier, as Europe's markets were opening, came after US-China trade talks in Beijing.

Little has been revealed about how close the two sides are in narrowing their differences after his tweet that the talks were "constructive".

Negotiators are trying to resolve a bruising trade dispute which has seen tariffs imposed on billions of dollars worth of one another's goods.

But it has helped to boost the price of metals - cooper prices on the London Metal Exchange rose 1.5%.

European stock markets have also been bolstered and were on track for their best quarterly performance (the quarter ends today) for four years.

The remarks have also helped US stock futures rise ahead of formal trading.

Breaking

US consumer spending

US consumer spending rose 0.1% in January, the Commerce Department said.

That was less than the 0.3% rise which had been expected by analysts polled by analysts.

New boss for Travis Perkins

John Carter is stepping down as chief executive of building merchants Travis Perkins in August and will be placed by Nick Roberts, who runs Atkins.

"I have invested my working life with Travis Perkins and I am exceptionally proud to have spent the last five years leading the business as CEO. It has been a privilege to lead such a great company which has been built and sustained by the efforts of colleagues right across the group," said Mr Carter, who has been with the business for more than 40 years.

Back off?

Retail analyst tweets

Here's the chart showing the jump in the pound.

The one below shows the movement in the pound against the dollar this month.

Sterling has jumped after the Sun's political editor tweeted that there were signs that support may be mounting for Theresa May's Brexit deal in parliament.

The pound is 0.4% higher against the dollar at $1.3099

JeremyThomson-Cook, chief economist at WorldFirst, said the market had reacted to this tweet and "the belief that if the DUP do back the deal then there may be enough ERG'ers [European Research Group] and Brexity Labour MPs to squeak this one through".

Conversations with the DUP continuing

Economists at Goldman Sachs have updated their views on what will happen with Brexit in light of Theresa May's attempt to get MPs to back part of her Brexit deal later today.

The economists see a 15% chance that the UK leaves the EU without a deal, a 35% chance that the UK's decision to leave the EU is overturned and a 50% chance that "a majority of MPs ultimately coalesces around a close variant of the current Withdrawal Agreement".

If the Prime Minister's withdrawal agreement is rejected, the economists say that the "risk of a long extension and a fundamental Brexit renegotiation on the basis of a new set of 'softer' red lines would rise significantly.".

The risk of a disorderly Brexit would also increase.

"We would expect a more accentuated skew in the distribution of Brexit outcomes — towards a softer, later UK withdrawal from the EU — but we would also expect that skew to be accompanied by a substantial increase in the likelihood of a snap general election," they conclude.

Debenhams secures £200m lifeline

Struggling department store chain Debenhams has agreed a £200m refinancing lifeline with lenders.

It said the deal "provides reassurance for Debenhams' employees, pension holders, suppliers, lenders and other stakeholders".

Mike Ashley's Sports Direct has been trying to seize control of Debenhams and install Mr Ashley as chief executive.

The refinancing deal leaves the door open for Sports Direct to make a bid.

Facebook removes 200 accounts and pages in the Philippines

Facebook has revealed that it has removed 200 social media accounts and pages from Facebook and Instagram that it alleges were used in a network by a former TV executive in the Philippines to "coordinate inauthentic behaviour".

Facebook claims that the accounts were used by individuals to disseminate political content about the Philippines prior to an upcoming election, including candidate updates and views, alleged misconduct of political opponents, and controversial events that were purported to occur during previous administrations.

Facebook said it had taken down the pages and accounts "based on their behaviour, not the content they posted".

The Turkish lira is still falling - today it fell by 1%, after dropping 5% on Thursday, due to a return of liquidity to a key London market.

Finance Minister Berat Albayrak told Turkish broadcaster NTV on Thursday that Turkish banks were providing billions of lira to foreign markets.

He added that the normalisation in market conditions in both Turkey and London had begun.

The Turkish liquidity squeeze pushed the London swap rate to a record 1,200% on Wednesday but it is now back to a more normal 27% today.

Turkish President Tayyip Erdogan told young voters on Thursday that some banks were playing a game with the currency ahead of local elections on Sunday.

Numerous reports this week suggested the Turkish government had ordered its banks to keep foreign investors from exiting lira trades ahead of the elections.

UK growth hits six-year low

UK economic growth is the weakest since 2012, according to the latest estimate of GDP from the Office of National Statistics (ONS).

Consumer spending is not far behind - it grew at its slowest rate since 2013.