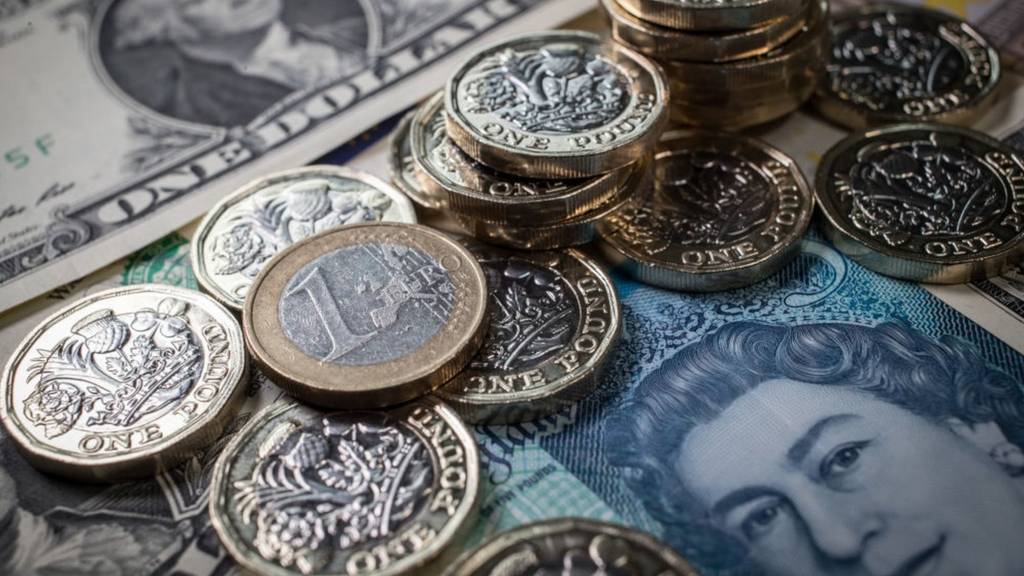 Summary
Get in touch: bizlivepage@bbc.co.uk
Flybe cancels flights
Carlos Ghosn plans press conference
SSE misses smart meter targets
No deal bad for Northern Ireland
Superdry shares keep falling
CBI head calls for 'national unity'
UK services sector shrinks
We've got to close the live page early today, but will be back as usual at 6am.

Have a good evening.

Housebuilders helped drive the FTSE 100 higher, with the index closing up 0.37% at 7,418.2 points.

Taylor Wimpey, up 4.35%, led the risers. Persimmon rose 3.65%.

Hopes of a softer Brexit deal seems to have boosted stocks exposed to the UK consumer. DIY retailer Kingfisher and British Airways' owner IAG both jumped more than 3%.

But the more positive mood didn't help all consumer-focussed stocks. Imperial Brands and Burberry Group fell 4% and 2% respectively.

Toyota to share hybrid vehicle secrets free of charge

Car manufacturer Toyota is to offer royalty-free access to its hybrid vehicle technology patents until 2030.

It is part of a move to promote hybrid cars as a bridge to fully electric vehicles.

It will grant licences for nearly 24,000 patented technologies relating to motors, converters and batteries.

The Toyota-designed Prius was the world's first mass-produced hybrid car and the firm has sold 13 million hybrid cars since its introduction.

Could a no-deal Brexit affect my holiday plans?

Will it, won't it, can it, can't it? The questions surrounding Brexit are short and sharp, but the answers are long and complicated.

Here, BBC Scotland's Ellis Horne quizzes travel journalist David Byrne on what might happen to our holiday plans if the UK leaves the EU without a deal.

Copyright: MERIDIANMETALTRADING

Administrators have been appointed to Dudley-based Meridian Metal Trading.

Allan Graham, joint administrator at Duff & Phelps. said: "It is our intention to continue to trade the business until a buyer is found, a process that we do not think will take long as there are already a number of expressions of interest. As of today there have been no redundancies and it is very much business as usual"

The business - which processes steel sheet and coil, and supplies close to 250,000 tonnes of steel to hundreds of customers annually - employs 170 people at service centres in Guildford and Sheffield, and sales offices in Bolton and Newport, South Wales.

Spanish bank Santander has set out plans to cut £1bn across its business, including in the UK.

The plans were announced by Ana Botín, executive chairman, at the bank's investor day which also included a management reshuffle. Under this Nathan Bostock, who runs the UK business, will no longer sit on the executive committee.

The cost-cutting plans will not involve branch closures or job losses in the UK.

After Flybe cancelled dozens of flights, Unite regional officer Peter Coulson said the union was aiming to minimise potential job losses. Unite said consultation talks are due to begin next week on proposals by Flybe to place at risk of redundancy 38 pilots and 52 cabin crew.

"Our members are justifiably concerned about their jobs and future employment, as a result of the company cancelling a number of flights for 'operational reasons' and having launched a redundancy programme."It is essential that Flybe is fully transparent with its workforce about the exact situation facing the company. The current uncertainty is incredibly unsettling and is in danger of severely damaging morale at the company," he said.

There's more here.

Trade balances: should you care?

Andrew Walker

World Service economics correspondent

Some interesting analysis from the IMF ahead of next week's big forecasting exercise, the World Economic Outlook.

They have released the report's "analytical chapters" (that is not the actual forecasts) one of which takes a look at trade and tariffs.

The subtext of it – and I should emphasise they don't directly say this – is that President Trump's preoccupation with trade balances with particular countries (notably but not only China) is misconceived.

An accompanying blog written by IMF economists puts it like this: "is a focus on bilateral trade balances the right one? The short answer is no".

An overall trade deficit is the result of a country spending more than it produces. They argue that changes in that balance reflect macro-economic factors, such credit booms or busts and government finances. They expect the recent stimulus from the Trump administration to lead to a wider trade deficit.

They say changes in bilateral trade balances (the balance with a particular trade partner) partly reflect the overall balance.

So: "the discussion of trade balances should focus on macroeconomic factors, which tend to determine aggregate trade balances".

The New York Times has published a lengthy profile of the Murdoch family and you can find it here. If, like us, you don't have the rest of the afternoon spare, they've also made a handy summary.

A key bit is Rupert Murdoch's brush with death last year which put his succession planning - or rather lack thereof - in the spotlight.

Crown islands continue financial transparency fight

Jersey, Guernsey and the Isle of Man are not represented in the House of Commons, yet MPs are being asked to change laws in the islands.

Some have warned the move could spark a constitutional crisis, and even calls for independence. So can MPs actually force the laws - making company ownership information public - on the Crown dependencies?

Guernsey's chief minister Gavin St Pier has led efforts to convince MPs not to back an amendment to the Financial Services Bill, forcing greater transparency on the islands' financial services sectors.

"We have no ambiguity in our view that the UK - that the Westminster Parliament - cannot legislate for us on domestic matters without our consent," Deputy St Pier says.

The move by Tory MP Andrew Mitchell and Labour's Margaret Hodge has been backed by more than 80 MPs, including 24 Conservatives.

The pair have already succeeded in getting Britain's overseas territories such as Bermuda, Anguilla and the Cayman Islands to establish public registers of ultimate business owners.

Should devices be easier to fix?

The digital components in everything, from smart phones to tractors, have made fixing them far more complicated. And of course, it's more profitable for companies if we regularly buy replacements.

Now a movement is calling for laws to change that and force companies to make parts and repair instructions readily available to customers. In the US, 20 states are considering so-called "right to repair" laws.

The price of Brent crude oil is heading towards the psychologically important level of $70 a barrel.

The price, which has not traded at a level above $70 since mid-November, was at round $69.75 in London trading.

Flybe have released a statement clearing up some parts of it plan. The company says it will make the following changes:

• Exeter - Flybe will fly its last jets from the airport on 26 October. This will not affect turboprop flights or its "base structure" it said.

• Norwich - Jets will also stop flying from this airport at around the same time. This will not affect services at Norwich operated by Flybe's franchise partner, Eastern Airways, it said.

• Cardiff and Doncaster - Flybe will also stop flying jets from these two airports. It will close its servicing operations at the airports, but will offer turboprop flights.

This is from Doncaster Sheffield Airport.

It says it is forecasting record passenger numbers for the year ahead, over 15% growth.

"It will be the airport's busiest year on record since opening in 2005. With an additional 250,000 seats already on sale and 11 new routes launched in the past year, passengers numbers will soar to in excess of 1.4m making it one of the fastest growing airports in the UK in recent years.

Flybe have operated services at various levels from Doncaster Sheffield Airport since 2006. Flybe have recently changed ownership with future plans to restructure including a move away from jet flying to stabilise the business across their network. We are working closely with Flybe and expect them to continue operating at DSA beyond the current summer and winter 19/20 schedule which will be on sale shortly.

With the launch of our new long-haul services with TUI to Sanford Florida just weeks away we are extremely optimistic about growth in the year ahead and beyond".

Image caption: Babcock was one of the contractors working on the Royal Navy's new aircraft carriers

Aerospace and defence company Babock has named Ruth Cairnie to replace Mike Turner as chair.

She will take over in July when he steps down at the annual general meeting after 11 years in the role.

She has a 37-year international career spanning senior functional and line roles at Royal Dutch Shell and is currently the senior independent director of Associated British Foods and a non-executive at Rolls Royce Holdings plc and ContourGlobal.

Sticking points

BBC producer tweets

US-China trade deal likely

BBC reporter / senior producer tweets

Key US employment data is due on Friday when non-farm payrolls are published.

Before then, a private payrolls company ADP has published data showing 129,000 jobs were added by private employers in March - less than economists expected and the lowest since September 2017.

Ethiopian Airlines 'followed Boeing guidelines' before crash

Image caption: The plane crashed only six minutes into its flight

More details are emerging of the final moments of an Ethiopian Airlines flight which crashed last month, killing all 157 people on board.

The pilots of the Ethiopian Airlines Boeing 737 MAX plane initially took the emergency steps outlined by the manufacturer but still could not regain control,according to the Wall Street Journal (WSJ).

The WSJ quotes unnamed sources who it says were "briefed on the probe's preliminary findings" from data downloaded from the plane's black-box recorders.

The WSJ says that this calls into question Boeing and the US Federal Aviation Administration's (FAA) claims that by following established procedures to turn off the stall-prevention feature, pilots could overcome a misfire of the system and avoid crashing.

Last week, Boeing gathered hundreds of pilots and reporters for a presentation on proposed changes to the model, which mean the system no longer repeatedly makes corrections when pilots try to regain control of the plane, reports AFP news agency.

But, AFP adds, the FAA said it expected Boeing to submit the proposed fix "over the coming weeks" after it undertakes additional work.

The preliminary report on the accident will probably be issued this week, the Ethiopian government is quoted as saying by AFP.

Away from London, what's happening to stocks elsewhere?

The Dax in Germany is up 1.3%, France's CAC up 0.6% and Italy's main index up 1%.

Wall Street is on track to open higher amid speculation about success in the on-going US-China trade talks.