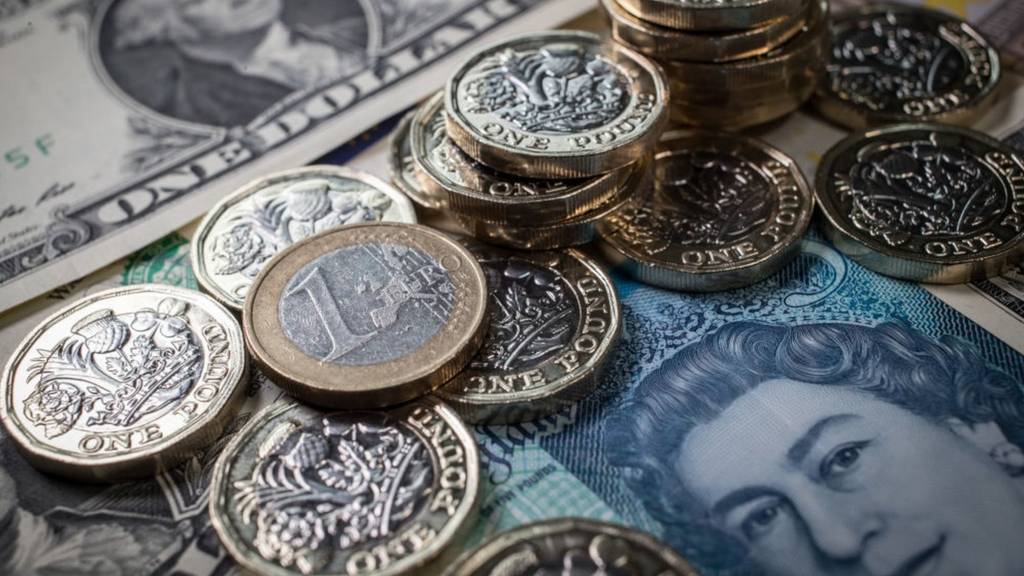 Business Live: Pound rises
Market data: FTSE 100, Pound/Dollar, Pound/Euro, Dow Jones, Oil prices
Summary
Get in touch: bizlivepage@bbc.co.uk
Games Workshop forecasts 7% profit rise
Chinese exports rose in March
Carlos Ghosn detention period extended
Bonmarché rejects Philip Day takeover bid
Regulator intervenes in Rentokil merger
That's all from the Business Live page for tonight. Please join us again on Monday from 06:00.

Jumia 'a validation of what's being built in Africa'

US stocks climbed back to near record highs after the largest US bank, JPMorgan Chase, and US bank Wells Fargo release strong first quarter results.

The Dow Jones Industrial Average rose 268.96 points to 26,412.01, the S&P 500 gained 17.20 points, rising to to 2,905.38 and the Nasdaq Composite added 36.80 points, up to 7,984.16.

How does it feel to be watched at work?

Is workplace surveillance about improving productivity or simply a way to control staff and weed out poor performers?

Courtney Hagen Ford, 34, left her job working as a bank teller because she found the surveillance she was under was "dehumanising".

Trump: US 5G will be private-sector led

US President Donald Trump has said he does not want government to fund the deployment of next-generation 5G wireless networks.

"In the US our approach is private-sector driven and private-sector led. The government doesn't have to spend lots of money,"

Mr Trump said at a White House event on 5G deployment.

"As you probably heard, we had another alternative of doing it that would be through government investment and leading through the government. We don't want to do that because it won't be nearly as good, nearly as fast," he said.

Johnson 'wrong on no-deal polling claim'

Press regulator rules Boris Johnson column was inaccurate about polling evidence on a no-deal Brexit.

Petrobras shares continue to fall

Daniel Gallas

BBC South America business correspondent

Petrobras shares are now down more than 7% in their worst day in almost a year after remarks made by President Jair Bolsonaro.

Last night Mr Bolsonaro ordered Petrobras to suspend a 5.7% hike in diesel prices - despite the company's free market pricing policy.

Today the Brazilian president said he summoned a meeting with Petrobras executives next week and will demand an explanation as to why diesel prices are being increased.

Market analysts say this raises questions about Mr Bolsonaro's commitment to the free market policies made during last year's electoral campaign.

Brazil's stock market index Ibovespa is down 2% and the Brazilian real is losing value.

Would you sort your rubbish into seven different bags?

There's a city that sends no domestic rubbish to landfill. But part of its success involves asking residents to sort their rubbish into seven different brightly coloured bags.

UK European Parliament elections 'feel pointless'

Dharshini David

Economics Correspondent

Talking at the IMF in Washington, Chancellor Philip Hammond, when asked about the possibility of the UK participating in European Parliament elections, and the fallout for the Conservative party, said:

"Well, clearly nobody wants to fight the European Parliament elections, it feels like a pointless exercise.

"And the only way we can avoid that is by getting a deal agreed and done quickly.

"And if we can do that by 22 May, then of course, we can avoid fighting European parliamentary elections.

"But in any case, we want to ensure that any British MEPs that are elected never have to take their seats in the European Parliament by ensuring this is all done well before the new European Parliament convenes."

The chief executive of online banking app Monzo has called out Halifax Bank on Twitter for apparently using a picture of the Monzo app in Halifax's new brand identity promotional imagery.

Referendum 'always on the table' says McDonnell

Designers join celebs boycotting Brunei-owned hotel

National Express buys stake in Silicon Valley bus service

Transport giant National Express has bought a majority stake in WeDriveU, a Silicon Valley employee shuttle company.

National Express paid $84.3m for an initial 60% equity stake in the firm.

Dean Finch, National Express Group chief executive, said: "As the premier operator in Silicon Valley and the wider San Francisco Bay Area, WeDriveU provides the opportunity for expansion into a fast-growing market."

Jumia flotation 'a watershed moment'

US stocks rise after banks report earnings

US stocks are on the up after earnings from US banks JP Morgan and Wells Fargo that beat profit estimates.

The Dow Jones Industrial Average was up 197 points at 26,340.06, the S&P 500 was up 11.47 points at 2,899.71 and the Nasdaq Composite was up 19.45 points at 7,966.70.

Petrobras shares fall after diesel price hike suspension

Daniel Gallas

BBC South America business correspondent

Shares in Brazil's state-controlled oil giant Petrobras are down 5% after news that far-right President Jair Bolsonaro ordered a suspension in a planned diesel price hike.

Mr Bolsonaro was elected promising a free market approach to the economy, which meant fuel prices should be dictated by supply and demand.

But last night he suspended a 5.7% increase in diesel prices saying the hike would hurt the economy.

Last year Brazil's economy ground to a halt for a week after a nationwide truckers' strike against high diesel prices.

Protests ended only after Petrobras and the government offered to subsidise diesel for a few months.

Chancellor Philip Hammond, who is in Washington DC for the IMF and World Bank Spring meetings, is very focused on getting a Brexit deal through Parliament.

"Britain is known as a bastion of democracy, and how we handle a complex issue like this is of huge interest to people around the world," Mr Hammond told the BBC.

"We need to get the deal done, because until it is done, the risk of a no-deal is still with us."

He reiterated that there was no point having a full government spending review until the situation was stable.

The global economy is also a concern due to trade tensions, but he isn't too worried about that.

"Yes, globally things are looking more difficult this year than this time last year but the global economy is growing and is forecast to continue to grow," he said.

"Let's do our bit, take Brexit off the table as an issue. Let's get the Brexit deal done, and then that's one less thing for the world's economic leaders to worry about."

Wells Fargo profits rise after cost-cutting

US bank Wells Fargo has reported a 16.4% jump in quarterly profit after aggressive cost-cutting.

The fourth-largest US bank by assets has been leaning on cost cuts to grow its profits in the aftermath of a wide-ranging sales scandal that has hurt its reputation and resulted in a regulatory growth restriction on its balance sheet.

Net income applicable to common stock rose to $5.51bn (£4.2bn) or $1.20 per share, in the first quarter ended 31 March, from $4.73bn, or 96 cents per share, a year earlier.

Breaking

Jet Airways confirms international flights cancelled

All international flights have been cancelled by struggling Indian airline Jet Airways between 12 and 15 April, the firm has said.

"The airline is working to minimise guest inconvenience using its 24x7 contact centre, guest relations and the social media response teams, to handle schedule adjustments, in line with defined regulatory guidelines, including offering re-accommodation choices or extending applicable refunds as the situation warrants.

"In parallel, the airline's management and its key stakeholders including its consortium of lenders, continue to work closely towards resolving the current situation.

"The airline regrets the inconvenience caused to its guests."