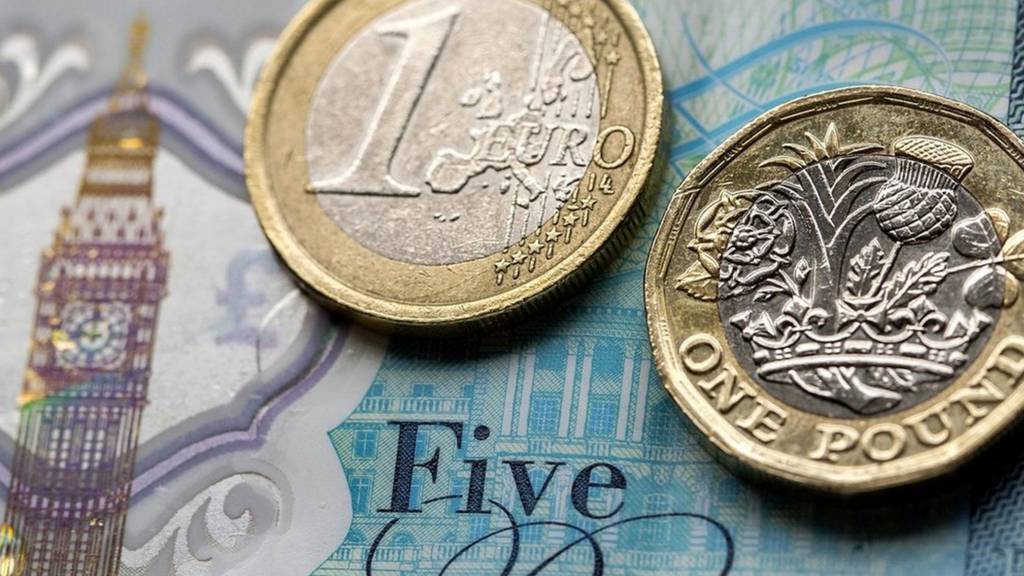 That's all from the Business Live page for another week. Join us next week on Monday from 06:00.

On Wall Street, the Dow Jones fell 99.68 points, or 0.39%, to 25,763, the wider S&P 500 lost 16.86 points, or 0.59%, to 2,859.46, and the tech-focused Nasdaq fell 81.76 points, or 1.04%, to 7,816.29.

.

What went wrong inside Boeing's cockpit?

There was nothing more the pilots could have done.

As alarms sounded in their cockpit, the captain and first officer struggled to regain control of their stricken aircraft.

They were far too close to the ground, and needed to gain altitude. Yet when Capt Yared Getachew tried to guide the nose of the Boeing 737 upwards, an electronic system forced it down again.

Simply pulling back on his control column wasn't enough. So he used a thumb switch as well, to adjust the aerodynamic balance of the plane, and encourage it to climb. But a few seconds later, those adjustments were automatically reversed.

Iran has said it could "easily" hit US warships in the Gulf, in the latest round of rhetoric between the two countries. Brent crude (above, shown for the year) was down 44 cents, or 0.6%, at $72.18 a barrel and set to rise about 2% this week. US West Texas Intermediate crude fell 7 cents to $62.80, and will make a weekly gain of about 1.8%.

South Africa's Competition Appeal Court approved Sibanye-Stillwater's takeover of Lonmin. It will create the world's second-largest platinum producer.

Lonmin's biggest mining union, the Association of Mineworkers and Construction Union, had tried to block the deal to try and save jobs.Judge Dennis Davis ruled that the appeal had failed.

Sibanye's offer values Lonmin at £226m in Sibanye shares.

Lonmin shares closed at 61.2 pence today. That's a sobering number when compared with Xstrata's £33 per share offer for the company in 2008, which was rejected by Lonmin at the time as "opportunistic." A collapse in the price of platinum has hit the firm.

Profit pressure for airlines

The International Air Transport Association cut its forecast for the industry's profits in 2019 to $35.5bn from $38bn, after $32.3 billion in 2018.

Now Reuters reports there are signs of a further downgrade when the industry body meets next month.

Alexandre de Juniac, IATA director general, told a meeting of industry officials: "I am a bit worried and I am sorry to tell you that I think we are at a turning point. The figures will be in the black but will be more difficult".

Angry customers who have had their Ocado orders cancelled today have been asking what's gone wrong. The company tells us all is now well:

"Due to an operational issue at our Hatfield CFC, we have had to cancel orders for a short period of time on Friday 17th May. All customers have been notified and we apologise to them for this inconvenience.

"Full operational service has now resumed for orders from the site. Orders from other sites are unaffected."

London closed down today, stocks-wise. The FTSE 100 index of largest companies (pictured) slipped 0.1%, while the FTSE 250 of medium-sized listed firms fell 0.2%.

Losses were capped by a dip in sterling. As the pound falls, big UK-based companies with foreign earnings look cheaper.

Boots customers 'baffled' by plastic prescription bags

"Livid" and "baffled" customers have been complaining to Boots after receiving their prescriptions in plastic bags rather than paper ones.

One was so incensed she took her bag back to the store with "shame on you!" and "paper, not plastic!" written in capitals in black marker pen.

Boots said it was using plastic bags because some prescriptions are now assembled at a central location, rather than in local pharmacies.

Plastic was "more durable", Boots said.

Supercomputer maker Cray sold

Supercomputer maker Cray says it will be bought by Hewlett Packard Enterprise for about $1.30bn (£1bn).

The Seattle-based company has about 1,300 employees worldwide. Its customers include the Met Office in the UK and previously the intelligence agency GCHQ.

Seymour Cray himself, dubbed the father of supercomputing, died following a car crash in Colorado in the US in 1996. You can read more about him here in a profile by the Institute of Electrical and Electronics Engineers. It says he designed the power supplies to have cushions on them to make maintenance more comfortable.

Sports Direct plans to sell warehouse

Sports Direct plans to sell its Shirebrook warehouse buildings and lease them back. It will raise £120m in cash, it says.

Shirebrook was the source of a BBC investigation which found dozens of ambulances had been called out and workers were "too scared" to take sick leave over fears they would lose their jobs.

The company's billionaire owner, Mike Ashley, was later summoned to appear before the Business, Innovations and Skills Committee, where he admitted workers were paid below the minimum wage.

Shell proposes withdrawal of climate change resolution

Oil giant Shell has proposed to remove a climate change resolution by activist investor group Follow This from the agenda of its annual meeting, which happens on Tuesday at The Hague.

This proposal comes after Follow This itself said it intended to withdraw the resolution.

The resolution sought Shell to set targets, aligned with the Paris climate agreement, for emissions not only from its business operations, but also from customers burning its fuel.

Follow This withdrew the resolution to give Shell "more time to achieve its climate ambitions, particularly attempting a closer alignment with the Paris goals."

Markets pricing in political uncertainty

Quote Message: It looks like no-deal or no Brexit. The third option - a new PM who is allowed to 'renegotiate' the terms of the deal, is not entirely out of the question, but we know the EU's desire to avoid such a scenario is strong. [Angela] Merkel may go for it, but others like [Emmanuel] Macron would certainly not. As noted yesterday, it seems a 'dead cert' that Theresa May's deal won't pass and she is almost certain to be gone by June. Having seen the pound trade in a narrow range around $1.30 for some time as it all went quiet on the Brexit front, markets are pricing in greater political uncertainty again. from Neil Wilson chief market analyst at Markets.com

BP faces investor push to beef up fight against climate change

BP will face pressure at a meeting next week to set tougher targets to combat climate change, the latest signal from investors that they want the oil and gas industry to do more to clean up its act.

After BP's 2018 carbon emissions rose to their highest in six years, the oil giant is being lobbied by activists and an increasing number of shareholders to ensure its operations are in line with goals set by the 2015 Paris climate deal to curb global warming.

BP has already backed a resolution being put to investors on Tuesday for it to be more transparent about its emissions, link executive pay to reducing emissions from BP's operations and show how future investments meet Paris goals.

The motion, proposed by BP and a group of 58 shareholders holding 10 percent of its shares, known as Climate Action 100+, is expected to pass at BP's annual meeting in Aberdeen.

But some investors want BP to go further and follow the lead of rival Royal Dutch Shell, which bowed to years of lobbying and set the toughest industry targets for cutting greenhouse gas emissions.

LGBT harassment at work widespread, TUC survey suggests

Textiles company warns on trading

Textiles company Leeds Group is warning about deteriorating market conditions since its last update in March.

It says it now expects income for the current financial year to be significantly below last year. working capital remains adequate.

"In light of these difficult trading conditions, the Board has requested each trading subsidiary to implement further programme of cost reductions and efficiency savings, which will not have an effect on the current years trading result, with the objective of returning the group to acceptable profit levels in the next financial year," Leeds Group said.

Donald Trump had to decide by tomorrow whether to impose the tariffs on imported cars and parts.

That follows reports earlier in the week that the US President was going to allow a delay to allow more time for trade talks with the EU and Japan.

The President has now asked Trade Representative Robert Lighthizer to embark on negotiations and report back within 180 days.