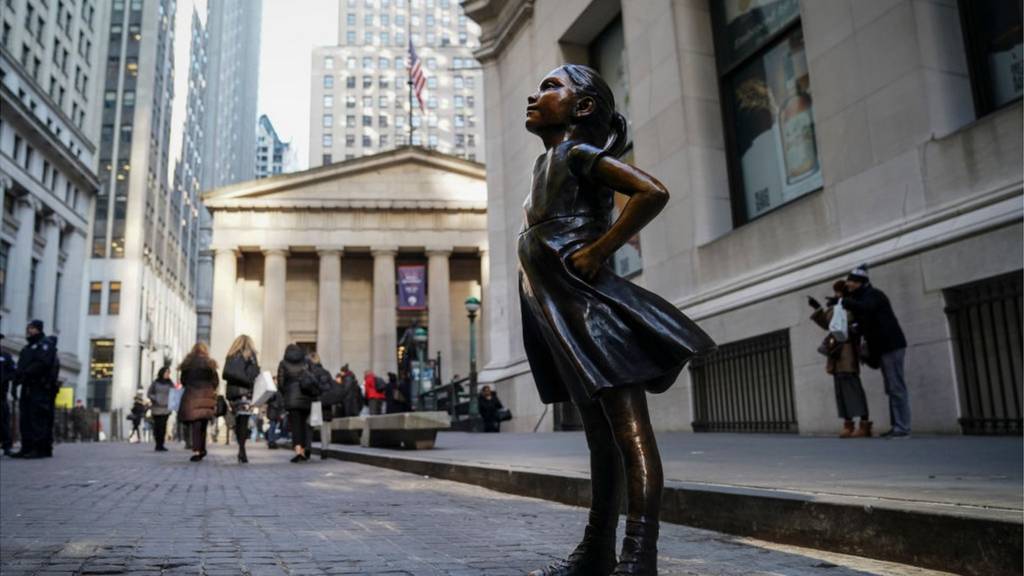 That's it for today from Business Live - thanks for reading. We'll be back bright and early at 06:00 on Wednesday.

Do join us then for all the latest breaking news and analysis.

FlyBe says race not reason group denied boarding

Copyright: Chloe Williams / Flybe

FlyBe has denied racism was the reason it stopped a British group getting on a flight from the Netherlands to the UK.

Videos posted to social media by the sister of Chloe Williams - who was one of four women who were denied boarding - accused the staff of "racial profiling".

The airline says it stopped the passengers from boarding because of their "disruptive behaviour".

Chloe, 20, told Radio 1 Newsbeat her family would take legal action.

The group of friends had been in Amsterdam for the Oh My! Festival to celebrate the end of their year of studying.

Wall Street shares have ended flat, as investors remained concerned about trade tensions after the US threatened EU with more tariffs.

The Dow Jones Industrial Average rose 69.25 points, or 0.26%, to 26,786.68, the S&P 500 gained 8.65 points, or 0.29%, to 2,972.98 and the Nasdaq Composite added 17.93 points, or 0.22%, to 8,109.09.

Hunt or Johnson to stimulate the property market

The subdued property market is waiting to find out the result of the Tory leadership battle, reckons Tomer Aboody of MT Finance.

He said:

Quote Message: Once a decision is made by the Conservative Party as to whether it is Boris or Jeremy for prime minister, this will give the market a boost and stimulate the economy. Both candidates have set out encouraging plans for the housing market with regards to stamp duty and taxation cuts, and these will appeal to many.

Whirlpool admits up to 800,000 faulty dryers exist

Whirlpool has admitted that there could be as many as 800,000 faulty tumble-dryers in homes around the UK.

In June, the government said it would issue a recall notice of up to 500,000 dryers which pose a fire safety risk.

But when pressed by MPs on the Business Committee, company executives admitted the number of unmodified machines could be higher.

A fault in Whirlpool machines was blamed for at least 750 fires over an 11-year period, the government said.

The 'rock star of international finance'

Christine Lagarde's status as rock star of international finance is beyond doubt.

She has a high profile as managing director of the International Monetary Fund, building on her experience as a cabinet minister in France.

What she doesn't have is the technical expertise as a central banker. The previous Presidents of the ECB did.

All three had been governors of their own national central banks. Mario Draghi in particular presided over the bank at a time when it faced the Eurozone financial crisis and a weak economic recovery. The response was both innovative and technical.

Christine Lagarde would not be the first ever central banker to be in that position. But there could well be challenges. The Eurozone is struggling with inflation that is persistently below its target. Getting it back up might require more innovation.

Ms Lagarde would need to draw on the expertise of the ECB's technocrats.

Chessman bought for £5 is sold for £735,000

A medieval chess piece kept in a drawer of an Edinburgh home has been sold at auction for £735,000.

Its previous owners had no idea that the object was one of the long-lost Lewis Chessmen.

The chessmen were found buried in a sand dune on the Isle of Lewis in 1831 but the whereabouts of five pieces have remained a mystery.

The Edinburgh family's grandfather, an antiques dealer, had bought the chess piece for £5 in 1964.

Company fined £1.3m over falling debris

Copyright: Family Handout

A company has been fined £1.3m after a woman was killed by a water tank cover which blew off from a roof.

Tahnie Martin was hit by the wooden panel outside the Mander Shopping Centre in Wolverhampton in 2017.

It was ripped away in strong winds from a plant room on top of the roof, which may not have been maintained for nearly two decades, her inquest found.

Cushman Wakefield Debenham Tie Leung Ltd has already admitted breaching of health and safety laws.

Facebook may be 'pivoting' to something worse

Dave Lee

North America technology reporter

Over the past few months, Mark Zuckerberg has spoken at length about his grand plan for fixing Facebook.

In short, it involves "pivoting" - as they say - to a more private social network. One which focuses on closed spaces, like groups or messaging, rather than the public News Feed.

He unveiled this plan in March, a year after the Cambridge Analytica scandal hit.

At the time, I noted that critics were concerned that the shift would mean Facebook was abdicating some of its responsibilities. Making Facebook more private would arguably not remove the problems of abuse - though it would make it harder for outsiders to find instances of Facebook's failures.

Recent stories have demonstrated that concern was perhaps justified.

Primark shuts Disney cafe in Birmingham after 'mouse sighting'

Copyright: Cloud 9 Photography

Primark's £70m flagship store was forced to temporarily close its Disney-themed cafe after a reported sighting of a mouse.

Pest control was called to the store in Birmingham city centre on Wednesday.

Environmental health officers conducted an inspection and a deep clean was carried out.

Primark said "additional pest control measures have since been put in place" and food safety was of "paramount importance".

Hammond vows to oppose '£90bn no-deal hit'

Chancellor Philip Hammond has signalled he would be prepared to vote against a no-deal Brexit in Parliament, claiming it could cost the UK up to £90bn.

Leaving the EU without a legal agreement would be the "wrong" policy and cause a huge "hit" to the public finances, he told MPs.

He said it was "highly unlikely" he would still be in his job after Theresa May stands down next month.

But he said it would be up to MPs to ensure no-deal "doesn't happen".

Internet wobble caused by Cloudflare glitch

Internet users are facing problems accessing many websites because of a problem with Cloudflare.

The company provides internet security and other services meant to help online businesses operate smoothly.

The US firm has warned that members of the public may see "502 errors" displayed when they try to visit its clients' platforms.

The service has more than 16 million customers ranging from the chat service Discord to the dating site OKCupid.

Christine Lagarde nominated to be ECB boss

Donald Tusk, president of the European Council, has announced the nominations for the next leadership of the EU institutions.

Of interest is the fact that International Monetary Fund boss Christine Lagarde has been nominated to become president of the European Central Bank.

Aberdeen FC shareholders back private company move

Shareholders have voted in favour of Aberdeen FC becoming a private limited company.

Chairman Stewart Milne said last month that changing from a public limited company could unlock £2m of potential investment in the club, as well as making it easier to attract more capital in future.

A circular detailing the proposal was issued to all shareholders.

A vote was held at a general meeting at Pittodrie on Tuesday afternoon.

UK warehouses already 'full'

UK warehouses are 'full', raising doubts about the ability of UK firms to stockpile goods ahead of a potential no-deal Brexit on 31 October.

"There is no available space," Peter Ward of the United Kingdom Warehousing Association (UKWA) told BBC Newsnight.

The estimated vacancy rate for warehouses of over 100,000 square feet nationwide for the second quarter is 6.8%, data seen by Newsnight shows.

In the "inner M25" area the vacancy rate has fallen to just 2.2%.

Young's Seafood sold to private equity firm

Young's Seafood has been sold to international private equity firm CapVest for an undisclosed fee.

Young's, which employs about 1,700 people in Grimsby, North East Lincolnshire, was put up for sale in April.

CapVest already owns pork processing company Karro and plans to operate them both as separate businesses within an enlarged group.

Karro and Young's has a combined team of 5,000 people, the group said.

London shares have ended higher, as markets reacted to a sharp sell-off in the pound, following comments made by Bank of England governor Mark Carney.

The FTSE 100 closed 63.6 points or 0.9% ahead to 7,561.11, led by British consumer goods firm Reckitt Benckiser, which rose 3.7% to £63.89 after UBS analysts raised their target price for its stock.

The FTSE 250 ended 21 points or 0.1% higher to 19,655.74. Top of the winners is Oxford Instruments, which climbed 7.7% to £13.98 after the "buy" rating on its stock was reaffirmed by analysts from Numis Securities .

UK finance firm cyber-incidents spike by 1,000%

There has been a sharp rise in the number of cyber-incidents reported by the UK's financial sector caused by hack attacks and other problems, according to official figures.

A Freedom of Information request to the Financial Conduct Authority revealed that the number of declared events rose from 69 in 2017 to 819 in 2018.

That marks a rise of more than 1,000%.

Consumer banks accounted for nearly 60% of the reports submitted to the watchdog last year.

What did Mark Carney say?

Copyright: WPA Pool / Getty Images

Sterling has fallen further this afternoon, after an appearance made by Bank of England chancellor Mark Carney at the Local Government Association Annual Conference in Bournemouth.

Mr Carney told the audience that trade wars and fears over a no-deal Brexit are a key concern for investors.

"Whether current trade tensions shipwreck the global economy or prove to be a tempest in a teacup will have an important influence on the outlook for growth and inflation in the UK," he said.

"However trade tensions evolve and the Brexit process unfolds, UK monetary policy will remain guided by the constancy of the inflation target."

But even if the worst happens, Mr Carny warned that the central bank would not immediately cut rates.

"A no-deal outcome would result in an immediate, material reduction in the supply capacity of the UK economy as well as a negative shock to demand. There is little monetary policy can do to offset the former," he said.

"A major negative supply shock is extremely unusual in advanced economies – the last one was the 1970s oil shock, even if the possibility of the next one is brewing in the Twittersphere."