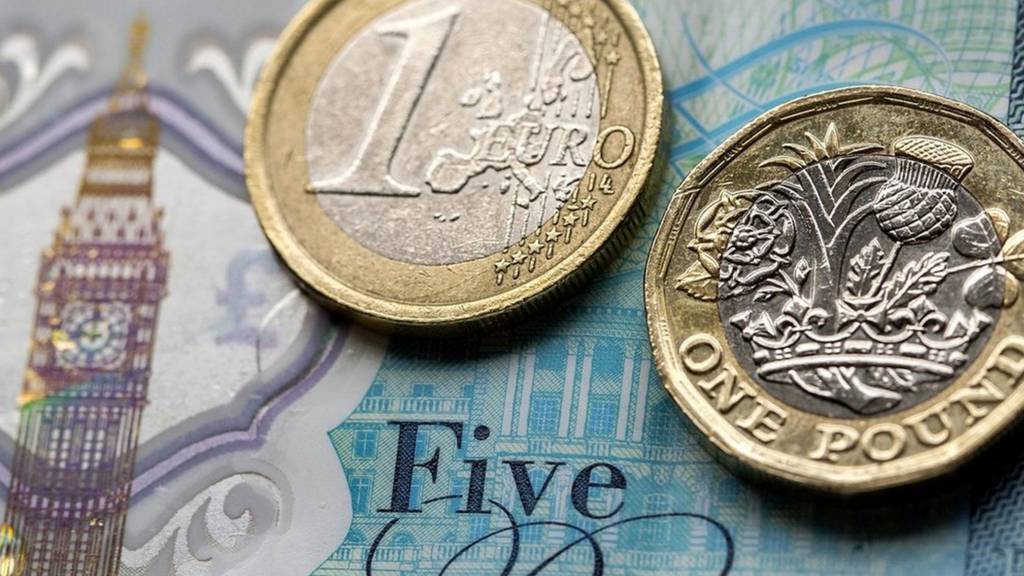 That's all from the Business Live page for another evening. Please join us again tomorrow from 06:00.

US stocks have closed lower as results from big Wall Street lenders rekindled concerns about slowing profit growth in a low interest rate environment, while comments from President Donald Trump on trade also dampened the mood.

JPMorgan Chase & Co and Wells Fargo & Co beat quarterly profit estimates but reported weaker net interest income, pointing to rising deposit costs.

The Dow Jones Industrial Average fell 23.53 points, or 0.09%, to 27,335.63, the S&P 500 lost 10.26 points, or 0.34%, to 3,004.04 and the Nasdaq Composite dropped 35.39 points, or 0.43%, to 8,222.80.

Workplace bullies could face jail under new South Korea law

AI solves Rubik's Cube in one second

Image caption: One for children of the 1980s - the Rubik's Cube

An artificial intelligence system created by researchers at the University of California has solved the Rubik's Cube in just over a second.

DeepCubeA, as the algorithm was called, completed the 3D logic puzzle which has been taxing humans since it was invented in 1974.

"It learned on its own," said report author Prof Pierre Baldi.

The researchers noted that its strategy was very different from the way humans tackle the puzzle.

10 ways no-deal Brexit could affect you

From your weekly shop to your holiday plans, how could a no-deal Brexit affect you?

The town that replaced buses with Uber

What would happen if you replaced local bus services with Uber - the ride hailing system.

One Canadian town has tried that, with mixed results, according to this report in the Guardian.

Innisfil, in Ontario, handed its public transport to Uber in 2017.

The money that would have been spend on buses was used to subsidise fares.

It's been popular, but more expensive than buses and has dramatically increased the number of cars on the road, the report said.

Virgin stops selling captive whale and dolphin experiences

Flexible working should be default, says MP

Calibra 'will become dominant force in cryptocurrency'

Dave Lee

North America technology reporter

One of the complex issues at hand here is the difference between Libra – the cryptocurrency platform, which is open source – and Calibra, Facebook's specific service, known as a wallet, that it is building onto the Libra infrastructure.

David Marcus can honestly tell Senators that Libra is a democratic, open system over which Facebook does not have control.

But that's not the full picture: Calibra very much is Facebook's product, and by virtue of the fact it will be backed by the world's biggest and most powerful social network, it will become the dominant force in global cryptocurrency.

As one Senator put it, "you're not doing this for fun". Expect more scrutiny on how Facebook will leverage its power to push Calibra to come soon.

All of the hearings this week are broadly focusing on whether the tech giants have too much power over competitors, freedom of speech and, maybe in future, the global banking system.

One warning put forth by Facebook's Mr Marcus, and one we will likely hear repeated often in the other hearings, is that if these Silicon Valley giants aren't allowed to innovate, others will.

By that, he of course means China, where tech companies are said to be eyeing their own cryptocurrency projects.

It may prove to be a good one – Facebook and its Silicon Valley peers may not be held in particularly high esteem by Washington right now, but it could be the lesser of two evils.

Breaking

Ursula von de Leyen confirmed as EC President

The European Parliament has confirmed Ursula von der Leyen as the next President of the European Commission.

In a close result Ms von der Leyen won 383 votes, just 9 more than she needed to secure half of the votes of MEPs in the Parliament.

A close ally of Angela Merkel, Ms von der Leyen will now begin the job of forming her new team of Commissioners and they will all start their new term on 1 November, a day after the UK is due to leave the EU.

US stocks are edging lower after results from Wall Street's big lenders rekindled concerns about banks coming under pressure to boost profits when the Federal Reserve is seen cutting interest rates as early as this month.

JPMorgan Chase and Wells Fargo beat quarterly profit estimates but reported weaker net interest income, pointing to rising deposit costs.

"Much of the outlook remains very unclear for the sector, with falling rates and the potential for further economic weakness in the US," said Joshua Mahony, senior market analyst with IG.

"The banks must show that they can continue to perform in an environment of lower rates and less help from the government."

The Dow Jones Industrial Average was down 33.01 points at 27,326.15, and the S&P 500 was down 8.13 points at 3,006.17. The Nasdaq Composite was down 30.26 points at 8,227.92.

Would parliament block a no-deal?

Trump: Google should be probed over China treason claim

President Trump has said his administration will look into alleged links between Google and China.

It follows aspeech given by Peter Thielin which the billionaire tech investor asked whether Google's senior management considered itself to have been infiltrated by Chinese spies.

Mr Thiel also questioned why Googlehad made "the seemingly treasonous decision to work with the Chinese military" but not that of the US.

Google has denied such ties.

Will the post-war IMF and World Bank leadership deal hold?

Andrew Walker

World Service economics correspondent

Who will take over at the IMF? The nominations will start coming in soon enough.

But the selection raises once again an old sore in arrangements for the leadership of the IMF and the World Bank.

There was a post-second world war understanding – or carve-up if you prefer – that the top job at the IMF would go to a European, while an American would run the World Bank.

Christine Lagarde continued that tradition. She was the IMF's fifth French managing director.

The issue was last reopened earlier this year, when a vacancy suddenly arose at the top of the World Bank.

President Trump's nominee David Malpass got the job.

There have been challenges to the established practice. When Ms Lagarde was selected, the Mexican central banker Agustin Carstens ran against her, and there were non-European nominations before that.

It would not be a surprising if there were more this time.

So far, however the post war deal has held up.

Facebook faces uphill battle with US lawmakers over Libra

Facebook is fighting to get US senators onside after it said on 18 June that it was hoping to launch a new digital coin called Libra in 2020.

At a senate hearing, Democratic senator Sherrod Brown said:

"Facebook has demonstrated through scandal after scandal that it doesn't deserve our trust."

"We'd be crazy to give them a chance to let them experiment with people's bank accounts."

The Senate Banking Committee is questioning David Marcus (pictured), the company's top executive overseeing the project, on issues ranging from how Libra could affect global monetary policy to how customer data will be handled.

Mr Marcus, who was president of PayPal from 2012 to 2014, tried to assuage concerns in his opening remarks by promising that Facebook will not begin offering Libra until regulatory issues are addressed.

"We know we need to take the time to get this right," said Marcus, adding that the US could take the lead in regulating Libra.

Lagarde resignation 'in best interest' of IMF

Christine Lagarde, who could be on track to become the European Central Bank's first female leader, says she submitted her resignation as managing director of the IMF to "expedite the selection process for my successor."

"With greater clarity now on the process for my nomination as ECB President and the time it will take, I have made this decision in the best interest of the Fund," she said in a statement.

Breaking

Christine Lagarde resigns from the IMF

IMF managing director Christine Lagarde has resigned with effect from 12 September 2019 after being nominated as European Central Bank president.

Pound drops to lowest level for two years

Ryanair stops captain recruitment

Ryanair stopped recruiting airline captains two months ago after the Boeing Max grounding in March, it has emerged.

A letter sent to Ryanair staff last week, seen by the BBC, adds that the firm currently has a surplus of 300 pilots, "and this may get worse with any knock-on effect of Max delivery delays".

"We have made available unpaid leave and jobshare for the winter period, but unfortunately the number of applications has fallen short," the letter said. "There remains ample time off this winter for pilots."

On Tuesday Ryanair said it will be forced to cut the number of summer flights it operates next year.

It said there could be further delays before the Boeing 737 Max is allowed to fly again after two fatal crashes.

Fox: 'US-UK trade deal faces issues'

There are "a lot of issues in the way" of free-trade agreement between the US and the UK, according to UK trade minister Liam Fox.

"It's a big ambition and it's a big prize for Britain to get a Free Trade Agreement with the US and of course, the quicker we can do so, the better," Mr Fox said.

However, he added: "We are entering the final year of an American presidential term where thoughts tend to turn to campaigning more than anything else and there a lot of issues in the way, would Britain introduce a digital services tax, what would the reaction be to a no-deal, and the implication for the Northern Ireland border, these things will have an impact potentially on an FTA," he said.