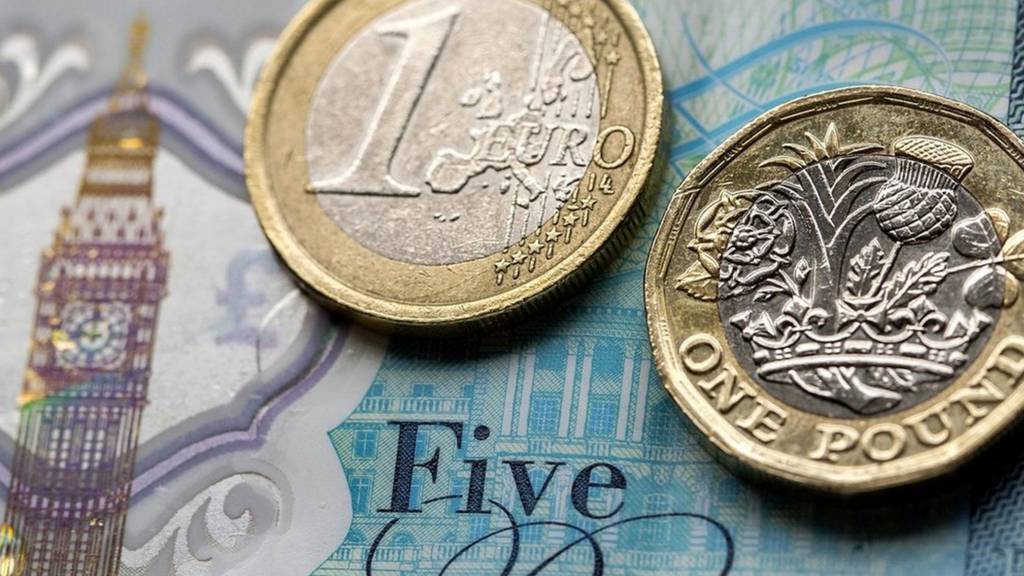 We'll be back on Tuesday at 06:00. Thanks for reading today.

It's 149 days to go to Christmas so Selfridges has unveiled its Christmas shop, saying it is the first department store to do so, with a theme of "future fantasy".

"This is a next generation Christmas, an interplay of old and new – even Santa has undergone a sleek and radical makeover by becoming Future Fantasy Santa " the company says.

The FTSE 100 is ending the day up more than 1.8% - 137 points - around 7,686.61.

Just Eat and the company which owns the London Stock Exchange have raced higher on takeover news - up 22% and 15% respectively.

But the main focus of the day has been the pound - when it falls the index tends to rise - and it has lost more than one cent against the dollar so far today. There's a story about the currency here.

Sports Direct shares recover some losses

The Local Authority Pension Fund Forum (LAPFF) has been mulling over the Sports Direct confusion on Friday, mentioned earlier, and the remarks by the retail chain's founder Mike Ashley.

Councillor Doug McMurdo says: "Sports Direct would have done well to show some humility and self-reflect on its own shortcomings; such self-reflection might have prevented some of the disastrous acquisitions and governance practices that have come to light.

"Now, however, it looks like the chickens might have come home to roost".

The shares fell 20% at the open but have recovered some losses and look to be closing around 6% lower.

Amazon in talks to buy Uber Eats India?

Amazon's Indian operations are are reported to be in talks to buy Uber Eats in India.

That's according to The Business Standard, which said Amazon wanted to enter the food delivery business to add to its services in India.

Uber did not comment.

Citi fined for not doing proper background checks

Citigroup's Global Markets business has been fined $1.25m for failing to perform proper background checks on thousands of employees between 2010 and 2017.

The Financial Industry Regulatory Authority said the US bank did not conduct "timely or adequate" background checks for 10,400 non-registered employees. As a result, it said, the bank employed at least three individuals with criminal histories.

Citi neither admitted or denied the charges and a representative told Reuters the bank is pleased to have the matter resolved.

Metro Bank: nine years since opening

It was not until 2016 that the bank was floated on the stock market. Investors appear to have little to celebrate: The shares were floated at £20 a share and rallied to levels around £40 in 2018.

They are now trading at levels around 400p.

The shares have been pummelled in the wake of accounting issues, a share placing and last week's news that customers withdrew £2bn of deposits over the six months to June when pre-tax profits fell to £3.4m from £20.8m a year earlier.

More tweets from Donald Trump on US rates

Why is the pound falling?

"The British pound started weakening sharply today, with the market awaking to the reality of a new UK government, its rather combative stance on the current EU-UK Brexit deal and its open remarks on the rising probability of a no deal Brexit," says Petr Krpata, currency strategist at Dutch bank ING..

He sees more weakness to come, with the euro/£ rate heading towards the 0.95 level with the pounding falling to $1.18

Pound slide continues, FTSE rallies

The pound is now down more than 1% at $1.2250.

Reuters has a few numbers about key levels for the pound against the dollar.

The post-Brexit referendum low was $1.1491 and the historic all-time low was $1.0545 in March 1985.

The currency has lost 7% of its value against the dollar since May.

The pound weakness is helping the FTSE 100 move higher: just ahead of the close it is trading 2% higher - or 150 points - at 7,699.

Banks sued for currency rigging

Five banks are being sued in the UK over allegations they rigged the foreign exchange markets.

The case has been brought after the five were fined by the European Commission for breaching EU competition law, including the involvement of some of them the "Banana Split" cartel.

The claim, estimated to be worth more than £1bn against Barclays, JP Morgan , Royal Bank of Scotland, UBS and Citigroup, was filed in the Competition Appeal Tribunal (CAT) on Monday.

That's according to US law firm Scott + Scott which is working with Michael O'Higgins, the former chairman of the Pensions Regulator, who is bringing the claim.

"Just as compensation has been won in the US, our legal action in the UK will seek to return hundreds of millions of pounds to pension funds and other corporates who were targeted by the cartel," said Mr O'Higgins.

It is using the Consumer Rights Act 2015 which was intended to make it far easier for groups of consumers to seek compensation from firms that have fixed prices and formed cartels.

The banks involved did not comment (when asked by Reuters).

Investors 'likely to remain concerned'

Copyright: Woodford Investment Management via Press Association

Ryan Hughes, head of active portfolios at AJ Bell, has this to say about the suspension of the Neil Woodford fund:

"This announcement at last gives a timeframe for investors in the Woodford fund... This gives much-needed clarity for investors but they are likely to remain concerned. The fact that Link and Woodford have given a timeframe suggests they have some confidence in the fund re-opening in December, but this will still mark six months of fund suspension that investors have had to navigate".

Woodford says 'extremely sorry'

Copyright: WOODFORD INVESTMENT MANAGEMENT LTD

Neil Woodford has published a blog following the news that the Equity Income Fund - suspended since June - will remain suspended until early December.

"I understand the frustration, inconvenience and anxiety the continued suspension of the fund will be causing you and I am extremely sorry for putting you in this situation," he says.

"What you will see when the fund re-opens, is a portfolio with more FTSE 100 and FTSE 250 companies (80% of the proceeds from share sales since suspension have been reinvested in FTSE 100 companies), but still reflecting the same investment strategy. To reiterate, that strategy is founded on a belief that the global economic environment is not as robust as equity markets are implying," he adds.

Woodford: 'Realistic' amount of time

More on that continued suspension of Neil Woodford's fund.

The letter says that the Financial Conduct Authority has been informed of the decision to keep the fund suspended, which came with a warning that dealings may not reopen until "early December".

"In our view, this is a realistic amount of time for Woodford to complete a measured and orderly re-positioning of the fund's portfolio of assets ensuring that there is adequate liquidity whilst preserving or realising the value of the assets.

"We have concluded that this approach would represent the best outcome in terms of value, time and equal treatment for all investors. Importantly, it would allow all investors to choose, whether they wish to remain invested in or to withdraw their investments from the Fund".

Breaking

Woodford fund to stay suspended 'until early December'

Neil Woodford's Equity Income Fund is to remain suspended, according to a letter sent to investors.

"We anticipate that the suspension of dealing is likely to last until early December while we implement the strategy to re-position the portfolio in order for the fund to be re-opened at that time, and which is conditional upon achieving the target fund profile," according to the letter.

Investors in the Equity Income Fund have now not been able to access their moneysince 3 June.

Ryanair boss worried about more 737 Max delays

Michael O'Leary, the boss of Ryanair, has said he's worried that further delays in the return of the Boeing 737 Max to service could slow growth at the airline.

Earlier this month, Ryanair said it only expected to fly 30 Max jets next summer, compared with its original plans to operate 58.

As a result, it said it expected to carry 157 million passengers in the year to March 2021, five million fewer than it had been planning for.

However, speaking after the carrier reported half-year results, Mr O'Leary said he was "concerned that the Max return to service keeps slipping".

He said the estimate for how many 737 Max planes Ryanair operates next summer could drop to 20, "which would significantly truncate our growth rate".

But, he also said that the number could move to 10 or zero if the situation was not sorted out "pretty quickly with the regulator".

Mixed start for US stocks

Trading has got under way on Wall Street and the main stock indexes are experiencing mixed fortunes.

In early trade the Dow Jones Industrial Average is up 24.59 points at 27,217.04.

However, the S&P 500 and Nasdaq indexes - which both closed at record highs on Friday - have slipped back slightly.

The S&P 500 index is down 2.30 points at 3,023.56, while the Nasdaq index is 48.52 points lower at 8,281.69.

Who might be the next Treasury Committee chair?

Nicky Morgan has been appointed Culture Secretary by Boris Johnson so the position of chair of the Treasury Committee is becoming vacant.

The Speaker has said he hopes the election, which will be voted on by all MPs, will be held "in the second week of the September sitting".

Steve Baker, former Brexit Minister, has tweeted that he will stand "and I hope to engage colleagues across the House, not least through my work advancing cooperatives and justice in the financial system."

We've also spotted this tweet from Stephen Hammond. We will endeavour to bring others if we see them.

Ryanair warns of cut to UK routes

Ryanair's routes from London to Glasgow, Edinburgh and Belfast could all be cut if there is a no-deal Brexit, the airline's boss Michael O'Leary has said.

The airline has said it is having to slow growth because of delays to the delivery of Boeing 737 Max planes, and Mr O'Leary was asked where cuts might fall.

"An obvious one (to cut) if there is a hard Brexit at the end of October, we have three UK domestic routes... They would readily fall out straight away," he said.

"There is a longer-term question mark over those in a hard Brexit," Mr O'Leary said.

"Frankly ... we are not growing in Edinburgh, Glasgow or Belfast."

Hammerson to use AI to track shopping centre customers

Hammerson, the owner of shopping centres, has started a trial using facial recognition technology at its Westquay centre in Southampton.

It says the data will "better understand customer behaviour".

The technology from Deep North can see where customers are going and which shops are the most popular.

But perhaps worrying for some, the system can identify, age, gender and repeat customers.

It also claims to be able to recognise the emotions of shoppers.