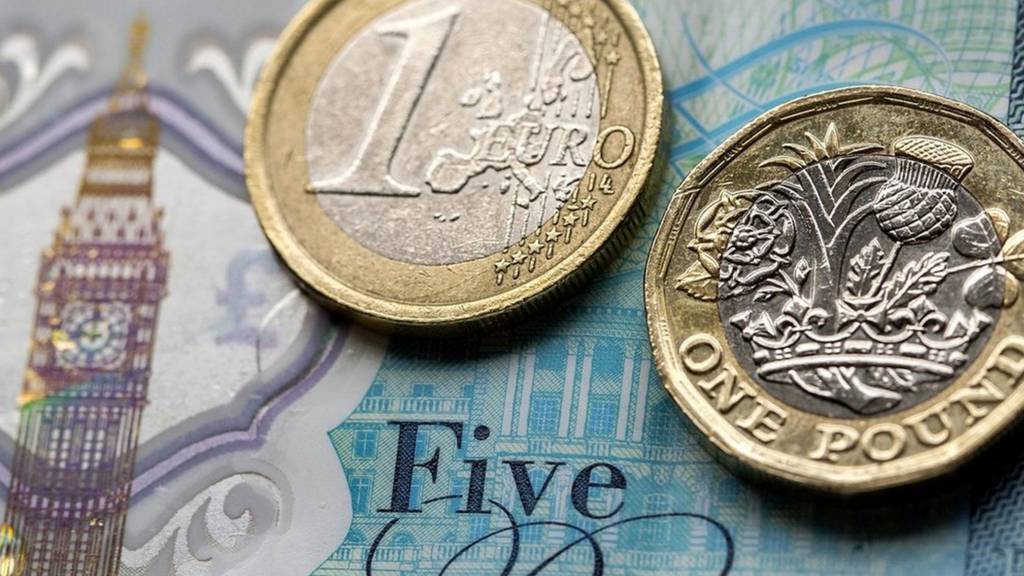 We'll back at 06:00 on Wednesday. Thanks for reading today.

Air France is buying 60 Airbus A220-300 aircraft, with an additional 30 purchase options and 30 acquisition rights.

The first aircraft should be delivered in September 2021.

"These decisions support the Air France-KLM Group's fleet competitiveness strategy," said Benjamin Smith, chief executive, of Air France KLM.

Apple to report results later

Smartphone maker Huawei reported results earlier today and later it will be the turn of rival Apple.

It will announce third quarter results after the close of Tuesday trading in New York.

The company has been going through a relatively slow patch - sales have fallen in the first two quarters of this financial year.

Apple has blamed a slowdown in sales in China. Sales of its iPhone have also been slowing, possibly because consumers are awaiting new models.

The company's services business, which includes the App Store, Apple Music and the new News+ subscription service, will be closely watched, as the firm has been banking on that become a money spinner.

Analysts are expecting third-quarter sales of around $53bn.

The FTSE 100 index is closing around 0.5% lower at 7,646.

Lloyds to buy Tesco mortgages - Sky

40% chance of no-deal Brexit

Chief UK economist at Pantheon Macroeconomics tweets

The pound has been falling on concern about the impact of a possible no-deal Brexit.

It is trading 0.4% lower at $1.2169 and at €1.0916.

Reuters calculated that sterling had fallen 2.4% since Boris Johnson became Prime Minister last week and is heading for its worst monthly performance since October 2016.

Aston Martin shares slide

It hasn't been a good day for Aston Martin on the stock market either.

Shares in the luxury car maker floated on the stock market at £19 a share last year.

Towards the close of trade in London, the shares are off around 6%, at levels around 550p.

With just the last 30 minutes or so of trading left in London on Tuesday, miner Fresnillo and British Gas-owner Centrica are battling it out to register the biggest losses of any FTSE 100 share today.

Fresnillo is off 16% while Centrica has plunged to 21 year lows, down 17%.

In the FTSE 250, CYBG is still the biggest loser, down 11% after the owner of Virgin Money and Clydesdale and Yorkshire banks issued results. Metro Bank, having a torrid time of late on the stock market, is down 7% at 370p and on course for what appears to be a record low.

Capital One share price slides

Back to the data breach at Capital One, mentioned earlier.

Letitia James, New York's attorney general, said there would be an investigation into the incident which could involve around 100 million people.

The company's share price is down around 6%.

There's more detail on the story here.

Difficult job for new Reckitt boss

Russ Mould, investment director at AJ Bell, has been looking at Reckitt Benckiser's results, published earlier and containing a cut to its outlook for revenue growth this year.

"Investors often look at consumer goods companies like Reckitt Benckiser with a view that earnings are bulletproof. They presume that a portfolio of very popular brands equates to a guaranteed stream of rising earnings.

"Reckitt's latest half year results throw water over that theory as revenue guidance has been downgraded to reflect a slow start to the year."

The company looks as if it has been undercut on price on Dettol while Durex has faced tough competition from local brands in China, he said. "Scholl remains a basket case".

"The patchy half year figures mean the incoming CEO Laxman Narasimhan has a difficult job on his hands to try and put the business back on track as well as decide the strategic future direction of the group."

The shares are down more than 3% as London approaches the close.

Amazon Alexa 'listening to private moments'

The Sun reports that an Amazon team in Romania have been monitoring thousands of recordings made by Alexa devices.

It says that they have heard private moments including family rows, money and health discussions and even couples having sex.

It is thought that 6.5 million UK homes have an Alexa device.

According to the report, Amazon says it listens to a proportion of recordings in order to monitor and improve the system.

PM: 'government does not comment on pound'

Reuters journalist tweets

Trump calls for 'large cut' in rates

Here are the quotes from Donald Trump, speaking outside the White House, about the US Federal Reserve.

"I would like to see a large cut and I'd like to see immediately the quantitative tightening stop.

"I'm very disappointed in the Fed. I think they acted too quickly by far, and I think I've been proven right ... The Fed is often wrong".

Harland and Wolff administration 'on Monday'

Image caption: A rally in support of the shipyard workers took place in east Belfast on Tuesday

The UK government has said that the crisis at the Harland and Wolff shipyard in Belfast is "ultimately a commercial issue".

Unions say the yard is at imminent risk of closure and have called for it to be nationalised.

A government spokesperson said there was "every sympathy for the workers". They added that the government will "do all it can" to offer support.

It is understood administrators are now expected to arrive on Monday.

There's more here.

US stocks lower at the open

Worries about the US-China talks, after Donald Trump's tweets mentioned earlier, and the prospect of a rate cut, have led to lower open for the US stock market.

The Dow Jones Industrial Average fell 75.96 points, or 0.28%, at the open to 27,145.39.

The S&P 500 started or 0.4% lower at 3,007.66.

The Nasdaq was off around 0.7 % at 8,231.77.

Sterling move 'close to a free lunch'

The World at One

BBC Radio 4

Image caption: "'Thank goodness for Boris, he's giving us a chance to make some money'."

Here's more from Lord O'Neill on the BBC's World at One programme.

He explained his view on his feeling that there was only "one way" for the pound.

"I'm pretty sure that a lot of big foreign exchange and hedge fund type people have had a pretty tricky life the past few years for a whole host of reasons and they're probably looking at what's being said coming out of the UK as almost close to a free lunch. You've got a government that is deliberately promoting the [no-deal] Brexit risk and one that is talking so adventurously about monetary and fiscal policy too."

"The world I was in, of lot of them will be saying 'Thank goodness for Boris, he's giving us a chance to make some money'."

However, he added that he thought the pound looked "very cheap", and if there was a Brexit deal and the Bank of England got tougher on monetary policy, then sterling could recover "very sharply".

One way for the pound says Jim O'Neill

The World at One

BBC Radio 4

Lord Jim O'Neill, the former chairman of Goldman Sachs Asset Management and who worked for George Osborne and Philip Hammond at the Treasury, spoke to the BBC's World at One programme about the fall in the pound.

When asked whether we're in a sterling crisis, he said "not yet", but added we have "the ingredients of quite a challenge here".

In addition to the increased risk of a no-deal Brexit, he said the markets were also "looking at a government that might be leaning on an independent central bank, possibly including the choice of its new governor". Markets were also factoring in that the government appeared to favour an expansionary fiscal policy.

The combination of these factors is "essentially pointing one way for the pound", Lord O'Neill said.

Trump urges Fed to cut rates

President Donald Trump has been speaking to reporters at the White House.

He called on the Federal Reserve to make a large interest rate cut, saying it had put him at a disadvantage by not acting sooner.

The US central bank begins a two-day meeting over rates today.

Archive: A short history of barcodes

Woman arrested after Capital One bank hacked

A woman has been arrested after a data breach, which is believed to be one of the largest in banking history.

The personal details of about 106 million individuals across the US and Canada were stolen in the hack, which targeted financial services firm Capital One, the company has revealed.

The alleged hacker, Paige Thompson, was arrested on Monday after reportedly boasting about the breach online.

Capital One said the data included names, addresses and phone numbers of people who applied for its products.

But the hacker did not gain access to credit card account numbers, it said.