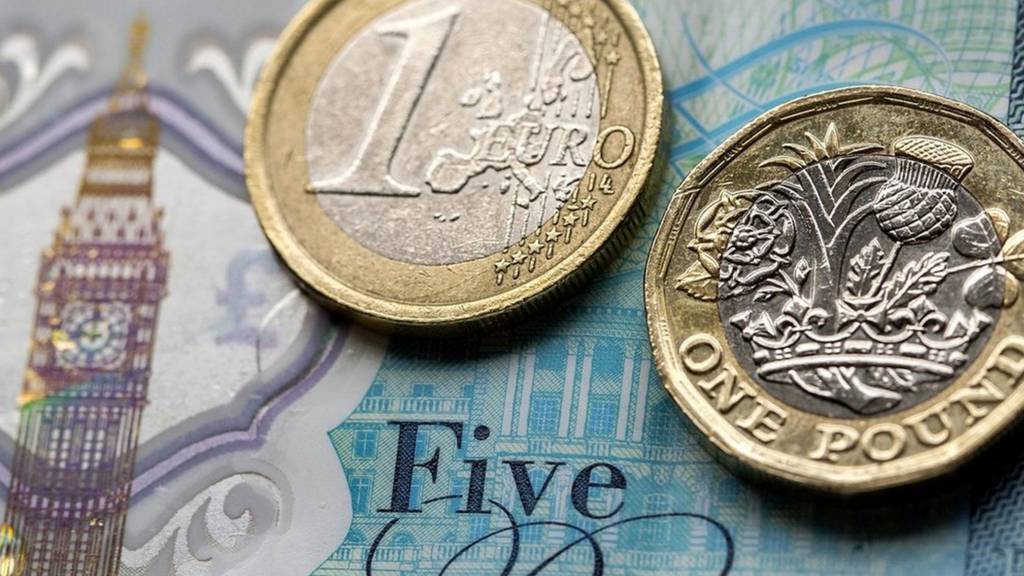 Thanks very much for reading. We'll be back at 06:00.

The FTSE 100 is ending the day around 60 points lower at 7,586.78.

The FTSE 250 is down 108 points at 19,666.52.

The pound is firmer, up 0.6% at $1.2224, after four days of losses.

What will the Bank of England do?

The US Federal Reserve is widely expected to cut rates later - an announcement is expected at 19:00 - while on Thursday the Bank of England's Monetary Policy Committee announces its latest decision.

There are not expectations of a rate cut from the MPC at this meeting. But what about the future?

Ruth Gregory, senior UK economist, at Capital Economics, says: "There has been mounting speculation that the MPC will join the global loosening cycle by cutting interest rates. We think it will if there is a no-deal Brexit. But if there's a Brexit deal or many more delays, the UK could buck the global trend and raise interest rates".

Alphabet becomes cash king - FT

The title for the company with the biggest financial reserves, held by Apple for a decade, has passed to Google's parent, Alphabet.

That's according to the Financial Times which has been looking at figures released in recent days.

Apple's holdings of cash and marketable securities, net of debt, has fallen to $102bn, down from a peak of $163bn at the end of 2017. Alphabet's cash pile is $117bn, haven risen by almost $20bn over the same period, according to the FT's analysis.

Credit union membership tops two million

Kevin Peachey

Personal finance reporter

More than two million people are now members of credit unions in the UK, according to latest official data.

Credit unions are locally-based organisations, where members pool their savings to lend to one another. Campaigners and regulators often describe them as more affordable alternatives to short-term lenders, such as payday loan companies.

It is the first time that membership has risen above two million, the Bank of England says, with the numbers driven by a 3% increase in adult membership in 2018 compared with the previous year, to 1.78 million.

The value of loans to members has also risen (up 7%) in the UK, passing £1.5bn for the first time, the Bank says.

With just a few minutes remaining before the London stock market closes, house builder Taylor Wimpey and miner Fresnillo are the day's biggest fallers in the FTSE 100, each down around 8%.

Retailer Next is the biggest riser, up 8%.

In the FTSE 250 Computacentre is still the biggest riser, up more than 10%.

Shopping centre owner Intu Properties is down 30% while Aston Martin is off 11%.

Ryanair boss on possible job cuts

Mary-Ann Russon

Business reporter

The BBC has seen the video referred to earlier in which Ryanair boss Michael O'Leary discusses possible job cuts.

He says that in first quarter over the last two years, profits have fallen by 41%, due to lower fares, higher oil prices and higher staff costs which are "largely because of the big pilot and cabin crew pay increases we negotiated last year".

This "bad news" comes just two weeks after the airline cut flights over the grounding of its Boeing 737 Max fleet.

"So instead of getting 58 new aircraft for summer 2020, we will at best get only 30 of those aircraft, which means we need about 600 less cabin crew and pilots for summer 2020," he says.

"On top of this bad news, we already have a surplus of over 500 pilots and some 400 cabin crew, because resignations have dried up to be zero since January 2019.

"Added to these challenges, in the last two weeks there's been the increasing likelihood of a no-deal Brexit in just 12 weeks' time and we're worried this could have quite a damaging effect, particularly on our UK bases and on some of our Irish bases, which are heavily dependent on people travelling between Ireland and the UK.

"I'm sorry to advise you that this means we need to cut our aircraft numbers and our staffing, not just for summer 2020 but also in winter 2019.

"This will result in some base cuts, some base closures, and I'm very sorry to say, some job losses this winter for pilots and cabin crew, at the end of our summer schedule in September and October, and also some immediately after Christmas."

'Oh dear': Reaction to Lloyd's latest PPI payout

Lloyds has set aside another £550m to cover PPI payouts. Here's reaction from the writers at Reuters Breaking Views.

"Oh dear. Lloyds Banking Group is ending its misssold payment protection insurance scandal as it began – with an almighty slap in shareholders' faces.

"The UK's largest domestic-focused bank on Wednesday... posted a 7% decline in first-half pre-tax profits due to a higher than expected PPI charges.

"Back in 2011, the lender took a 3.2 billion pound provision charge in a now-ironic attempt to get out in front of the issue.

"It has since provisioned more than £20bn. The first half of 2019 didn't deviate from this tawdry pattern: Lloyds announced a £550m charge due to higher claimant volumes, roughly 10 times what analysts expected."

As we head for the close of trading in London, the bank's shares are down 2.8% at 53p.

Sports Direct non-exec buys shares

The Times retail editor tweets

'Constructive' trade talks says White House

The White House has issued a statement after the talks between Trade Representative Robert Lighthizer, Secretary of the Treasury Steven Mnuchin and Chinese officials, which ended earlier today in Shanghai.

"The two sides discussed topics such as forced technology transfer, intellectual property rights, services, non-tariff barriers, and agriculture.

"The Chinese side confirmed their commitment to increase purchases of United States agricultural exports. The meetings were constructive, and we expect negotiations on an enforceable trade deal to continue in Washington in early September."

Baldwin to stand for Treasury committee

The chair of the Treasury Committee is being vacated by Nicky Morgan as she is Culture Secretary in Boris Johnson's cabinet.

Steve Baker, former Brexit Minister, has tweeted that he will stand and Stephen Hammond has said he is thinking about his options.

Now, Harriett Baldwin has written on Politics Homes that she is going to put her name forward.

We will bring you others as we see them.

After falling to a 28 month low earlier this week on concerns about a no-deal Brexit, the pound is bouncing today.

It's now up 0.5% at $1.2213.

"(The bounce) doesn't change the bigger picture and the pound will continue to weaken but clearly it won't be a one-way street," said Lee Hardman, FX strategist at MUFG.

Record numbers access cash from pensions

Kevin Peachey

Personal finance reporter

A record number of people withdrew cash from their pension pots in the second quarter of the year, according to figures from HM Revenue and Customs (HMRC).

Since 2015, anyone aged 55 or over has been able to cash-in their pension pots in a variety of ways, although they may be subject to income tax as a result. It has been suggested that some are "sleepwalking" into poor financial choices.

The latest HMRC data shows that a record 336,000 people took money out between April and June, with a total of £2.75bn withdrawn.

Both figures are more than 20% higher than during the same quarter the previous year.

People withdrew an average of £8,200, with some taking the opportunity to take small pension pots in cash.

Trade talks 'marginally positive' for markets

Trade talks between the US and China have finished for now and are due to resume in September, as reported earlier.

What conclusions can be reached at this point, especially after Donald Trump's tweets on Tuesday?

Geoffrey Yu, head of UK investment office, UBS Wealth Management, said: "With expectations from this week's trade talks at rock bottom, the fact that there has been no negative outcome will be viewed as marginally positive for markets.

"China's declaration of intent on increasing its agricultural purchases from the US is a clear nod to President Trump's tweet but does not change the fact that tariffs remain a sideshow to the key rivalry around technology.

"Markets will be now be primed for further signals from the next round of talks scheduled for September."

Apple regains $1 trillion crown after shares jump

Apple is once again worth $1 trillion after shares in the technology giant opened 5.02% higher after revealing its third quarter results last night.

The rise in its share price to $219.26 means Apple regains the status it lost last November when it forecast weaker sales for the fourth quarter which included the crucial Christmas period.

On Tuesday evening, Apple reported better than expected sales for the third quarter, helped by rising sales of its services such as its software store and music which helped offset falling iPhone revenues.

Mixed open for Wall Street

The Dow Jones Industrial Average opened 0.17% higher at 27,245.59.

The Nasdaq is up 0.18% at 8,288.57.

The S&P 500, however, is off 0.26% at 3,013.18 in opening trade.

Intu feels the burn of High Street demise

Image caption: Intu operates the Trafford Centre in Manchester

Laith Khalaf, senior analyst at Hargreaves Lansdown, is examining Intu following the 26% drop in the shopping centre owner's share price.

"The commercial property sector is one of the less visible casualties of the decline in high street shopping, and with retailers failing or renegotiating rental terms, high street landlords are feeling the burn," he says.

"As a focused play on retail space, Intu has been at the sharp end of proceedings and shares have fallen 80% in the last five years.

"The main raison d'etre of the property sector is to provide shareholders with an income, and the fact Intu has had to cancel its dividend is testament to the scale of the challenge it's facing."

BA strike more likely - but not certain

Tom Burridge

BBC transport correspondent

If you have a flight booked with British Airways in the coming weeks then you will naturally be concerned.

But as things stand you don't need to panic because the pilots' union BALPA has not set a date for a strike.

Under law, the union has to give BA at least two weeks notice and they can call a strike any time between now and January.

After this latest court victory for the pilots, logic dictates that the airline will have to offer some kind of compromise in order to avert a strike.

On a single day in the summer BA flies around 145,000 passengers.

A strike would cause significant damage to the reputation and finances of British Airways and its parent group IAG.

But BA will be preparing for all eventualities.

If a strike goes ahead then it could try and pull in aircraft and crew from the likes of Qatar Airways (which owns a significant stake in IAG) so that it can run its most valuable routes.

A strike is now more likely, but far from certain.

Woodford fund breaches limits

Neil Woodford's Equity Income Fund has breached a 10% cap on unlisted stocks after two of its holdings delisted from the Guernsey exchange.

That's according to Reuters which quotes a spokesman: "Following the inadvertent passive breach, action to bring the fund back into compliance is already underway".

That is because Benevolent AI and Industrial Heat delisted their shares from the Guernsey stock exchange.

Investors in the Equity Income Fund have not been able to access their money since 3 June and were told earlier this week that the fund would not be unlocked until December.

Fiat Chrysler in record US quarter

Fiat Chrysler - in its first results since its failed attempted to merge with Renault - has reported better than expected second quarter profits of €1.5bn.

It was a record quarter for its US operations as a result of sales of its Ram pick-up truck.

The car maker also maintained its guidance for its full-year performance and its share price rose 3.5%.