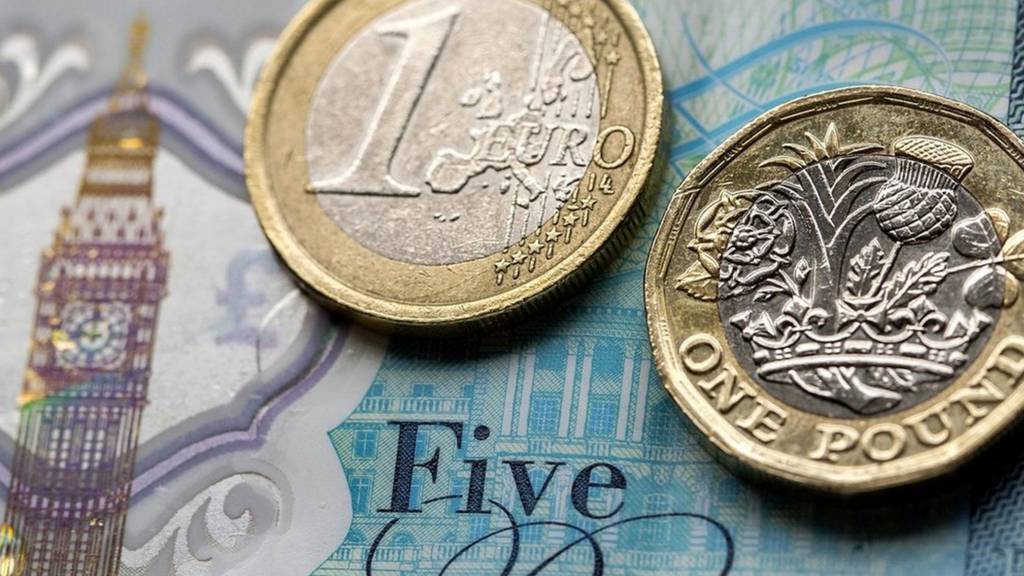 By Reality Check team

BBC News

That's all for today. Please join us again from 06:00 tomorrow. Get in touch the usual way: bizlivepage@bbc.co.uk

The FTSE 100 ended the day up 1% at 7,189.65, led up by oil firms and miners.

The more domestically-focused FTSE 250 ended the day up 1.47% at 19,097.97, boosted by a 51% rose in Greene King shares. Other pub groups gained from its takeover: Marstons rose 9.3% and Wetherspoon 7.1%.

Pub group and brewer Greene King has agreed a £2.7bn sale to Hong Kong real estate firm CKA, the company said.

Shareholders will receive 850 pence per share.

Philip Yea, Chairman of Greene King, said: "The Greene King board is confident in the long term prospects of the business but believes this offer represents a good opportunity for shareholders to realise value for their investment at an attractive premium, while also ensuring the future success of Greene King for employees, partners, customers and suppliers. We are therefore unanimously recommending it to our shareholders."

Scrapped free movement 'frightening prospect'

The UK government has said rules allowing EU nationals to live and work freely in the UK will end in the event of a no-deal Brexit on 31 October.

Employment partner at Pinsent Masons, Euan Smith, said: "The change of position implied by [Home Secretary] Priti Patel would scrap the proposed European Temporary Leave to Remain status which permits EU nationals free access into the UK for up to 3 months, and the opportunity to apply to stay for up to 3 years beyond that.

"In its absence, EU nationals would presumably be treated the same as other overseas nationals, requiring specific permission to live and work in the UK. However we would also expect that EU countries might impose reciprocal restrictions on UK nationals wanting to live and work in the EU.

"That's a frightening prospect, for any UK company that relies on staff from other EU countries coming to the UK for work, and equally for those companies whose UK staff often have to travel to and within the EU for business purposes.

"It's also a frightening prospect for all EU nationals living in the UK who have not yet been able to obtain settled or pre-settled status: on 31 October their immigration status would be fine; but on 1st November, they would be living and working illegally in the UK."

Wall Street has opened higher today, boosted by news of China's plans of an interest rate reform.

The Dow Jones Industrial Average rose 134.05 points, or 0.52%, at the open to 26,020.06.

The S&P 500 opened higher by 24.80 points, or 0.86%, at 2,913.48.

The Nasdaq Composite gained 110.19 points, or 1.40%, to 8,006.18 at the opening bell.

Here's where the pound is against the dollar and the euro.

Leaving it to the last five minutes

Reuters has a good story about how a growing portion of trading in European stock markets is happening in the final five minutes of the business day.

Why does this matter, I hear you ask? Automated investments like exchange-traded funds use end-of-day pricing for their own valuations and they make up a bigger and bigger portion of investments.

This has led to concerns over whether enough shares are changing hands to make for accurate pricing.

Brexit: The plan to force companies to be no-deal ready

Faisal Islam

BBC Economics Editor

There are many mysteries about the government's response to the leak of a confidential internal no deal document.

As we have reported before, the most important assumption of freight trade flow through Dover and the Channel Tunnel after a no-deal Brexit is now that it could fall by 40-60%. That figure features heavily in the report.

The change, an improvement on even worse assumptions, only occurred last last month, suggesting it is difficult to describe the document as old.

And it's not certain, as "Number 10 sources" have suggested, that it was leaked by a former Cabinet minister trying to sabotage the Prime Minister's visits to EU leaders.

King's Cross investor seeks facial recognition answers

A key investor in London's King's Cross development has told the BBC that it is trying to find out more detail about how facial recognition is being used in the area.

The BT Pension Scheme (BTPS) bankrolled the site alongsidean Australian fund, which owns a majority stake.

It follows the UK's data protection watchdog and the mayor of London in seeking more information from the zone's developer Argent.

Breaking

US delays ban on Huawei

The US Commerce Secretary has confirmed that a ban on the Chinese technology company, Huawei, will not come into force for another ninety days.

Wilbur Ross said the delay - the second since the sanctions were announced by President Trump in May - was to assist existing customers.

Mr Ross also said more Huawei subsidiaries would be added to the entity list, which is Washington's economic blacklist that restricts trade with US companies.

Mr Trump has indicated that the US is unlikely to grant the Chinese firm another temporary reprieve because of national security concerns.

Where there's blame, there's a claim

More business reaction to the Sunday Times' report on Operation Yellowhammer and the effect of a no-deal Brexit on the UK.

Companies will be rifling through their contracts to see who has to stump up for fees, fines, duties and delays. If their contracts are vague, that means work for legal firms.

"We expect there to be an increased focus on 'force majeure' clauses, which provide for what is to happen to the parties' obligations if an event outside their control occurs (such as Brexit) and makes performance of the contract more difficult or impossible," says Jonathan Cohen, a senior associate at law firm Mayer Brown.

"The impact of a failure in the supply chain can be significant, from the imposition of late or non-delivery penalties through to a total shut-down of production. As a result, we expect to see an increase in disputes (and potentially litigation) around supply chain failures in the event of a no-deal Brexit".

Where next for gold prices?

It is a fool's errand to try and predict where asset prices may be heading.

But a measure of calm appears to have returned among investors after last week's rush to safe havens.

What does that mean for the price of gold, which is now a touch below $1,500 an ounce at $1,469?

Quote Message: The rally in bond markets seems to have paused at least for now and we've seen some additional gains in stocks over the weekend, so a bit of a more optimistic start to the week is helping to attract profit-taking in gold. However, gold is holding above the $1,500 level and key support level around $1,480 - $1,485 area. But with bond yields moving up a notch, there isn't much room for gold buyers." from Ole Hansen commodity strategist, Saxo Bank

Here's a strange tale about a minor European royal, the late Libyan dictator Muammar Gaddafi, and a €50m investment in a forestry scheme.

Germany could be heading for recession

A drop in German industrial production during the summer may tip Germany into a recession, according to the country's central bank.

Official statistics released last week showed the economy shrank by 0.1% between April and June. The question is will GDP shrink again in the third quarter, and therefore tip Europe's largest economy into recession?

"Overall economic performance could again decline slightly," said the Bundesbank in a monthly report. "The main reason for this is the continuing downturn in industry."

Declining exports, especially to newer markets like China, and a lull as businesses try and work out how Brexit will unfold, have all had an impact on recent German performance.

Germany relies on exports of goods like cars for a lot of its growth.