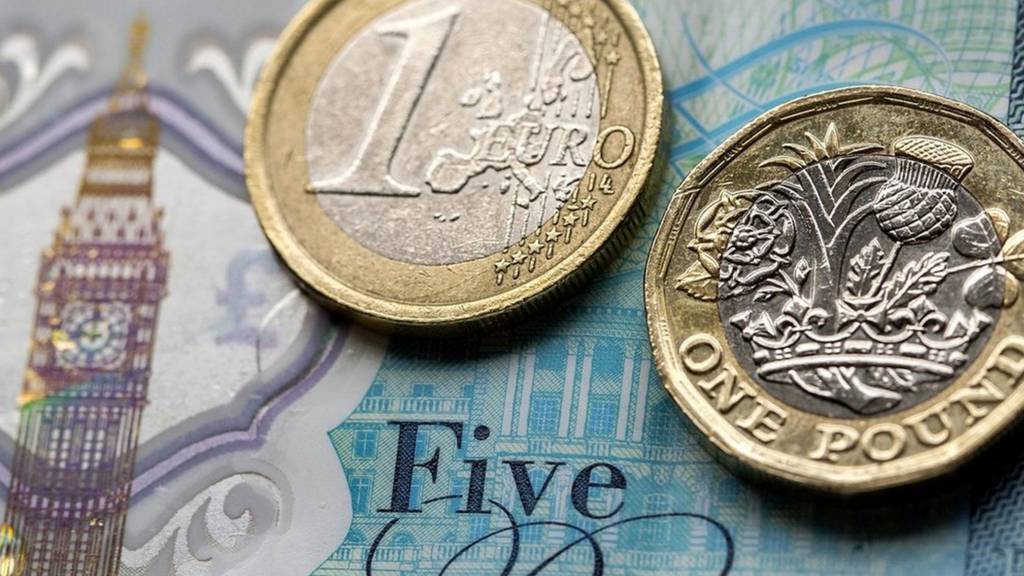 Tom Edgington

BBC Reality Check

Goodbye....that is all from the live page for today. Join us bright and early tomorrow for more business and economic news.

Apple Card can be damaged by wallets and jeans

Apple has advised owners of its new credit card to keep it away from leather and denim.

Keeping the card in a leather wallet or in the pocket of a pair of jeans could cause "permanent discolouration".

The Apple Card is a relatively plain matt white credit card made of titanium, which was designed to stand out against other credit cards.

But people have poked fun at the company after reading that the card could be so easily damaged.

Apple has published a guideadvising customers how to "safely store and carry" their Apple Card.

Royal Mail workers to be balloted on strike action

More than 100,000 Royal Mail workers are to be balloted for strikes over issues including job security and terms and conditions of employment.

Members of the Communication Workers Union (CWU) will vote from September 24, with the result due in the first week of October.

The dispute has flared over implementation of a so-called Four Pillars Agreement reached last year between the union and Royal Mail.

It said the company was not working "within the spirit and intent of our national agreement".

Pound surges on Merkel 'deal-friendly comments'

Connor Campbell, financial analyst at financial spread betting firm Spreadex, observes: "The German leader said the UK has until October 31st to find a solution to the Irish backstop conundrum, a phrasing that has been seen as more conciliatory - however imperceptibly - than the 'find a solution in the next 30 days' comments from Wednesday.

"Reacting as if there had been actual progress made, the pound showed its desperation for good news as it leapt around 1% against both the dollar and euro."

US firms' reluctant to make layoffs'

The fall in US unemployment claims last week follows an increase in claims the week before.

Reacting to the latest figures, Ian Shepherdson of Pantheon Macroeconomics notes that the eight-week average for new claims has now been below 220,000 for 19 of the past 20 weeks, "and we see no signs that it is about to move higher".

"Firms clearly are nervous about the economic outlook... but the tightness of the labor market means that employers are reluctant to make layoffs."

Pound jumps on Merkel comments

The pound jumped more than half a cent on Thursday to nearly a one-month high against the US dollar after German Chancellor Angela Merkel said a solution to the Irish border issue could be found before the 31 October Brexit deadline.

Sterling, trading around $1.2160 earlier, shot as high as $1.2265, before settling around $1.2217, up 0.8% on the day.

Against the euro, the pound rose as high as 90.415 pence , a more than 1% rise on the day and its highest since July 29.

US. stocks opened ahead on Thursday, as strong results from retailers including Nordstrom boosted confidence in consumer demand.

The Dow Jones Industrial Average rose 68.91 points, or 0.26%, at the open to 26,271.64. The wider S&P 500 was up by 6.51 points, or 0.22%, at 2,930.94. The tech-based Nasdaq Composite gained 18.58 points, or 0.23%, to 8,038.79.

Jeremy Corbyn in Keswick to warn over no-deal Brexit

Labour leader Jeremy Corbyn has arrived at Rakefoot farm near Keswick .

He says he'll do "everything necessary" to prevent "no-deal carnage" for British farms

He's pictured with sheep farmer Will Cockbain and Workington Labour MP Sue Hayman

UK cannot end freedom of movement on Brexit day, experts say

Migration experts say the UK cannot end freedom of movement from the EU on Brexit day because it has no system to work out who is legally in the country.

The Home Office said on 19 August thatEU freedom of movement would end immediatelyin a no-deal Brexit.

But Oxford University's Migration Observatory said employers will have no way to tell whether EU nationals have arrived after 31 October.

It comes as official figures show EU immigration at its lowest since 2013.

Under the existing system, EU nationals do not have to register their presence in the UK so the Home Office does not have records of when they arrived.

CBI concerns over ending of free movement

US unemployment benefit claims fall

The number of people in the US filing claims for unemployment benefit fell by more than expected last week, indicating the labour market is not weakening.

Figures from the Labor Department showed that initial claims for state unemployment benefits dropped 12,000 last week to a seasonally-adjusted 209,000.

The pound has edged higher today, although traders are keeping a close eye on Boris Johnson's Brexit talks with European leaders.

Against the dollar, sterling is currently up 0.3% at $1.2164, while against the euro it is also 0.3% higher, at €1.0971.

End to UK-EU free movement 'will hit small firms'

Responding to the announcement that EU immigration to the UK has fallen to its lowest level since 2013, Federation of Small Businesses (FSB) National Chairman Mike Cherry, said: "European business owners and employees are central to the UK's economic success.

"One in five small employers rely on the skills of EU citizens and - with employment levels at record-highs - one in three now say finding the right staff is a major barrier to growth.

"A sudden end to free movement on 1 November will make a bad situation worse. Business owners need time to prepare for such a radical change, particularly as 95% of small employers have no experience of using the points-based element of our immigration system."

Cathay Pacific staff speak of climate of fear over protests

Cathay Pacific employees say they fear losing their jobs if they express support for pro-democracy protesters in Hong Kong.

Employees of the airline told the BBC that staff feared working routes to mainland China.

Some are considering bringing decoy mobiles with them in case their phones are checked on arrival in the mainland.

It comes weeks after China demanded the airline suspend staff involved in the protest movement.

Protesters have been taking to the streets of Hong Kong for the past 11 weeks. The demonstrations were originally against an extradition bill but have now evolved into a wider pro-democracy movement.

Read more here.

Farming: The UK's deadliest industry

Working on a farm used to be about as dangerous as being employed on a building site.

But while the number of construction deaths has dropped over the past 30 years, fatalities in agriculture have remained high.

Why? And what impact is this having on farmers and their families?

The BBC's data journalism team looks here at the stats behind the stories.

UK retail sales volumes in a handy graphic

CBI economics tweets...

Packaging firm's customers 'demand greener products'

The UK's biggest protective packaging distributor is seeing increasing requests from customers wanting to cut carbon.

Macfarlane Group boss Peter Atkinson said there there was rising demand for reusable food labels, and firms wanting to use more recyclable packaging.

His comments came as US retail giant Amazon has been criticised by customers for increasing its use of plastic.

Glasgow-based Macfarlane has increased sales, despite industry challenges.

Its sales grew 5.4% to £107.5m in the first half of the year, with pre-tax profits at £3.8m.

Fed minutes 'a reality check'

Investors should take a moment to calm down about the next move from the US Federal Reserve, says David Madden, market analyst at CMC Markets.

"The update last night was a bit of a reality check - maybe don't get ahead of yourself on what the Fed is going to do.

"If you forget about the geopolitical headlines, forget about what the bond markets are doing, and look at the underlying indicators of the US, people are in jobs, earning decent money and more importantly spending money."

European stocks trend lower

The FTSE 100 has extended earlier falls and is now down 0.63% at 7,158.68.

In France, the CAC-40 index is trading 0.35% lower while in Germany, the DAX is flat.