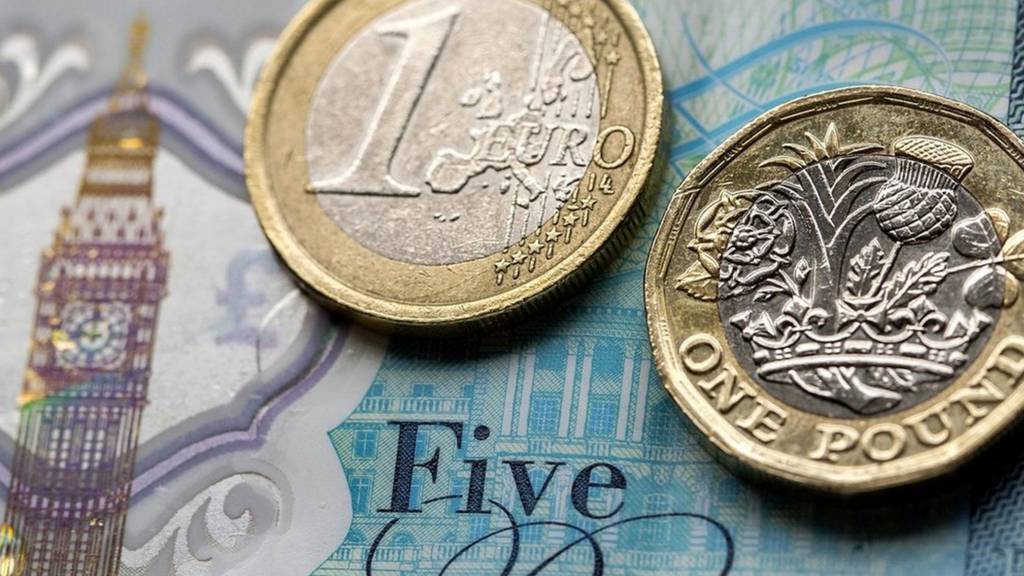 Sterling is now through $1.25

'Significant work' required at Quiz

Commenting on the sales slide reported by fashion chain Quiz earlier, Arlene Ewing, investment manager at Brewin Dolphin, says the tough backdrop for retail is continuing "to take its toll" on the firm.

"Overall sales are on the decline, but the one bright spot is the online offering which has seen decent growth," she says.

"Investors will have a keen eye on the results of the root and branch review announced earlier in the year, particularly the company's plans for some of its units in costly shopping centres.

"There is, nevertheless, some significant work required to turn the tide at Quiz, making it self-sufficient and able to handle the shocks faced by the wider sector."

Deal reached 'in principle' for Wrightbus sale

A deal has been reached in principle for the sale of Wrightbus.

Bidder Jo Bamford said agreement had been reached with "the Wright family for the Wrightbus factory and land".

"We are still to conclude a deal with the administrators but are pleased to report this important step in the right direction."

House builders and banks higher

House builders are the biggest gainers in the FTSE 100, with Persimmon , Barratt Developments, Berkeley Group, Taylor Wimpey all in the top 10.

Royal Bank of Scotland and Lloyds Banking Group are also making gains.

In the FTSE 250 index, which is 175.1 points higher at 19,410.82, it is again builders and banks are making the biggest gains: CYBG, owner of Virgin Money, Bellway and Bovis Homes are all higher.

Renault names interim chief executive

Renault has said its chief financial officer, Clotilde Delbos, will be its interim chief executive after the French carmaker's board voted to replace Thierry Bollore.

Renault has said Mr Bollore will leave his role with immediate effect, while Ms Delbos will be interim CEO "until a process is completed to appoint a new Chief Executive Officer".

'Promising signals' on Brexit deal...

Brussels Reporter, BBC News tweets

Although sterling has slipped a bit back a little after it was reported that Donald Tusk, president of the European Council, said the UK had come forward with a realistic Brexit plan.

Renault board votes to replace chief executive

Renault's board has voted to replace Thierry Bollore as chief executive.

That's according to Reuters which says it has the information from two sources familiar with the matter.

Shares in Renault - caught up in the scandal at Nissan as it has an alliance with the Japanese carmaker - have jumped around 2%.

Nissan boss Carlos Ghosn is facing charges in Japan of financial misconduct, which he denies.

IEA cuts oil demand forecast

The International Energy Agency says there will be an oversupply of oil next year as it cut its forecast for oil demand by 100,000 per barrels per day to 1.2m.

The demand for oil from Opec countries will reduce because of higher supply from the United States, Brazil and Norway.

There has been a focus on Saudi Arabia, the world's biggest exporter of oil, after attacks last month knocked supply.

But, the IEA, said: "Oil markets in September withstood a textbook case of a large-scale supply disruption

"Prices fell back as it became clear that the damage, although serious, would not cause long-lasting disruption to markets."

"There should be talk of a geopolitical premium on top of oil prices.

"For now, though, there is little sign of this with security fears having been overtaken by weaker demand growth and the prospect of a wave of new oil production coming on stream".

The report can be read here.

Dyson's decision 'no surprise'

BBC Radio 5 Live

Wake Up To Money

Dyson, the technology company best known for its vacuum cleaners, has scrapped a project to build electric cars.

The firm, headed by British inventor Sir James Dyson (pictured), said its engineers had developed a "fantastic electric car" but that it would not hit the roads because it was not "commercially viable".

Anna-Marie Baisden, head of autos at Fitch Solution, tells Radio 5 Live Wake Up To Money that she is not surprised, citing the problems Tesla has faced in ramping up production.

"I think for them to pull out at this stage, realising how difficult it's going to be to make money, there are very small margins if any in electric cars at the moment, it's not a big surprise".

"You do have to put a lot of money into developing an electric car, the technology's still very expensive" she said.

The FCA's decision notice on the Tullett Prebon fine is here.

It says senior managers in the "rates" division encountered red flags but took no action.

It says that when the firm made inquiries of one broker about the basis for inordinately high brokerage on one trade the broker responsible said "you don't want to know" and no steps were taken to identify the reasons.

The FCA says expenses claims usually covered drinks and dinners but could also involve golf trips to Scotland - and also visits to Monte Carlo, Las Vegas and Ibiza.

Nissan's warning on Brexit

BBC Radio 5 Live

Wake Up To Money

Anna-Marie Baisden, head of autos at Fitch Solution, talked to Radio 5 Live Wake Up To Money, about the warning by Nissan on Thursday about the problems it could face in the event of a no-deal Brexit.

Nissan's European chairman, Gianluca de Ficchy, said if a 10% export tariff was introduced after the UK left the EU it would put its operations "in jeopardy".

This would be the case if the UK moved to World Trade Organization (WTO) rules after Brexit, he said.

"It doesn't strike me that this is a facility they would want to wind down and close for the sake of it," Ms Baisden.

"The financial side would be very difficult in the case of a no-deal," she said.

FCA: firm failed to be open

Mark Steward, executive director of enforcement and market aversight at the FCA, has this to say about the Tullett Prebon fine.

"The market performs important public functions and is not a private game of self-enrichment.

"While these trades did not mislead the market, nor amount to market abuse, the wash trades were entirely improper, undermining the proper function of the market. Senior management and compliance were cocooned from seeing the misconduct, and systems and controls failed to probe broker conduct, even when warning signs were visible.

"The case against Tullett Prebon was a long and complex one. The firm's failure to be open with the FCA about the existence of key evidence reflected a high degree of culpable incompetence and prejudiced the FCA enquiries".

As reported earlier, the firms says it is "pleased to put this historical matter behind us".

The Financial Conduct Authority has published more details about that £15.4m fine imposed on Tullett Prebon, mentioned earlier.

It says the penalty dates back to the period between 2008 and 2010 when Tullett Prebon's rates rivision had ineffective controls around broker conduct.

"Lavish entertainment and a lack of effective controls allowed improper trading to take place, including 'wash' trades (a 'wash' trade involves no change in beneficial ownership and has no legitimate underlying commercial purpose) which generated unwarranted and unusually high amounts of brokerage for the firm," the FCA said.

The FTSE 100 index is lower as trading gets underway in London, down around 26 points at 7,160.

Oil price rises after explosion

Oil prices have risen 2% after the reports by Iranian news agencies, mentioned earlier, saying that a state-owned oil tanker was struck by two missiles in the Red Sea near Saudi Arabi

Brent crude futures reached $60.46 a barrel while West Texas Intermediate (WTI) crude futures touched $54.69 a barrel.

Image caption: US President Donald Trump and Chinese Premier Xi Jinping

So can the US and China actually reach a deal on trade when talks in Washington resume later today?

Robert Holleyman says:"What we knew is that they were coming with only a very limited package of things to offer the US, certainly nothing that would look like a deal - perhaps enough to provide a momentary truce pending further negotiations.

"It will be up to the US to decide whether that is a gesture in good faith or if that is too little too late."

US economy 'pays a price' for Chinese tariff escalation

Today Programme

BBC Radio 4

Former deputy US trade representative Robert Holleyman says that under the Obama administration "we made some progress" with China about its trade practices but he admits "we did not get those issues resolved".

However, he is not sure Donald Trump's method of hiking tariffs on Chinese imports is the right way to go.

"The tariffs that President Trump has imposed is sort of a ratcheting up by a considerable degree the amount of pressure and it is something we would not have done because we know that the US economy pays a price for that.

"But now that we've taken this approach, the key is that we actually have to win this effort."

Meanwhile, Mr Trump has been on Twitter again...

US-China trade: The heart of the matter

Today Programme

BBC Radio 4

Speaking of the US-China trade war, former ambassador Robert Holleyman was the man that Barack Obama chose to lead negotiations with the Chinese - so he knows the issues that the Trump administration is facing.

He tells the BBC's Today programme: "At the heart of this, the US identified quite correctly that there were major issues around China and industrial policy and intellectual property.

"China was both stealing IP through trade secret theft, China was buying up IP in the United States and other countries and then China was then forcing US companies as a pre-condition for entry into the China market to have alliances with Chinese companies that required the transfer of IP."

Mr Holleyman says this is "a core fundamental problem" and now the US has embarked on the path of lifting tariffs on Chinese imports "we have to win" the trade war.

Sales fall at fashion chain Quiz

Fashion chain Quiz has reported a fall in sales amid what it calls "a difficult UK retail environment".

Group revenues fell 5% to £63.3m in the six months to 30 September, although the retailer said trading had been broadly in line with expectations.

Online revenues grew 7% to £20m, and Quiz said it had continued to see "solid growth" through its own websites with sales up 12% year-on-year.

However, it said conditions on the UK High Streets had been "very challenging" and sales at its UK stores fell 11% to £31.3m.

Quiz added it was "actively managing" its stores and concessions to ensure their profitability, and it was continuing to "appraise the economics of each store as leases come up for renewal".

CMA asks for input on pub deal

The Competition and Markets Authority (CMA) has announced it is considering whether to investigate the £1.3bn acquisition by Stonegate Pub, which owns the Slug and Lettuce chain, of rival Ei Group - once known as Enterprise Inns.

The competition watchdog said it is "considering whether it is or may be the case that this transaction has resulted in the creation of a relevant merger situation under the merger provisions of the Enterprise Act 2002 and, if so, whether the creation of that situation has resulted, or may be expected to result, in a substantial lessening of competition within any market or markets in the United Kingdom for goods or services."

The CMA is asking for comments from "interested parties"