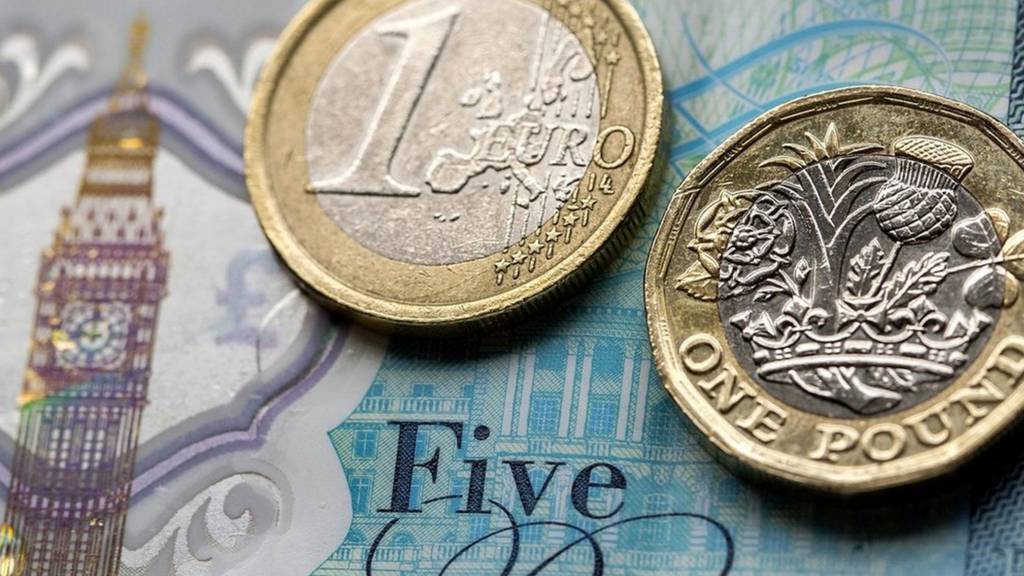 Beauty industry 'failing women of colour'

Big apple says 'au revoir' to foie gras

New York City has become the latest place in the US to ban the sale of foie gras, prompting the country's largest producer of foie gras to vow to mount a court battle to overturn it.

Foie gras, French for "fat liver," is made from the enlarged livers of force-fed ducks and geese.

Animal rights groups say the force-feeding process is painful and cruel.

Poultry farmers say their practices are humane.

The largest US maker of foie gras, Hudson Valley Foie Gras, in Ferndale, New York, said New York City represents about a third of the farm's revenues and rather than planning to adjust its business, manager Marcus Henley intends to go to court to try to overturn it.

Manufacturing picture 'remains bleak'

Stockpiling ahead of the aborted Halloween Brexit deadline briefly gave manufacturing a bit of a boost in October, "but the underlying picture remains bleak" says Samuel Tombs, chief UK economist for Pantheon Macroeconomics.

He adds that the volume of new orders indicated by the survey "points to the resumption of sharp falls in production ahead."

China rolls out superfast 5G network

By the end of the year, China's will be one of the world's largest 5G deployments, state media said.

Salmonella in hummus 'from third party ingredient'

On Thursday a salmonella scare sparked the recall of hummus stocked in a wide range of supermarkets.

Zorba Delicacies, which supplied the hummus to the supermarkets, said on Friday:

"In more than 15 years of successful operation we have never had the need to recall a product for salmonella.

"The company maintains thorough procedures for the sourcing, use and testing of all products including independent laboratory testing.

"The frequency of product testing goes way beyond the minimum standards set for the industry.

"The issue was identified during our testing procedure and root cause analysis has quickly pinpointed the likely source as being from a batch of ingredient supplied by a third party.

"The existence of salmonella was found in a limited volume of houmous that was produced.

"We immediately alerted the FSA and instructed customers to remove product from all outlets. We continue to work with the FSA on this matter.

"Testing of all other products produced on our site, including subsequent production of houmous, has not identified any issues."

Underperforming US economy 'biggest threat to Trump'

Quote Message: The Fed has signalled that the latest cut marks the finale of its monetary easing – at least for the immediate future. While the move will not satisfy the White House, a focus on data-led decision making is hard to argue with. While the global slowdown remains an issue, the US economy is looking less fragile than some had feared, but the Fed and the Whitehouse will be keeping a close eye on how employment date evolves. With an impeachment enquiry dominating the airwaves, an under-performing economy is the biggest threat to Trump's re-election chances." from Nancy Curtin chief investment officer at Close Brothers Asset Management

Former Thomas Cook majority shareholder buys brand

Chinese firm Fosun Tourism has bought the Thomas Cook brand, plus hotel brands Casa Cook and Cook's Club, for £11m.

"According to the agreement, the transferred assets include right, title and interest in certain trademarks, domain names, software applications, social media accounts and licenses relating to the Thomas Cook, Casa Cook, Cook's Club brands and other related brands across most international markets," the firm said in a statement.

Qian Jiannong, chairman of Fosun Tourism Group, said, "The group has always believed in the brand value of Thomas Cook.

"The acquisition of the Thomas Cook brand will enable the group to expand its tourism business building on the extensive brand awareness of Thomas Cook and the robust growth momentum of Chinese outbound tourism.

"Meanwhile, the introduction of new hotel brands will further enrich the offering of accommodation choices for tourism destinations business by the group, diversify our resort and hotel operations and improve the Foliday ecosystem in providing customers with quality holiday experience across the globe."

Thomas Cook collapsed on 23 September.

It had secured a £900m rescue deal led by its largest shareholder Chinese firm Fosun in August, but a demand from its banks to raise a further £200m in contingency funding had put the deal in doubt.

Asda: Less than 1,000 employees face losing their jobs

Asda has come back after reports that 12,000 people face losing their jobs on Saturday.

Employees have been under pressure to sign new contracts or be sacked.

The supermarket giant said "less than 1,000" employees "are still undecided".

"On Saturday, once the closing date has passed, we will write to them again, offering them the opportunity to sign up because we really don't want any colleague to make a decision to leave and then regret it," chief executive Roger Burnley wrote in a letter to staff.

Google's Fitbit deal 'makes perfect sense'

Dave Lee

North America technology reporter

Copyright: Smith Collection/Gado

Here's a deal that makes perfect sense for Google.

The $2.1bn price tag is a pretty hefty premium given Fitbit's market value was around the $1.4bn-mark last week, but it's small change when considered against the bigger picture of gaining a huge amount of health data.

For Fitbit, it's a noble exit after putting up a decent fight in the years since the launch of Apple's smartwatch.

A Fitbit-Google product could mean Wear OS - Google's wearable operating system - will get a much-needed boost.

I do wonder, though, how Fitbit's 28 million users will feel about this.

Anecdotally, I know several people who have told me that Fitbit's relative autonomy from the tech giants was an incentive to buy their products (though Fitbit has used Google's cloud to support its service since 2018).

By next year, the health data Fitbit has on its users today will become Google's data, a valuable acquisition for Google, undoubtedly, but one that I predict could make consumers uncomfortable.

The S&P 500 and Nasdaq stock indexes have hit record highs in early trading after data showed US jobs growth slowed less than expected in October.

The S&P 500 opened higher by 13.16 points, or 0.43%, at 3,050.72. The Nasdaq Composite gained 42.69 points, or 0.51%, rising to 8,335.05. The Dow Jones Industrial Average rose 96.72 points, or 0.36%, to 27,142.95.

Google agrees to pay $2.1bn for Fitbit

Google has agreed to buy Fitbit for $2.1bn in a move which gives the US tech giant an entry into the wearable technology space, the two companies have said.

"We have built a trusted brand that supports more than 28 million active users around the globe who rely on our products to live a healthier, more active life," Fitbit co-founder and chief executive James Park said.

"Google is an ideal partner to advance our mission."

Virgin train staff to strike

Train managers on Virgin West Coast are to stage a 24-hour strike in a dispute over the dismissal of a colleague.

Members of the Rail, Maritime and Transport (RMT) union will walk out on November 19, following weeks of banning overtime.

RMT general secretary Mick Cash said: "I urge all Virgin West Coast members to continue their magnificent solidarity and support for our colleague who has been treated so disgracefully."

But Virgin said: "The incident which led to a train manager being dismissed for gross misconduct was widely reported on social media and involved a disabled customer who was prevented from boarding one of our trains."

In April, an autistic woman was reportedly blocked from boarding a train at Crewe station.

"Today's numbers beat expectations, but the job market has cooled significantly since last month, as slowing global growth and trade war concerns continue to fester," said Richard Flynn from stock broker Charles Schwab.

"Despite the [Fed's] decision to cut rates a third time this year earlier in the week, US economic activity has failed to pick up meaningfully, which has aided the argument that rate cuts are unlikely to be the elixir for what ails the broader economy."

"Separately, larger structural issues – such as falling inflation expectations, an aging population, and muted productivity—have somewhat diminished the effects of monetary policy."

"Without a comprehensive and definitive trade deal with China, we will continue to see bouts of market volatility that could undermine market confidence, impact hiring, and put pressure on capital spending intentions."

"The jobs data was distorted by the General Motors strike, one of the biggest this century, but the number of jobs created was quite a bit higher than expected," said Neil Birrell, Chief Investment Officer at Premier Asset Management.

"This appears to back up the Fed's comments on Wednesday night about the economy being in decent shape and its shift in policy stance.

"This is more good news for equites and the dollar, but we may see bond yields higher."

US adds more jobs than expected - despite GM strike

Job growth in the US slowed last month but not as much as expected, despite a strike by General Motors workers that saw 46,000 walk out without pay, excluding them from the survey.

The closely watched data from the Labor Department showed that 128,000 people joined the job market in October.

Meanwhile, wages continued to climb, even as the jobless rate rose a notch to a still-low 3.6% matching economists' expectations.

Rose sketches RBS priorities

New RBS chief executive Alison Rose has given a few details about her priorities for the bank in a letter to employees.

She wants RBS employees to "focus their efforts" on "helping people, families and businesses achieve their goals" to benefit the economy.

She also wants the bank to help tackle "the threat from climate change, a lack of financial confidence and barriers to enterprise and growth."

"Simplifying what we do and making bold choices about how we deliver for customers, will also be part of an ambitious plan for the future that I will share in the New Year," she adds.

Asda workers are 'terrified for their jobs'

Image caption: Cath Sutton cut the ribbon to re-open Runcorn's Asda store in June after an overhaul

The supermarket's workers have until Saturday night to agree new contracts or face dismissal.

China bans online E-cigarette sales

China's tobacco regulator has banned companies from selling E-cigarettes online, in a move it says is to prevent children from buying vapes over the internet.

In order to "further strengthen the protection of the physical and mental health of minors," the regulator "urges E-cigarette producers, retailers, or individual sellers to temporarily close online sales websites or channels" and "urges E-commerce platform to temporarily close E-cigarette shops," the regulator stated.

China is home to over 300 million smokers, making it the world's largest market for smokers.

In the US, some states, most recently Massachusetts, have moved to ban vaping altogether until its health effects are better understood.

'Car industry going from bad to worse'

More on dealership chain Lookers, where the boss and head of operations have walked away.

"So much bad news is piling up at Lookers that it isn't really a surprise to see the board want new leadership," according to Russ Mould, investment director at AJ Bell.

He said it is a sign that "the car industry seems to be going from bad to worse".

"Chief executive Andy Bruce and COO Nigel McMinn have being trying to keep the business on the road during one of its most difficult periods in history with weakness across the UK car sector," he said.

"But it is perhaps time for a different skillset considering the sector's turmoil is unlikely to improve in the near future and the regulator's probe has only just got going."

"In times of strife you need someone who is prepared to make very bold decisions to stop the business going into a ditch."

Don't delay on anti-fraud measures, MPs tell banks

Kevin Peachey

Personal finance reporter

A system that checks a bank transfer recipient's name, in addition to their account number and sort code, must not face further delay, MPs have said.

The confirmation of payee scheme, which has been put back on previous occasions, is scheduled for March next year.

The Treasury Committee of MPs says regulators should sanction any bank that misses the deadline.

The committee also said a compensation scheme for so-called authorised push payment frauds should be made compulsory. It is a voluntary scheme among banks and building societies at present.

It also said banks should consider retrospectively compensating those who have fallen victim to these scams.